Warren Haynes Examines His "Spots of Time" on New Record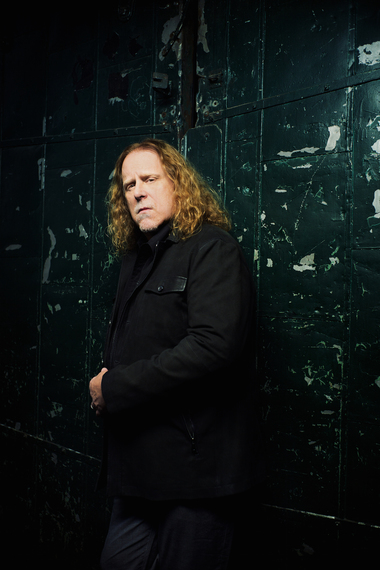 Photo/Danny Clinch
For a musician who's spent most of his life improvising on stage and in the studio, it's quite ironic – and gloriously so I might add – that his latest album was planned for nearly a decade with songs that have sort of a fixed beginning and end. Warren Haynes, the iconic rock and blues guitarist, vocalist and songwriter of notably Allman Brothers Band and Gov't Mule (not to mention a post-Jerry The Dead) just released Ashes & Dust and it's a complete 180 turn from everything he's done: a rootsy folk album with Celtic undertones . The music has changed, but the results are the same: songs that paint a picture, and move you literally and figuratively.
The influential artist sat down for an A-Sides chat yesterday, and discussed his album curve ball, touring – notably the upcoming Gathering of the Vibes Festival in Bridgeport, CT and the resurgent Capitol Theatre in Port Chester, NY – and the hope for some more authenticity in music today. Read below, and snag the album.
Ashes & Dust, which is shockingly just your third solo album, is quite a detour for you. How long have you wanted to make an album in this genre?
It's been at least seven years now that I've been thinking about it. At the that time, I was planning on making a record with Levon Helm, Leon Russell, and T-Bone Wolk. But, Levon passed away and then T-Bone passed away, and the record kind of disintegrated. Some of the songs [on this album] would've wound up on that record. Even though it's different than my soul music meets blues [style], I have accumulated a lot of songs in this direction as well. Half of the songs on this album are new, and overall, we recorded 30 songs so a lot of stuff is already in can, and when we go back to the studio, we'll finish them up.
That begs the question why was now the appropriate time to make this type of record?
I've been writing songs like this my whole life. I probably have songs like this more than any other, but it had to be the right time – a time where people might not be so jolted by it. But, my audience has been so encouraging of me to do different things. I really appreciate that. Some people maybe feel if you step too far from what you're known for, the audience won't follow you. But, enough people have diverse taste.
This is very personal record for me. A few songs could've been for the Allmans or Gov't Mule, but this collection cried out to be treated differently. It's the most biographical, not autobiographical album I've ever done. If I did it with the Allmans or Gov't Mule, and it was from the narrator's point of view, it wouldn't have been from my perspective. It's deeply person – songs about real people, real relationships, and real periods of mine that are very important.
I realize it's taken from "Spots of Time," which Phil Lesh co-wrote, but does the title "Ashes & Dust" carry with it various meanings – some obvious, some not so obvious?
There's a lot of reasons that seemed to jump out. Obviously, it's a bridge from "Spots of Times," which is referring to memories. Coincidentally, a lot of songs had references to ashes or dust in the lyrics. It was a pattern that was obvious but not planned. It also carries over to songs that didn't make this record. There's obvious connotations of the two words together, and I liked the fact we're really talking about memories.
Between Grace Potter, Shawn Colvin,your longtime friends and collaborators Railroad Earth, and others, this album is all about working with other artists in some capacity. Potter is very intriguing to me personally, because you both just slay a cover of Fleetwood Mac's "Gold Dust Woman," and also manage to make it fit right in with the tone of the record. How'd that come about?
She and I have toured together, and have known each other for a long time. We did "Gold Dust" on stage, and we never thought of recording it. But, it occurred to me while I was making the record that the Celtic instrumentation would be a cool interpretation. It really turned out great – the way our voices blended, and the spooky instrumentation take it to a different place.
You're on the road so much, and this weekend, you'll be performing at the Gathering of the Vibes Festival, which is celebrating its 20th year. What's the, um, vibe of this festival versus others? You've been there from day one?
I've watched it grow, it's changed venues, and still has maintained its identity. I think most important for all of us is that it's a family reunion of sorts. All the musicians get together, and we're hanging out with people that we haven't seen in awhile, and you wind up listening to music or even getting on the stage together. It's a nice bonus as opposed to the normal day in/day out. Plus, being outside in front of a large summer crowd is always good. You throw in the anniversary, and it's really special.
Speaking of which, you've been performing at the iconic Capitol Theatre in Port Chester, NY since it reopened nearly three years ago. Why do you keep coming back (you'll be back Oct. 1) , and how would you describe playing there – not to mention the venue's loyalty and love for the Grateful Dead? It's sort of been a second home, in particular, for Lesh.
There's a lot of great facets to the re-existence of The Capitol Theatre. There were so many legendary shows there even before I came to the area. A lot of Dead shows considered the best were there. If you talk to some of the locals, there was one after another shows to see at The Capitol Theatre in the old days.
For me, the whole idea of Ashes & Dust came about playing there when they reopened. I had invited some guys from Railroad Earth to play with me even though it was going to be a solo acoustic thing. They wound up on stage for a significant amount of time, and the chemistry was great. I remember thinking that I wanted to make my next record that way. It is great to see it come full circle, and to see the vibe. People frequent the place, and it's probably so similar to how it must've been in the old days. I think that's amazing but not just in a nostalgic way but in a raising-the-bar sort of way. That aspect and live performance is growing as people begin to understand the power of real music again. Music is an organism in constant motion, and it doesn't and shouldn't stay the same. That's how it was in the late '60s and early '70s and it should've never went away.
A lot of music seems packaged and recycled now. Hopefully it will change.
It's the flip side now. It's pushing a button and making a singer sound OK. That's the approach these days, which eventually you'd think the whole world will get tired of. I often tell people you can never push a button and make someone sound like Otis Redding or Aretha Franklin. Sometimes it's hard to know the difference when the bar gets lower and lower, but eventually things change. I sure hope so.
About A-Sides with Jon Chattman: Jon Chattman's music series features celebrities and artists (established or not) from all genres performing a track, and discussing what it means to them. This informal series focuses on the artist making art in a low-threatening, extremely informal (sometime humorous) way. No bells, no whistles — just the music performed in a random, low-key setting followed by an unrehearsed chat. In an industry where everything often gets overblown and over manufactured, Jon strives for a refreshing change. Artists featured on the series include Imagine Dragons, Melissa Etheridge, Air Supply, Joe Perry, Alice Cooper, fun, Bleachers, Charli XCX, Marina and the Diamonds and Bastille.
Stay Connected:
http://ThisIsASides.com
https://www.facebook.com/ThisIsASideshttps://twitter.com/thisisasides