"CLIMBING WALLS" WITH STRANGE TALK; CH-CH-CHECK OUT THE GUY BEHIND "MCA DAY"
Grown ups what do they know
Living by the stories on the radio
Bad news on the TV
headlines are made of reality
– Strange Talk, "Young Hearts"
Listening to Strange Talk's breakout single "Young Hearts," I'm immediately transported back to my youth, and rocking out in my car during my formative late teenage years. Lyrically, the track just resonates – it's a classic coming of age anthem that gets your booty shaking (if you're into that sort of thing). Sonically, it just sounds cool – using infusing electro pop and alt-rock with vintage 80s rock. You bet your sweet bippy (whatever that means) it deserves to be a hit and land on many "mixtapes" this summer. The Chainsmokers have already remixed it, and the song went to #1 on Hype Machine. Anyway, enough about "Young Hearts," let's talk about the band themselves who are as awesome as Jaleel White thought he was in the aforementioned Max Headroom decade. The Melbourne, Australia band (Stephen Docker, Gerard Sidhu, Travis Constable, and Gillan Gregory) will release their self-produced debut Cast Away tomorrow, April 29, and having heard it (it streamed on Billboard), it's pretty clear they're going to fit right in with the alt-rock and alt-pop music scene. Do people still say "music scene?" Anyway, what I'm trying to say is there's more to them than "Young Hearts." Earlier this month, the band filmed an A-Sides session at the Music Conservatory of Westchester. There, they performed "Clumbing Walls" and sitting down for a rather funny and lengthy chat. Watch it below, and catch the band on the road this spring and summer.
MCA Day
"Growing up Irish-Catholic south of Boston, we celebrate life in the face of death. Adam Yauch's music paralleled my life from a very young age. I don't go to church anymore, but I emphatically celebrate life. I followed their lead on so many things, took so many of their messages to heart and modeled myself so closely to their style… Creating MCA Day for me was more of a natural reaction as opposed to a calculated concoction."
– Matt Kearney
May 4, 2012 was a sad day. Just incredibly sad. It's a date all Beastie Boys fans have emblazoned in their brains, and forever will. That day, Adam Yauch AKA "MCA" succumbed to cancer and left an immeasurable void in our lives. Yauch made this world a better place, and we're all better off having had him here for as long as he did (even though it wasn't remotely long enough). Like most of us, Mike Kearney felt a great loss when MCA passed away. Unlike most of us, however, he wanted to do something profound to celebrate the life of a man who was loved and respected 'till the end. From that "MCA Day" was born, and this weekend, Kearney and legions of Beasties will join forces to celebrate Yauch, the band, and the music. I caught up with Kearney recently, and passed him the mic.
On "MCA Day":
The first event happened because it needed to. There was plenty of outpouring of grief online, but nothing was "happening." From what I've heard from others, there was this overwhelming need for something physical. I had two weeks off from grad school so I just said "f–k it, I'll do it". I just had no idea then, what "it" would turn in to. I couldn't organize my own birthday party, but there's a bunch of people I know that would tell you this was something I was meant to do.
On its evolution:
The first one was so bittersweet and special for me, I swore I wouldn't do another one. The 2nd MCA Day almost [didn't] t feel like a separate event, it was more like a continuation. People kept writing and sharing their connection to the Boys and Yauch. People wanted to gather. We all had our bell rung by losing Adam. People were now forced to look inside themselves and to each other to take comfort that we had internalized his messages and that we'd be OK. People had A LOT more to say and share about Adam's influence on their lives. So I did it. I created another space for people, that's it.
On what this year look like?
It looks and feels like Turbo's apartment in Breakin' 2: Electic Boogaloo"Artistically eclectic, well decorated, jammed with surprises and also "walking on the ceiling" magical. We took a lot of what worked last year and tried to build off of that. We have a new roster of DJ's, some local artists and some new talent that has been influenced by Yauch. I think it's just as important to look forward to the Beastie's continuing influence as it is to look back at where they came from. Either way, It's hard paying tribute to one of the most creative visionaries of our time. I do the best I can with what I've got and I think he would approve… I hope.
On how he juggles MCA Day with life:
I'm a clinician at a few schools in Boston. I work with middle and high school kids that have walked some tough roads. I make beats and write lyrics with some of my students as a creative and therapeutic outlet. There's definitely some people who see me rocking a shirt and tie under the Adidas Firebird jacket who have no idea what to make of me and I love it. I also bar tend and teach breakdancing to senior citizens at a Dancing and Domino Hall on the South Shore of Massachusetts.
On funding MCA Day
There's not a lot of dough in my field. As far as funding the events, we've been lucky to have some diehard Yauch fans step forward with "skilled trades" that have made things easier in some areas. Being single and not having kiddos also helps. Having the opportunity to put your heart and soul into a sincere tribute to one of your heroes, that brings people together as this has, is absolutely priceless. Meeting my heroes and the friendships I've cultivated as a result of this event is worth my kids withstanding a decade of hand-me downs…at least that's what I'll tell them.
On how we can help
If you're in the New York City area the weekend of May 3, stop by. Come meet and talk to people from all over the world who have been moved and influenced by Yauch and the Boys. Share your story. Talk about yourconcerts. Listen to some good music, check out the fan-based art gallery, see some famous photographs and get involved. For people that can't be there, create some art and send it in to the gallery. Play Beasties music for your kids and encourage the playful, exploratory, experiential nature and messages that protrude from their music. Turn off your TVs, take your kids for a walk and show them their curious world like the Boys were doing in NYC through their childhood and beyond.
For more info, click here.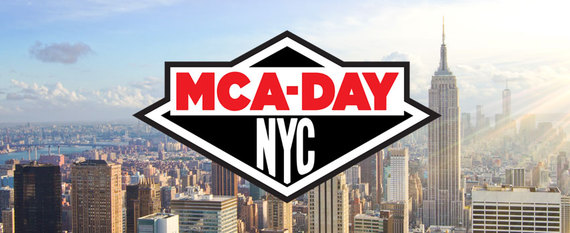 A-Sides "Delve Into Twelve" Countdown
Each week A-Sides unleashes its Top 12 tracks of the week AKA the "Delve Into Twelve"based on the following contributing factors: songs I'm playing out that particular week NO MATTER WHEN THEY WERE RELEASED (think overlooked songs, unreleased tracks, and old favorites), songs various publicists are trying to get me to listen to that I did and dug a bunch, posts and trends I've noticed on my friends' Facebook walls, and – most importantly – the songs my two-year-old son gravitates toward by stomping his feet in approval. Yeah, you read that right. This weeks follows below (LW= last week's rank).
12. "You Know My Name" (LW-12) – Courtney Love
11. "Burn" – The Cure
10. "Lazaretto" (debut) – Jack White
9. "Dear in Your Headlights" (LW-11)- Blondfire
8. "Lanterns" (LW-8) – Birds of Tokyo
7. "Now Hear In" (LW-6) – Cloud Nothings
6. "Come with Me Now" (LW-5) – KONGOS
5. "Seasons (Waiting on You)"(LW-4) – Future Islands
4. "Fever" (LW-1) – The Black Keys
3. "Blue Moon" (LW-3) – Beck
2. "Alienation" (debut) – Morning Parade
1 ."Peaches" (LW-2) – In the Valley Below
About A-Sides Music
Jon Chattman's "A-Sides Music" series was established in August 2011 and usually features artists (established or not) from all genres performing a track, and discussing what it means to them. This informal series focuses on the artist making art in a low-threatening, extremely informal (sometimes humorous) way. No bells, no whistles — just the music performed in a random, low-key setting followed by an unrehearsed chat. In an industry where everything often gets overblown and over manufactured, I'm hoping this is refreshing. Artists have included: fun, Rob Zombie, Pharrell Williams, Courtney Love, American Authors, Imagine Dragons, Gary Clark Jr., and more! A-Sides theme written and performed by Blondfire.