S'More Family Love for The Sagamore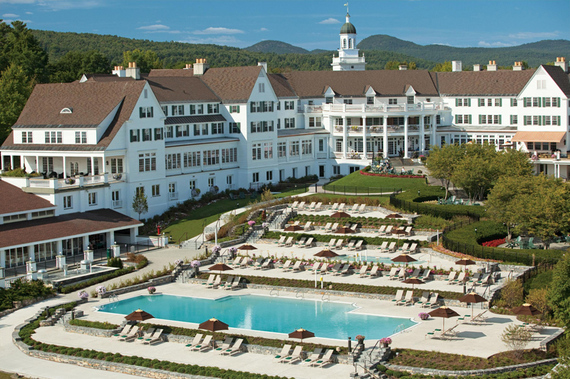 They say when you have kids the days are long but the years are short. That's so true. My sons are respectively four-and-a-half and one-and-a-half, and it all happened in a staring-into-a-strobe-light blink. Years before I had kids, people told me to hang onto every moment. "Soon they'll be asking for the keys to car," my dad often cracked. He still does. I feel it moving by fast, and it feels like my kids just left their womb with a view. Yet, here we are. The clichés aren't clichés at all. They are all true. You celebrate the milestones in their lives but long for the days when they were younger. I know it'll never go away. My parents still check in on me now as if I was their "little boy." It get it now.
A week or so ago, my family and I returned to The Sagamore in Bolton Landing. We were there last year, but it seemed like we were just there. A year ago, my youngest son couldn't walk yet and my oldest was just discovering new things. As I wrote in my piece last year, he gazed at the lake from our balcony on our first morning there, and told me "look at how many water!" It still gets me. Just thinking of the trees, mountains and lake, I just hear that innocent exclamation ringing in my ears. It has all year.
When you have small children, memories are made anywhere. Kids do say the funniest things, and their constant growth allow for so many moments that are more vivid than any picture you could take to capture a moment in time. Case in point: Christmas morning it's often the wrapping paper that gets played with the most. Anyway, there's something about The Sagamore that adds to and aids these memories. Prior to our return, the atmosphere was remembered year-round by not just my wife and I, but our eldest. He often brought up the boats that sped through the lake, the boats, and the S'mores which are served around a bonfire. "I like just the chocolate," my son continually says. "Not melted. That's it."
So, with all this being said, the picture was already painted when we stayed at The Sagamore again this year. Often times, it's hard to replicate one of the best vacations you've ever had, but here I am talking about The Sagamore again as if it was just that: my first time. Magic struck twice. Whereas last year I saw the facilities and Lake George in general through the eyes of my three year old, I saw it through my youngest son's this year as well. I watched his eyes widen as we entered the pool for the first time. I watched and listened as he made his best duck impression as they swam by. I especially noticed he and his brother truly bonding, playing together with their toys on the balcony and pointing out bugs of all sizes and noises.
There's more to this place than a bugs' life. It's the embodiment of luxury without any signs of pretension. The staff is courteous, always offering a genuine "hello" each time you pass them by or assisting you if you're trying to navigate your way around the resort. We stayed, once again, in the spacious lodge suite, which is a contemporary large hotel room but with the feel of a giant, comfy cabin. Images of deer and moose set the tone right off that bat along with the handcrafted furniture. But, I mentioned this in my last article. I mentioned the modern kitchen it comes with, the fire place, and the spacious bathroom. I probably discussed how convenient it was to cook some meals inside (there's a supermarket around the corner) so that we could go right to the lake or pool earlier than if we dined outside. Kids, as we know, often take forever to get ready. The sunscreen application alone feels like six days.
Not to rhyme for the sake of rhyming, but the pool is a jewel at The Sagamore. The temperature is cool – not cold, not too warm – and provides some of the best direct views of Lake George. With the backdrop of trees, the mountains and the lake, It feels like you're swimming within a postcard. Having wait staff serving lunch (try the pizza) and drinks just adds to the experience. Nothing beats sipping a Frozen Margarita while being surrounded by a top-notch pool and breathtaking views. Downstairs from the pool area is the entrance to a swimming area within the lake. Nearby are lounge chairs, and a special sanded area for kids like mine to spend hours digging in with their toy cars and trucks.
The lake is exhilarating. I mentioned last year that jumping in was one of the most amazing experiences I've ever had. I felt reborn because the water was so cold and shocked my system in the best way imaginable. The water wasn't quite as cold this year, but a jump in the lake was still as awesome with such a rush of adrenaline. It also adds to the fun when you're children are watching you in awe as you build up the guts to jump in.
Altogether, The Sagamore plays like sort of a Greatest Hits album. There's only good stuff to report so it's hard to find something that's not to your liking or not a "hit" if you will. I've mentioned a bunch of highlights below, but I can tell you there's more. Even the indoor pool resonates because it's surrounded by cool, modern furniture. The gym is huge. The spa, which I thankfully took advantage of this year, was worth every penny spent. The staff was so spectacular, and the massage itself was among the best I've ever had. The minute you walk in, you're relaxed. The minute you leave, all the stress you came into the vacation with subsides.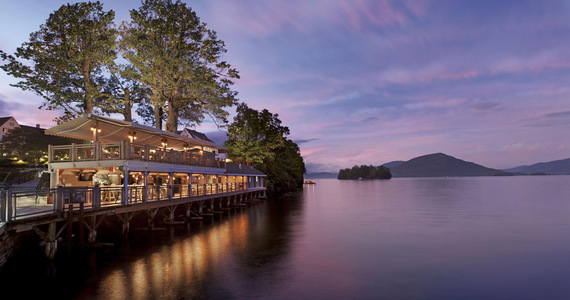 Food-wise, the options are wonderful. The Pavilion matches the best views in the resort with arguably the best food. My steak was awesome. My wife's salmon danced in her mouth. La Bella Vita was terrific for breakfast and dinner, and yes, the S'more nights were once again awesome. Melting chocolate, roasted marshmallows and a singer with his guitar performing tunes for families just provided such an awesome campfire setting. Memories, like I said, are made here. Watching my kids dance when a favorite Bob Marley song was performed is forever etched in my mind.
Lastly, my oldest was able to use "The Rec" this year – something he was unable to do last year. On a rainy day – thankfully the only one – I spent time teaching and playing mini-golf with him for the first time as well as wiffle ball. My son has a solid arm and hits like a champ by the way. I write this now as I plot his eventual path toward the majors. Anyway, he even got a chance to get a few baskets in while playing basketball. Again, more memories.
So last year, my son and I are sitting on our green rocking chairs looking out to the many wonders of The Adirondacks. We did it again this year, and recalled our first stay. We looked at the boats again, the ripples in the water, and the soundtrack of those strange noises various bugs make. He recalled saying "look at how many water" and even made a joke by saying it again. As the sun reflected off the majestic lake, I turned to my son and told him – on our last full day – that we were leaving the next morning. "Why?," he asked. I explained to him that vacation is a get-away – wonderful family time that's meant to be short-lived. "But, I want to stay here forever," he told me. I told him he couldn't, but we'd be back. Right at that very moment, my youngest son knocked on the glass door leading out toward the balcony. I opened it, and he sat down on my lap. (Actually, I think he asked me to get off the chair so he could sit on it.) As my sons and I gazed at the beauty around us, my youngest pointed to the lake, and said "wawa."
About A-Sides with Jon Chattman – thisisasides.com :
Jon Chattman's music/entertainment series typically features celebrities and artists (established or not) from all genres performing a track, and discussing what it means to them. This informal series focuses on the artist making art in a low-threatening, extremely informal (sometime humorous) way. No bells, no whistles — just the music performed in a random, low-key setting followed by an unrehearsed chat. In an industry where everything often gets overblown and over manufactured, Jon strives for a refreshing change. Artists featured on the series include Imagine Dragons, Melissa Etheridge, Yoko Ono, Elle King, Joe Perry, Alice Cooper, fun, Bleachers, Charli XCX, Marina and the Diamonds, and Bastille.