'Rudolph' is a Magical Time at Madison Square Garden
December 12, 2016 4:25 pm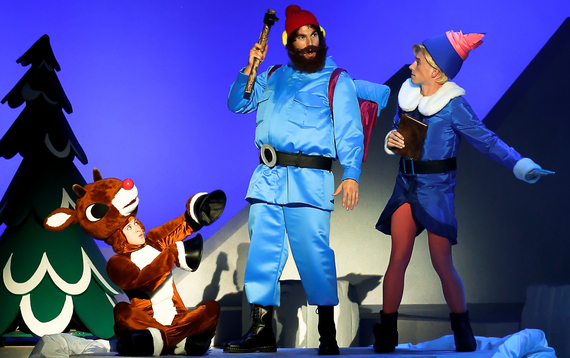 Musical adaptations of classics often fail to resonate. It could be a reinterpretation of a film, an album, or a television special, and the results are often the same: coal in the proverbial stocking. In the case of Rudolph the Red-Nosed Reindeer: The Musical, however, there's nothing but magic.
An adaptation of the 1964 Rankin-Bass classic, this show, which plays through Dec. 18 at The Theatre at Madison Square Garden, is a delight from start to finish, capturing all of the wonders of the classic television special. You could count the kids' jaws dropping throughout the show. I know my sons were in awe.
Anyway, we know the story by heart by now. The stop-motion classic follows "misfit" Rudolph who's bullied by just about everybody for having a shiny red nose. As he leaves the North Pole behind, he befriends fellow outcast Hermey the Elf, who doesn't quite fit in because he'd rather be a dentist than make toys. The commonalities mesh well, and the two look for a place where they can simply be themselves. I could go on about the plot, but it's like answering the question: "how do you make an omelet?" The television special is a family tradition, and you'd be hard-pressed to find anyone who hasn't at least caught some of it throughout its run. But, let's get to the production itself.
The performances are spot on. Regional theatre veterans Sarah Errington as Rudolph, Steve Watkins as Sam the Snowman, and Wesley Edwards as Hermey are standouts. Watkins, I'll add, does Burl Ives proud with his storytelling and rousing version of "Holly Jolly Christmas." The reason this production excels is not just who's on stage, but who's behind it. The direction by Dana Solimando is epic,. There are so many moving parts here – from the actors to puppeteers who blend right in (white clothing with a snowy white backdrop works wonders). The Abominable Snowman also comes to life as a giant puppet.
Everything is by the book in this musical with a few surprise numbers and changes in dialogue. I won't ruin it here but I'll just say they all fit right in. So, if you want a "holly jolly" good time hit Madison Square Garden as soon as you can. This faithful adaption is pure magic.
About A-Sides with Jon Chattman – thisisasides.com :
Jon Chattman's music/entertainment series typically features celebrities and artists (established or not) from all genres performing a track, and discussing what it means to them. This informal series focuses on the artist making art in a low-threatening, extremely informal (sometime humorous) way. No bells, no whistles — just the music performed in a random, low-key setting followed by an unrehearsed chat. In an industry where everything often gets overblown and over manufactured, Jon strives for a refreshing change. (Theme song by Blondfire.) Artists featured on the series include Imagine Dragons, Melissa Etheridge, Yoko Ono, Elle King, Joe Perry, Alice Cooper, James Bay, Jimmy Eat World, Charli XCX, Marina and the Diamonds, and Bastille.