Pig in the City – Peppa Shines in NYC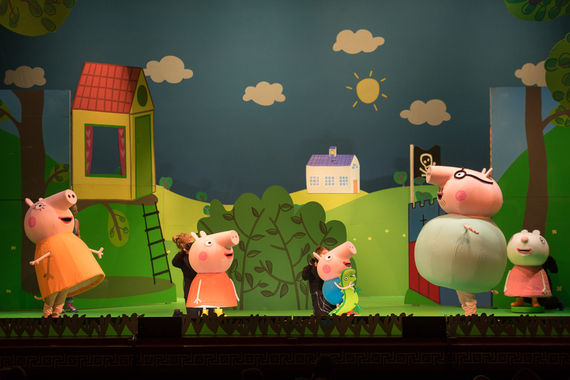 Photo/ Joe del Tufo
My son watches a lot of television shows that make my head spin and my eyes roll. One show, however, always makes me smile in the morning as I sip my first of way-too-many morning coffees. It's Peppa Pig, and it's such a delight to watch that I actually hope each morning my child selects it off the DVR. The UK series, as countless parents know, is about Mommy Pig, Daddy Pig, Peppa and her brother George and their various exploits in school, at home, and – of course – jumping in muddy puddles. The series is the top-rated show for kids ages 2- 5 on Nick Jr. and over 50 companies produce Peppa products ranging from toys to clothing to Apps. The show even spawned its own theme park in Hampshire, England. Thankfully in the states, we don't have to drop cash on a roundtripper to England. The series has hit the road for its first-ever U.S. theatrical tour, Peppa Pig's Big Splash!:
At the Beacon Theatre yesterday (April 10), the show came to town, and drew families – naturally including my own – who left with city-block smiles on their faces. In a word, the show, which draws on existing episodes, expands them, and sets them to new, original music numbers, was a joy. The performers are all solid in their vocal skills and manage to stay in the background (intentionally) as they're wearing all black while navigating life-size puppets (they're on stage much like the Avenue Q performers — but thankfully without the debauchery).
Overall, Peppa Pig's Big Splash expands on a truly wonderful cartoon, and serves as a lovely gateway to Broadway. I can't wait to take my family back to the land of muddy puddles next time they hit the states. For now, we've got the series on DVR. Many. Episodes.
About A-Sides with Jon Chattman:
Jon Chattman's music/entertainment series typically features celebrities and artists (established or not) from all genres performing a track, and discussing what it means to them. This informal series focuses on the artist making art in a low-threatening, extremely informal (sometime humorous) way. No bells, no whistles — just the music performed in a random, low-key setting followed by an unrehearsed chat. In an industry where everything often gets overblown and over manufactured, Jon strives for a refreshing change. Artists featured on the series include Imagine Dragons, Melissa Etheridge, Yoko Ono, Joe Perry, Alice Cooper, fun, Bleachers, Charli XCX, Marina and the Diamonds, and Bastille.