"Outside" Looking In with Jesse Malin; Hollis Brown Train Rolls On
November 12, 2015 6:43 pm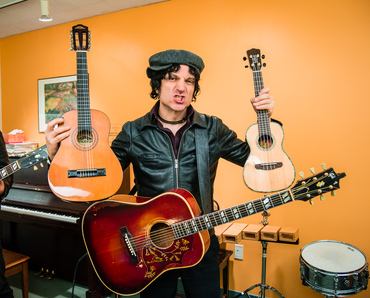 Jesse Malin photo and videos by Alye Bea Photography
This is the age of one single at a time and EP domination. Don't tell that to Jesse Malin, who released two full-length albums this year – respectively Outsiders and New York Before the War. Both albums are different but the same – each, in their own way, chronicling life in general and in New York and the wet blanket both can be. Different but the same is Malin in a nutshell. On one hand, he's a singer/songwriter who releases gritty, near-poetic tunes with lyrics that cut you no matter how sweet the sound is. On the other hand, he's a punk rock stud who's played and slayed in several bands, notably D Generation, who had quite a run in the 1990s.
Let's stop the backstory there, because to sum up Malin is like trying to explain what it'd look like if Gene Simmons played badminton with Ethel Merman underwater. It just can't be done. Wait for the autobiography, because like Malin's songs, there's a lot of stuff there. I will say this – the Rolodex of artists he's worked with in some way, shape or form – from Bruce Springsteen to Green Day – is pretty jawdropping. If there's a physical Rolodex, by the way, it's more coveted than a Willy Wonka ticket. Anyway, let's jump to the reason for this post.
Earlier this month, Malin filmed an A-Sides session at the Music Conservatory of Westchester in White Plains. There, he performed a pair of songs – one new, one semi-old, and sat down for a chat on his rock and rolls.
"Outsiders"

"Swing it Man"

Interview

It's not a coincidence Malin is sharing a post with the dynamic band Hollis Brown. They've shared the stage together many times, and even share a home (not literally) in Queens. Come Dec. 29, they'll play Bowery Ballroom together. It's a killer bill. Hollis Brown are having quite the breakthrough year. They've released a stellar new album 3 Shots, hit the road with Counting Crows and Citizen Cope, and are currently in Europe headlining shows. But, let's go back to the start.
3 Shots, a follow-up to 2013's Ride on the Train and some self-released material, was a big step forward for the soulful garage rock band. For starters, their track "Rain Dance" made use of an unreleased Bo Diddley track, and "Highway 1" featured a collaboration with Nikki Lane. Album aside, the band has toured and toured and toured again with everyone from the aforementioned to The Zombies and The Heartless Bastards. Earlier this month, the band's founding duo (singer/guitarist Mike Montali and guitarist Jonathan Bonilla) stopped by for their second A-Sides session (also at the Conservatory) to field questions, and more importantly, perform – for the very first time live and stripped down – their track "Death of an Actress." Enjoy it and mark Dec. 29 down if you're in NYC.
Interview
A-Sides "Delve Into Twelve" Countdown
Each week A-Sides unleashes its top 12 tracks of the week AKA the "Delve Into Twelve" based on the following contributing factors: songs I'm playing out that particular week (no matter when they were released — think overlooked songs, unreleased tracks and old favorites), songs various publicists are trying to get me to listen to that I did and dug a bunch, song posts and trends I've noticed on my friends' Facebook walls and, most importantly: what my toddler is currently enjoying thoroughly with an assist from my infant.
About A-Sides with Jon Chattman: Jon Chattman's music series features celebrities and artists (established or not) from all genres performing a track, and discussing what it means to them. This informal series focuses on the artist making art in a low-threatening, extremely informal (sometime humorous) way. No bells, no whistles — just the music performed in a random, low-key setting followed by an unrehearsed chat. In an industry where everything often gets overblown and over manufactured, Jon strives for a refreshing change. Artists featured on the series include Imagine Dragons, Melissa Etheridge, Air Supply, Joe Perry, Alice Cooper, fun, Bleachers, Charli XCX, Marina and the Diamonds and Bastille.
Stay Connected:
http://ThisIsASides.com
https://www.facebook.com/ThisIsASides
http://www.twitter.com/thisisasides