Halloween Producer Discusses Michael Myers' Return to the Big Screen (Cue the Theme Song)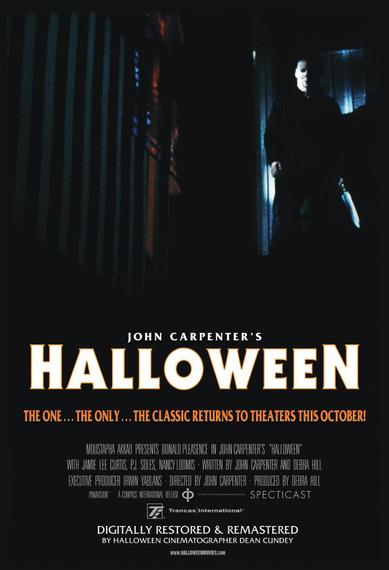 Several things instantly scare me. Some things that instantly come to my mind: any mention of "real" ghost sightings, Tilda Swinton in general, and well-crafted horror flicks. Let's focus on the latter for this post shall we? As we approach Oct. 31, the creators of the 1978 classic film Halloween are bringing it back to movie theaters for one special day. Will I be there? Probably not when you consider John Carpenter's score alone fills my bladder – even if I hear it as a ringtone. That said, you should check it out.
This Thursday at 7:30 p.m., Carpenter's film – in connection with Fathom Events and SpectiCast – will be shown on the big screen with a special introduction by Carpenter himself. Tickets can be purchased here by the way. You can also find the theater in your area showing it. Producer Malek Akkad chatted with A-Sides recently about the 1978 film, its legs, and it's return to the big screen. One thing is clear – no one saw this film's ridiculous success coming – especially Akkad, who has gone on to produce several Halloween sequels and more. Before we get to the interview, know this: some 35 years-plus later, the film has made its money back more than 200 times. That's pretty impressive to say the least. Anyway, as I change my boxers, read on…
There have been sequels and a remake, but the original Halloween has sort of stood the test of time. Did you ever imagine in your wildest dreams that we'd still be talking about this film – never mind showing it in theaters- in 2015?
I was just a young boy when the first film was made, so I couldn't have imagined anything lasting this long. But the filmmakers, most notably John Carpenter, have said that they had no idea that the film would be the huge success it became. I think that's mainly a testament to the great work John created. Having been directly involved in the last six films, I have experienced firsthand the film's devoted following and die-hard fans. And with each new installment we hope to reach new
fans as well.
And another one is in the works… Why do you think people keep coming back to it and why it's been so successful?
Having it tied so closely to one of the most enjoyed holidays of the year definitely doesn't hurt. But, this is really a result of the amazing film Carpenter made. Yes, they did catch lighting in a bottle, to an extent. But John is a very confident and masterful filmmaker, and even with the limited resources he had, he was able to create a timeless classic in Halloween.
The horror genre is something that continually thrives at the box office – and not just around the spooky season – do you think it'd be half as successful had Halloween not come around in 1978?
The horror genre has always been popular, and in fact, I believe, historically it has always been the most successful genre going back to the silent era, in terms of cost versus box office. But, Halloween definitely kicked off a new cycle of popularity, and established an archetype, if you will, of the modern day horror film.
What experience can audiences get in the movie theater that they might not be able to on basic cable or DVD?
In the new featurette that will precede the re-release, Carpenter addresses that very question. It was really designed to be seen on a huge, widescreen – having been shot on the Panavision Cinemascope lenses – and in a communal environment. The jumps and scares are somehow amplified when seen with a large audience. Unlike today, where films can be watched on computers, tablets, even our phones, this film is best suited for enjoying with other people, in an all-immersive setting that only a big theater can really provide.
Is there another horror film in your mind that compares – not just in quality but legs – than Halloween?
The obvious comparison is, of course, Friday the 13th – but it was very derivative of Halloween – the first few installments anyway. Nightmare on Elm Street, I always, admired due to Wes Craven having made something really unique and creative, and that has certainly stood the test of time. Personally, I have always considered Gore Verbinksi's The Ring as a high-water mark for horror films. Beautifully made, and uniquely terrifying, as well.
Lastly, what's scarier Michael Myers in Halloween or Mike Myers in The Love Guru?
Haha! That is a great question. I happen to find Mike Myers brilliantly hilarious, and Michael Myers uniquely scary – so most definitely Michael Myers in Halloween.
A-Sides "Delve Into Twelve" Countdown
Each week A-Sides unleashes its top 12 tracks of the week AKA the "Delve Into Twelve" based on the following contributing factors: songs I'm playing out that particular week (no matter when they were released — think overlooked songs, unreleased tracks and old favorites), songs various publicists are trying to get me to listen to that I did and dug a bunch, song posts and trends I've noticed on my friends' Facebook walls and, most importantly: what my toddler is currently enjoying thoroughly with an assist from my infant.
About A-Sides with Jon Chattman: Jon Chattman's music series features celebrities and artists (established or not) from all genres performing a track, and discussing what it means to them. This informal series focuses on the artist making art in a low-threatening, extremely informal (sometime humorous) way. No bells, no whistles — just the music performed in a random, low-key setting followed by an unrehearsed chat. In an industry where everything often gets overblown and over manufactured, Jon strives for a refreshing change. Artists featured on the series include Imagine Dragons, Melissa Etheridge, Air Supply, Joe Perry, Alice Cooper, fun, Bleachers, Charli XCX, Marina and the Diamonds and Bastille.
Stay Connected:
http://ThisIsASides.com
https://www.facebook.com/ThisIsASides
http://www.twitter.com/thisisasides