Everclear "Sparkle" On; Practicing Heresy with The Toadies
November 30, 2015 4:16 pm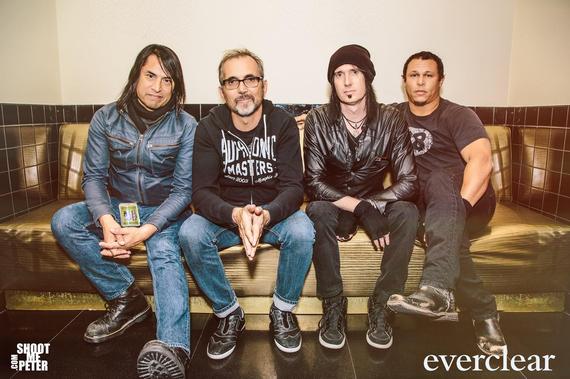 Photo and videos of Everclear by shootmepeter.com
A month ago, so much was made about Back to the Future Day. As most of us know (there's exactly six people in the United States who may not), in Back to the Future Part II, Marty McFly travels to the future – Oct. 21, 2015 – to save his children. When the real date arrived year – sans flying cars – the Internet went bananas. Anyway, I bring this up today it's time to proverbially jump back into the proverbial DeLorean time to watch two performances from a pair of the finest acts to come out of the 1990s alt-scene: Everclear and The Toadies. But, there's a twist. The bands have never really gone away, and have really upped their game this year. Anyway, let's get on with it.
When it was released 20 years ago, Everclear broke through with their platinum album Sparkle and Fade. The album spawned the hit single "Santa Monica" and other standout tracks like "Heroin Girl," "Summerland," and a personal fav "Heartspark Dollarsign." More hit albums (double platinum So Much for the Afterglow) and smash singles (i.e. "Father of Mine," "I Will Buy You a New Life") followed, but it's that "Sparkling"album, which has never "Faded." As timeless as It's a Wonderful Life and Doc Brown's hair, the LP remains one of the best to come out of the golden age of alt-rock in the Fresh Prince decade, and front man Art Alexakis likely knows it. That's why earlier this year, the lead singer/songwriter took the band on the road to celebrate the 20th anniversary of the band's breakthrough. The tour coincides with their recent ninth release Black is the New Black.
Moments before the band performed at B.B. King Blues Club & Grill, they sat down with A-Sides for a reflective chat and a performance of two classic tracks. The band, by the way, now consists of Alexakis, Freddy Herrera (Bass/Background Vocals), Davey French (Guitar/Background Vocals), Josh Crawley (Keyboards/Guitar/Background Vocals), and Brian Nolan (Drums). Watch on, and rock on.
"Wonderful"

"I Will Buy You a New Life"

Interview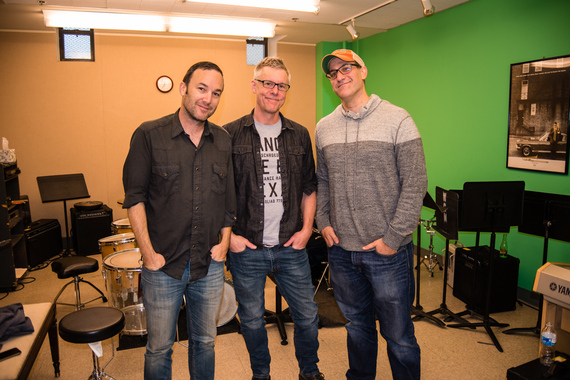 The Toadies with Jon Chattman – photo and video of the band by alyebcarlevaro.com.
Fittingly, The Toadies spent the summer touring with Everclear as part of the latter's annual
"Summerland" tour. Before I break into what the band's been up to, I have to just say this as blunt as possible: The Toadies are more than "Possum Kingdom." Having said that, the band's standout hit – probably the best single of the entire decade – still finds itself on heavy rotation in not just my iTunes account but likely anyone who was alive in 1994. The song was off the band's platinum-selling Rubberneck
, which also included hit "I Come From the Water" and a solid deep cut like "Tyler." But, let's jump to present day because the band has made a leap (that's a lame take off their band name) with their brand, spankin' new album Heretic, a unique album in which they reinterpret past songs, debut two new ones, and a slammin' cover Blondie's "Heart of Glass." The wonderfully odd album is a sonic delight, and I say that in a very James Lipton kind of way. At the Music Conservatory of Westchester, the band – specifically longtime frontman Vaden Lewis and Clark Vogeler, performed three tracks off the album and sat down for a chat. Have a listen, and get back into the band if you haven't for a bit.
"In the Belly of the Whale"

"Backsliders"

"Heart of Glass"

Interview

A-Sides "Delve Into Twelve" Countdown
Each week A-Sides unleashes its top 12 tracks of the week AKA the "Delve Into Twelve" based on the following contributing factors: songs I'm playing out that particular week (no matter when they were released — think overlooked songs, unreleased tracks and old favorites), songs various publicists are trying to get me to listen to that I did and dug a bunch, song posts and trends I've noticed on my friends' Facebook walls and, most importantly: what my toddler is currently enjoying thoroughly with an assist from my infant.
About A-Sides with Jon Chattman: Jon Chattman's music series features celebrities and artists (established or not) from all genres performing a track, and discussing what it means to them. This informal series focuses on the artist making art in a low-threatening, extremely informal (sometime humorous) way. No bells, no whistles — just the music performed in a random, low-key setting followed by an unrehearsed chat. In an industry where everything often gets overblown and over manufactured, Jon strives for a refreshing change. Artists featured on the series include Imagine Dragons, Melissa Etheridge, Elle King, Air Supply, Joe Perry, Alice Cooper, fun, Bleachers, Charli XCX, Marina and the Diamonds and Bastille.
Stay Connected:
http://ThisIsASides.com
https://www.facebook.com/ThisIsASides
http://www.twitter.com/thisisasides