"Dark" Side of the "MOON"? The Darkness Blast Off Again; WALK THE MOON's Nicholas Petricca Discusses Surreal 2015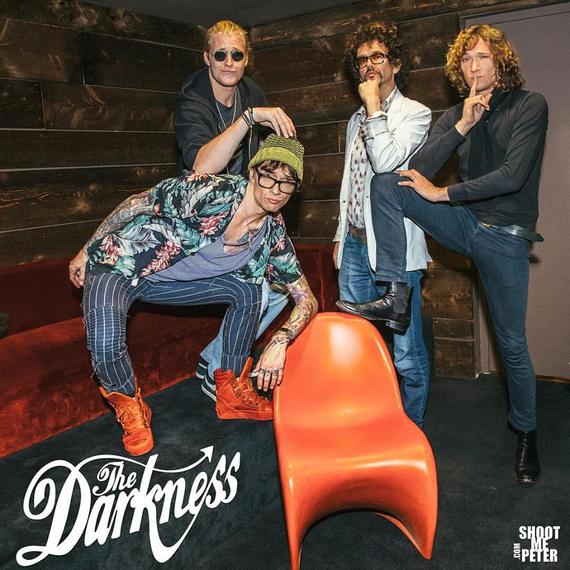 Photo and video by shootmepeter.com
The Darkness really have little to do with WALK THE MOON, but the play on the Pink Floyd legendary album was too good to pass up so here we are. Plus, whereas MOON has led a year of amphitheater-ass-shaking via their 80s tribute "Shut Up & Dance," The Darkness got their start with throwback '80s glam-rock tracks. But, there's more to the latter band then shrieking falsettos and nut-hugging pants. There's the Queen-inspired swagger, the energetic shows, the kickass rock albums, and the fact that they seem to have had more lives than Morris the Cat from those old commercials.
See one of their shows, and I promise you it is nearly impossible to not try or think about doing a mid-air split or, at the very least, reveal your very best air guitar or air anything really.
The Brits came back this year with Last of Our Kind – their fourth album, and come Nov. 20, a special extended version will be released – right in time for the holidaze. Their "Blast of Our Kind " tour just ran through NYC, and will head abroad through February 2016. Prior to their NYC show, they hit up Primary Wave in NYC to field some questions from A-Sides. Enjoy the Hawkins Brothers, Frankie Poullain and Rufus Taylor for all they are: an unapologetic band that oozes confidence, charisma, and everything under the kitchen sink.
The Bucket List. It's not just a crappy movie with Jack Nicholson and Morgan Freeman anymore.Yep, ever since that film came out in 2007, it's been so easy to ask interview subjects what's left on their proverbial list and what's already on it. Interview WALK THE MOON frontman Nicholas Petricca last week, and it's the first question that entered my mind. In a word, 2015 has been ridunkulous for the Ohio natives. They've had a monstrous alt-rock-crossover-pop hit in "Shut Up and Dance," released a killer follow-up single in "Different Colours," and have been on quite a successful tour in support of their breakthrough TALKING IS HARD album. Throw in a cameo at a Taylor Swift show in the midst of her world-dominating 1989 tour, and it's almost hard to put into words what this year has meant for the band. Taking a few moments after playing the Lipton Be More Tea Festival , Petricca tried to make sense of it all.
It's hard to follow-up a massive single with another hit. Talk to me about the importance of "Different Colours."
"Different Colors" is important for us because it shows a side of WALK THE MOON beyond our fun-loving, ecstatic spirit that everybody knows from "Shut Up And Dance". "Different Colors" is more of a rock-n-roll victory march – an anthem for anyone who's felt alone or been bullied because of their way of living, loving, or expressing him/herself. The song [is] about empowerment: we want our listeners to be themselves, own their uniqueness, and have the courage to accept others who are different from them.
You shared the stage with Taylor Swift. What was it like to do – what wrestling fans call a – "run in" on her tour?
Just meeting her and her team and witnessing their awesome attitudes and work ethic was inspiring, not to mention the rush of 60,000 screaming humans singing along to our song. We've stayed in touch since then and we hope to do something again in the future!
Nice. In a few months, we'll be celebrating 2016. Can you even put into words how big 2015 has been for you guys?
2015 has been a pivotal whirlwind year for us. We've crossed off some wild items off the dream-list – opening for Rolling Stones, selling out Red Rocks Amphitheater, breaking a Billboard record. We're touring across the US and abroad more than ever, and as we grow, our fanbase is evolving, too. Where once we lived purely in the world of alt or 'indie' rock, after the success of "Shut Up," we now are straddling this line between alternative and pop. Whether you group us with AWOLNATION, Imagine Dragons, Twenty One Pilots…or Taylor Swift, Jason Derulo, & Maroon 5, it's a fun tightrope to walk and we like being one of the weird kids at the party.
Speaking of the weird kids at a party vibe. "Shut Up and Dance" is a wonderful 80s style hit. Share with me your top five favorite styles of the 1980s?
Post-punk a la Talking Heads, New Wave >> The Smiths, Funk/Soul >> Prince, Pop Rock >> Mr. Mister, and straight Pop >> Michael Jackson….
If you were casting an Expendables sequel with only '80s pop stars who do you start with – who do you leave out?
…I immediately pictured Patrick Swayze and Keanu ReevesPoint Break. Additionally, a seasoned Roger Moore flanked by the young Coreys – Haim and Feldman. From the music world, David Bowie would lead this Justice League along with Peter Gabriel, Kate Bush, David Byrne, and Huey Lewis. Prince would be some rogue mercenary on his own vigilante quest. Finally, Phil Collins and Tom Cruise would team up as the evil supervillain duo.
I'd pay to see the Collins/Cruise casting alone. Moving on, "Anna Sun" seems to be taking the backseat thanks to your orca big hit, but that song really propelled you guys and personally, I feel it never gets old. Can you tell me what that track represents for you?
"Anna Sun" has always been a coming-of-age song, this journey out into the wilderness of being an adult while keeping that inner child alive. It was written as a kind of farewell to college, but it ended up propelling us into the next phase of our lives. The title even sounds like "innocence," which is a happy accident and super relevant to our story. We still close just about every set with it – it's become a really emotionally charged finale to our show.
Speaking of growing up, can you impart some words of wisdom for my 11-month-old son?

Wear earmuffs at concerts. Pick up an instrument and stick with it! So many friends who dropped piano or guitar or violin tell me they regret not keeping it up. And if someone calls you a nerd – that's all good – just means you're passionate about something. Who doesn't want to be a nerd?
About A-Sides with Jon Chattman: Jon Chattman's music series features celebrities and artists (established or not) from all genres performing a track, and discussing what it means to them. This informal series focuses on the artist making art in a low-threatening, extremely informal (sometime humorous) way. No bells, no whistles — just the music performed in a random, low-key setting followed by an unrehearsed chat. In an industry where everything often gets overblown and over manufactured, Jon strives for a refreshing change. Artists featured on the series include Imagine Dragons, Melissa Etheridge, Air Supply, Joe Perry, Alice Cooper, fun, Bleachers, Charli XCX, Marina and the Diamonds and Bastille.
Stay Connected:
http://ThisIsASides.com
https://www.facebook.com/ThisIsASides
http://www.twitter.com/thisisasides
Tags:
A Sides with Jon Chattman
,
a thing called love
,
a-sides
,
anna sun
,
Dan Hawkins
,
different colours
,
Frankie Poullain
,
Jon Chattman
,
Justin Hawkins
,
lipton be more tea festival
,
nicolas petricca
,
red rocks
,
Rufus Taylor
,
Shut Up and Dance
,
Taylor Swift
,
taylor swift 1989 tour
,
the darkness
,
the smiths