Coming Up for Some Fresh Aer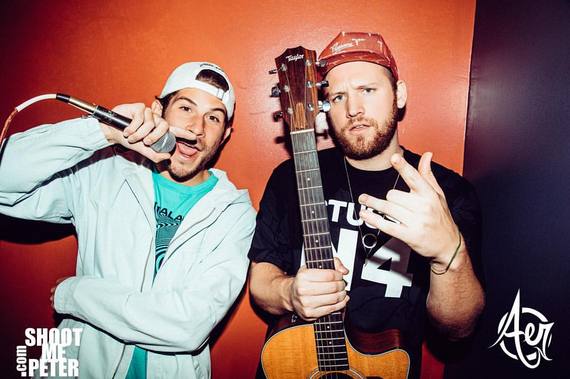 Photos/Video by shootmepeter.com
So many musicians – no matter how talented they are and how oiled their PR machine is – release a debut album and it's met with a proverbial shrug and thunderous pin drop. Breaking into this industry is a hard thing to do, and that's what she said. That joke still works. Anyway, getting serious and to the point a few gain popularity right out of the gate but the Boston tandem of David von Merin and Carter Schultz AKA Aer did just that. Their 2012 debut studio album, The Bright Side was a hit as was their self-titled follow-up. In August, they released One Of A Kind, and yep, it's also been as well received as a Matt Foley face plant.
In the midst of a planned long tour with Cody Simpson and Chef Special, the genre benders (alt-pop-hip-hop-rock-whatevahhhh) Schultz and von Mering sat down for a chat at Terminal 5 in NYC and performed a pair of tracks off the new album. If Yoda wrote this, he'd say "lucky you are." But he didn't, and that was a shamelessly lame Star Wars reference on my part. Apologies.
"Keep You Here"

"The Rain"

Interview

A-Sides "Delve Into Twelve" Countdown
Each week A-Sides unleashes its top 12 tracks of the week AKA the "Delve Into Twelve" based on the following contributing factors: songs I'm playing out that particular week (no matter when they were released — think overlooked songs, unreleased tracks and old favorites), songs various publicists are trying to get me to listen to that I did and dug a bunch, song posts and trends I've noticed on my friends' Facebook walls and, most importantly: what my toddler is currently enjoying thoroughly with an assist from my infant.
About A-Sides with Jon Chattman: Jon Chattman's music series features celebrities and artists (established or not) from all genres performing a track, and discussing what it means to them. This informal series focuses on the artist making art in a low-threatening, extremely informal (sometime humorous) way. No bells, no whistles — just the music performed in a random, low-key setting followed by an unrehearsed chat. In an industry where everything often gets overblown and over manufactured, Jon strives for a refreshing change. Artists featured on the series include Imagine Dragons, Melissa Etheridge, Air Supply, Joe Perry, Alice Cooper, fun, Bleachers, Charli XCX, Marina and the Diamonds and Bastille.
Stay Connected:
http://ThisIsASides.com
https://www.facebook.com/ThisIsASides
http://www.twitter.com/thisisasides