Celebrating Michael Jackson's Birthday with ONE Singular Sensation in Vegas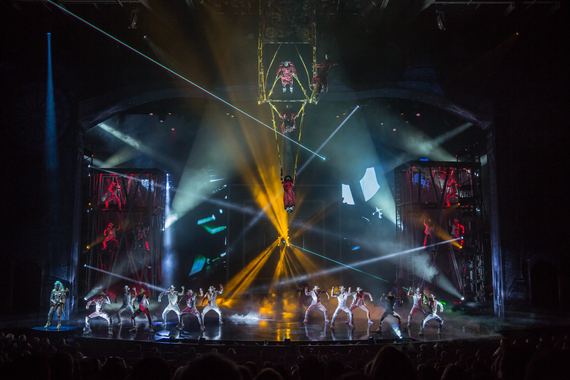 If you were a child of the 1980s, you truly can grasp just how big Michael Jackson was. He was our decade. He was our Elvis. A white glove. A dance move. A chimp sidekick. Everything he did made news. Heck, a Pepsi commercial was hyped like a Marvel blockbuster. He wasn't just the king of a genre, he was a king period. With all that being said, not seeing the icon in concert has plagued me since the old school days of blowing in a Nintendo game cartridge. That void was just about filled a few days ago despite the fact the King of Pop has been gone for over seven years.
As part of their "Michael Jackson Birthday Weekend" with the Estate of Michael Jackson, Cirque du Soleil hosted myself and a few other journalists to catch their Michael Jackson ONE within the Mandalay Bay Resort and Casino in Las Vegas and take a tour backstage. The show, now in its third year, transports you back in time with the Gloved One's hits and other standouts blasting out of countless speakers (including some literally etched into the back of your seat) as projections flash images at lightning speed. Oh, and of course, this is Cirque so that barely scratches the surface. The music and imagery are paired with jaw-dropping acrobatics, sets, costumes, and a cast of 63 performers and dancers who somewhat all-too-easily made me forget about the athleticism of the Olympians I watched just a few weeks ago.
Boasting about all of this is easy. It really rocks with you, takes you back in the day, and lasts long after its hour-and-a-half run time. It also, and this is a constant theme of the show, reminds you no matter how many times the tabloids taunted the man, his myth and magic triumphed over both. It also drives home Jackson's message of unity. We are all ONE after all, and fittingly the cast hail from 17 countries.
Moving from center to backstage, meeting the cast and crew of ONE was the cherry on the proverbial sundae. To witness first hand how goes into this unimaginable production twice a night was just as engaging and amazing. In a video embedded below, you'll see a few highlights of a tour in which we were shown how the staging, the sound, the lighting, and so much more work. But, clips were kept to a minimum. Why ruin the mystery? I will say this, though, being taught some of the master's dance moves by the show's choreographers was a trip. Ironically, we all danced to "Man in the Mirror" while facing a mirror. I opted not to look, because Michael Jackson I am not. I can't even dance like Peter Jackson.
Yes, it was a magical weekend that also included members of the Estate unveiling an iconic piece of Michael Jackson memorabilia to be displayed at the theatre: the iconic white-and-blue pinstriped suit and matching white fedora famously worn by Jackson in the short film for "Smooth Criminal." In any event, watch the footage (filmed by Andrew Plotkin), check out some behind-the-scenes tidbits, and watch A-Sides interviews with a few of the performers and dancers. Oh, and for more from "Michael Jackson's Birthday Weekend" and A-Sides in Vegas, check out thisisasides.com all week.
About A-Sides with Jon Chattman – thisisasides.com :
Jon Chattman's music/entertainment series typically features celebrities and artists (established or not) from all genres performing a track, and discussing what it means to them. This informal series focuses on the artist making art in a low-threatening, extremely informal (sometime humorous) way. No bells, no whistles — just the music performed in a random, low-key setting followed by an unrehearsed chat. In an industry where everything often gets overblown and over manufactured, Jon strives for a refreshing change. Artists featured on the series include Imagine Dragons, Melissa Etheridge, Yoko Ono, Elle King, Joe Perry, Alice Cooper, fun, Bleachers, Charli XCX, Marina and the Diamonds, and Bastille.
Tags:
A Sides with Jon Chattman
,
a-sides
,
august-29
,
cirque
,
Cirque du Soleil
,
estate of michael jackson
,
Jon Chattman
,
king of pop
,
Las Vegas
,
Mandalay Bay
,
Mandalay Bay Resort and Casino
,
Michael Jackson
,
Michael Jackson Glove
,
michael jackson one
,
Michael Jackson's birthday
,
one
,
one vegas
,
Peter Jackson
,
smooth criminal
,
vegas