Alice Cooper & Joe Perry Breathe New Life to Hollywood Vampires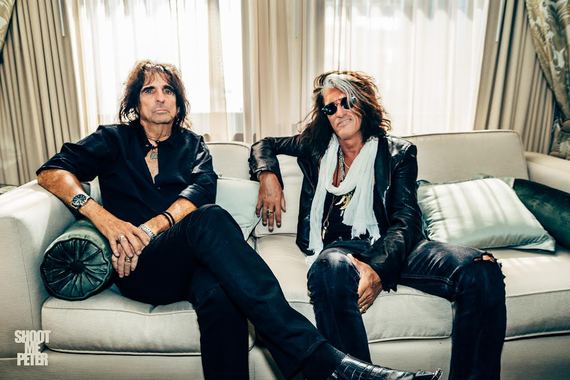 Photo by shootmepeter.com
On a steamy August morning, I sprinted faster than Arnold Schwarzenegger in The Running Man to get to my planned destination on time. Since my train came in a few minutes late, I was determined to arrive there and not miss out on an obvious "pinch me" moment. I got there with a few minutes to spare but was a sweaty mess. As I took the elevator up to the New York City hotel suite, I tried to air dry but it was too late. My shirt was soaked, and sweat dripped down the back of my neck like a Nixon/Kennedy debate. Upon arriving, I darted into the bathroom to cool down and "freshen" up. While in there, I heard name drops from the two music icons I was about to sit down and have a chat with: Jimi Hendrix, John Lennon and Keith Moon.
As I got myself looking reasonable (I snagged my intern's black cardigan to hide the stains), I approached the couch to find Alice Cooper and Joe Perry continuing to trade stories. After giving the pair the firm handshake they deserve, I plowed right in – albeit with sweat pouring down my neck like Nixon at a Kennedy debate. This backstory is irrelevant to most, but paints a picture for those that didn't just rush to the embeds below.
The shock rocker and legendary Aerosmith guitarist were in town to discuss their new band – the Hollywood Vampires, which ironically is an old concept – in theory anyway. Back in 1972, the term wasn't a music group but a group of famous musician friends who hung out at an upstairs bar along the Sunset Strip and tried to out drink one another. Along with founding member Cooper, the crew included Lennon, Morrison, and Keith Moon. It consisted of rockers who lived near the Strip and those passing through town while on tour.
Roughly three years ago, Cooper and bud Johnny Depp decided to recreate the spirit of the Vampires but with music overtaking the overindulgence. The goal was simple: form a group and play the music of – as Cooper calls it his "dead drunk friends" – together. Anyone who caught Cooper's "Raise the Dead" tour got a taste of this two years ago when he paid tribute to his fallen comrades with a series of covers.
The album, out Sept. 11, features covers and two new tracks, and a who's who of music royalty. Along with Cooper, Depp, and Perry , Perry Farrell, Dave Grohl, Sir Paul McCartney, Slash, Robbie Krieger and others appear on the record. Covers include such classics as "My Generation" and "Break on Through." There are also two new tracks – "Raise the Dead" – and one that is intro'd by another dead friend: Sir Christopher Lee.
The album is now available to pre-order, with all artist proceeds going to the MusiCares . But, enough. Let's get to the video interview: one couch, two legends, and one sweaty reporter.
Part One:

For part two of the interview, click here.
A-Sides "Delve Into Twelve" Countdown
Each week A-Sides unleashes its top 12 tracks of the week AKA the "Delve Into Twelve" based on the following contributing factors: songs I'm playing out that particular week (no matter when they were released — think overlooked songs, unreleased tracks and old favorites), songs various publicists are trying to get me to listen to that I did and dug a bunch, song posts and trends I've noticed on my friends' Facebook walls and, most importantly: what my toddler is currently enjoying thoroughly with an assist from my newborn.
About A-Sides with Jon Chattman: Jon Chattman's music series features celebrities and artists (established or not) from all genres performing a track, and discussing what it means to them. This informal series focuses on the artist making art in a low-threatening, extremely informal (sometime humorous) way. No bells, no whistles — just the music performed in a random, low-key setting followed by an unrehearsed chat. In an industry where everything often gets overblown and over manufactured, Jon strives for a refreshing change. Artists featured on the series include Imagine Dragons, Melissa Etheridge, Air Supply, Joe Perry, Alice Cooper, fun, Bleachers, Charli XCX, Marina and the Diamonds and Bastille.
Stay Connected:
http://ThisIsASides.com
https://www.facebook.com/ThisIsASides