A-Sides with Jon Chattman: St. Lucia Raises "Energy" Level; Discovering the Expanding BØRNS Identity
When you think tea, you usually think Lipton. When you think music festivals, you probably don't. Why would you? Teabags don't automatically make you think of moshing, shaking your hips, and shouting out your favorite song lyrics. If they do, I guess, more power to you. Anyway, on Oct. 24, Lipton and music festivals became one with their Be More Tea Fest in North Charleston. The event, which featured a smorgasbord of hot alt-rock talent, was held in celebration of the brand's 125th anniversary. Music was heard, tea was served, and A-Sides caught up with two of the biggest acts on the bill: St. Lucia and BØRNS. Read our exclusive Q&As with them below. Tea and rock and roll. Who knew?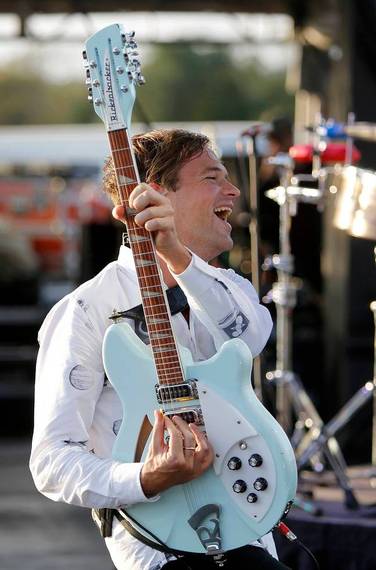 Mic Smith/AP Images for Lipton
Some people are just meant to have careers in music. Clearly, not me. When I sing in the car, I think my car radio tries desperately to switch off. Anyway, Jean-Philip Grobler is the antithesis of anything I bring to the table. The South Africa native and current New Yorker, who goes by the name St. Lucia (burying the lede Jon – well done), has been involved in music in some capacity since his youth. He performed with the Drakensberg Boys Choir School, and graduated to making his own music and remixing others.

St. Lucia is currently working on his second full-length album – following the success of his debut When The Night plus two previous EPs. Night's "Elevate," by the way, can still be heard fairly on the regular on alt-rock stations – no small feat considering it came out nearly two years ago. Anyway, let's get on with the interview with a man.
So many songs have had legs off your last record – notably "Elevate," and your still on the road performing tracks off it. Does it feel like it's been forever?
It's funny. It seems both ways depending on the day you ask me. It feels like yesterday sometimes, but it also sometimes feels like we've been touring this album for a really long time. But, we've been able to introduce new songs in our set.
I don't think alt radio was quick to adopt our music. So it's been a slow burning, lasting success. We're definitely a career band, hopefully not just one song.
You just got off the stage at Lipton's music fest. You've played so many festivals over the last few years from Governors Ball to Lollapalooza. How do you feel festivals work in general? Is it harder to keep the energy level up at all?
There's a craziness. People are trying to program who to see. This festival is only one stage. But, we always put on the best performance we can depending on our level of health. [Laughs] It's not like "oh we're playing smaller city now let's not be energetic." I think if it's 50 people or 10,000 or 50,000, we bring as much energy as previous show.
You've remixed countless of artists as mentioned. Who would you classify as "unremixable?"
if someone asks me, I just kind of agree to do it based on who they are and if I have time. I'll agree to mix anything. I often have a hard time with a song I'm really attached to, for example, anything from Fleetwood Mac. I respect their music and think it's just so perfect.
Between touring and all the remixes you do for other artists, do you ever come up for air?
[Laughs] Yeah. I mean, for me, music has always been my life. I'm fortunate to have a pretty good life/work balance. I don't look at music as work. It's just something I enjoy doing, and don't get tired of doing. I'm very fortunate do the thing I love. Do I feel exhausted from doing it? Of course. I'm also very inspired by the music around me. I appreciate bands that push themselves to not stay comfortable. It really inspires me. I enjoy being busy and touring with my wife, who's one of the keyboard players in the band. I feel if that wasn't the case, and she was waiting at home, it'd be different. But, we make sure when we go to a new city, we go on a hike or a cool restaurant or attraction together. It's almost enough of a break from the music.
OK, let's get to it. When's the new record coming out and what's the vibe?
I'm only beginning to talk about hte new album, but it's actually done. I haven't really wrapped my head around it. What I say is always six months. It feels a little, dare I say it, braver in a sense. The first record, the band and I were still trying to find our footing, and trying to establish ourselves. It was a lot of atmospheric and reverb and I'm proud of it, but it has a lot more energy. There's a lot more single track vocals that are not super reverbed out. The lyrics are a little more autobiographical whereas the last album was more of train of thought. I really put lot of thought, time and effort into the lyrics. It feels more organic in some ways. So…early 2016 [I'd say].
Do you have any words of wisdom to offer my 11-month-old son?
I would just say, and it sounds really cheesy, follow your heart and don't be intimated by the way other people are and think you have to be that way. Don't be ashamed of what you feel and what you feel inside. The world is becoming an easier place to be that way, but it's very easy growing up to be anxious. Stand by who you are.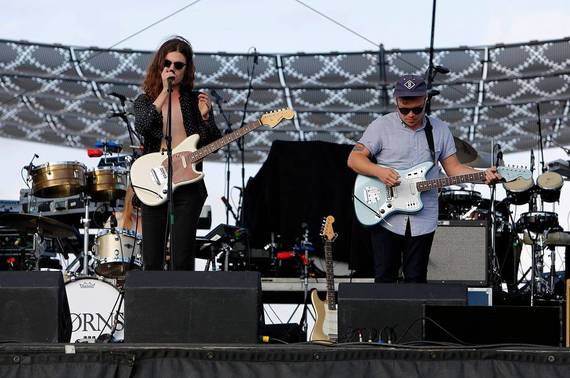 Like St. Lucia, Garrett Borns has had a pretty darn solid year. Borns, or BØRNS, has has gotten mileage out of his quite amazing debut full-length album Dopamine– which is hauntingly beautiful, deeply felt and inspiring, and airlessly weighty. The Michigan native's well-received work is a follow up to his Candy EP, which really set him on the path he's charting now. A-Sides, ,as mentioned, caught up with the "Electric Love" artist and found the answers to simple questions just as poignant as the music itself.
Your album is appropriately titled Dopamine. . You have explained it very well in various outlets that it's sort of inspired by the chemical reaction (of the sexes). But, I feel there's a certain airiness to it as well. Would you agree?
Air is definitely an element on the record. I tend to write with wide open space in mind. The feeling of ascension is something I'm always striving for in music.
Explain the importance of getting a Taylor Swift tweet. No one I know can.
A Taylor tweet is like a Wonka ticket except instead of going to a chocolate factory you get a ton of hyper-stoked young fans.
Not a bad thing at all… back to the album, how many different forms have the tracks had since their inception? I know many artists are tweaking on final versions up until the very end.
It's a puzzle most of the time. You know…throwing paint at the canvas and seeing what appears and then rearranging and trying different permutations of the sections. A song like "American Money," for example, had many instrumental changes and choruses that didn't make the cut.
You've played a bunch of festivals – Lipton's most recently – I'm sure your approach is the same to every show but is it sometimes difficult to perform for an audience who may have audio overload with a packed lineup of artists to squeeze in during the span of a day or two?
I guess that's the nature of festivals. I don't overthink it. I just perform to the best of my ability and hope it resonates positively.
If you were forced at gun point or – you know a dude like me asked you this – what lyric to a song could double as a catchphrase for yourself?
"I'm an alligator" – "Moonage Daydream," Bowie
Lastly, can you impart any words of wisdom for my 11-month-old son?
I would but I admire his view of the world.
A-Sides "Delve Into Twelve" Countdown
Each week A-Sides unleashes its top 12 tracks of the week AKA the "Delve Into Twelve" based on the following contributing factors: songs I'm playing out that particular week (no matter when they were released — think overlooked songs, unreleased tracks and old favorites), songs various publicists are trying to get me to listen to that I did and dug a bunch, song posts and trends I've noticed on my friends' Facebook walls and, most importantly: what my toddler is currently enjoying thoroughly with an assist from my infant.
About A-Sides with Jon Chattman: Jon Chattman's music series features celebrities and artists (established or not) from all genres performing a track, and discussing what it means to them. This informal series focuses on the artist making art in a low-threatening, extremely informal (sometime humorous) way. No bells, no whistles — just the music performed in a random, low-key setting followed by an unrehearsed chat. In an industry where everything often gets overblown and over manufactured, Jon strives for a refreshing change. Artists featured on the series include Imagine Dragons, Melissa Etheridge, Air Supply, Joe Perry, Alice Cooper, fun, Bleachers, Charli XCX, Marina and the Diamonds and Bastille.
Stay Connected:
http://ThisIsASides.com
https://www.facebook.com/ThisIsASides
http://www.twitter.com/thisisasides