Zoë Kravitz Kills it on Film and Stage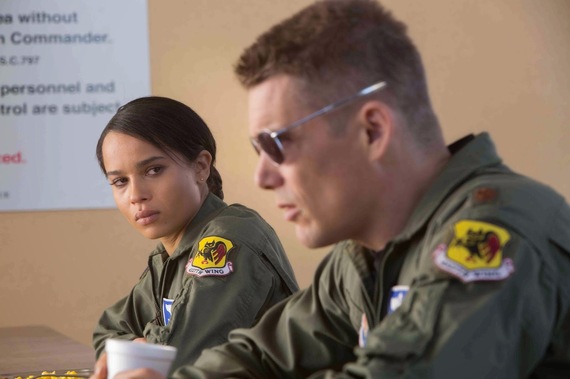 Zoë Kravitz has been fortunate to be in many film franchises from X-Men to Divergent and the upcoming Mad Max reboot. But it just turned out that way. It's not like she's seeking out these behemoth movies though something tells me if JJ Abrams came calling about Star Wars she'd take it on. Or not. Or maybe. Or it doesn't matter.
"I don't even think of it. I enjoy all kinds of film – action, indies, quiet films. A studio film can be thoughtful. I haven't had to make sacrifices for my art," the actress/musician explained earlier this month promoting her new film The Good Kill.
In the film, which is directed by Andrew Niccol, Kravitz rides shotgun to Ethan Hawke, who plays an Air Force drone pilot who starts questioning the war in Afghanistan and his role in it. The film opens Friday, May 15 and is available on-demand as well. In the aforementioned interview, Kravitz discussed the film, her music career with the band Lolawolf, and how she balances both. Oh, and she also talks Steve Buscemi and Bill Murray. Now there's a cop buddy flick I'd like to see. Anyway, here we go…
The subject matter is pretty heavy here, and naturally has drawn comparisons to American Sniper. Did you find yourself getting caught up subject matter?
Yes, in a good way. It opened my eyes. This is an anti-action movie action movie. Obviously, it has to be entertaining to keep fans entertained but there's a lot of stillness in the film. There's a lot of sitting around for [Hawke's character], and that's rare – to show that. To be in that box, and just letting it all sink in, you get some idea of what it'd be like.
There was a time when VOD was looked at with the same reaction as WMDs. Is it safe to say those days are over? It certainly feels it.
I don't feel that way either. Netflix… Amazon… there are so many ways to get things out there. I think the [stigma] was when there were only two ways to do it: if you can't get it in theaters, you go that route.
Hawke and Niccol have worked together often. What was the dynamic on set watching their chemistry/work ethic?
There was a moment where it was like I was a new kid at school. They definitely have their own rapport. They obviously feel comfortable working with one another. But, they make sure the environment is safe and there's not any drama. Everyone trusted one another.
You get this a lot I'm sure, but it must be hard to juggle film with Lolawolf?
Yeah, but it's the same with everything. You can't do one movie because you're doing another. It's the nature of being a busy person. Work scheduling doesn't always work. I don't understand comparing the two. Somebody asked me earlier that it's so rare do both (act and sing), and that's what it used to be like. Judy Garland had to be able to sing, dance, and act. Being a triple threat was the standard.
Turning to lighter fare, if you could pick someone to be your co-pilot – wingman if you will – in life, who would it be. Ethan Hawke in Training Day? Oh, maybe like Steve Buscemi. I feel like we'd be a good dynamic duo. He'd be able to get me out of any sh-t. Wait. Can I change it to Bill Murray? Will Steve Buscemi get mad now?
I think he'd be cool with it.
Bill Murray. 100 percent. He'd get us in trouble.
About A-Sides With Jon Chattman:
Jon Chattman's music series features celebrities and artists (established or not) from all genres of music performing a track and discussing what it means to them. This informal series focuses on the artist making art in a low-threatening, extremely informal (sometime humorous) way. No bells, no whistles, just the music performed in a random, low-key setting followed by an unrehearsed chat. In an industry where everything often gets overblown and overmanufactured, Jon strives for a refreshing change. Artists have included fun., Charli XCX, Imagine Dragons, Alice Cooper, Joe Perry, Gary Clark Jr., American Authors, Echosmith,and many, many more!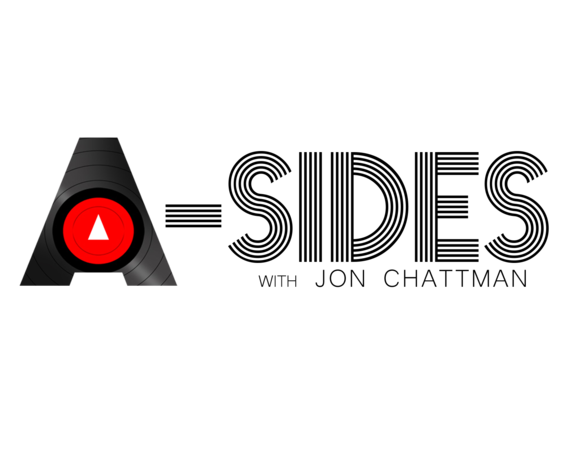 Stay Connected:
http://asidesmusic.com/
https://www.facebook.com/thisisasides
https://twitter.com/ThisIsAsides