Tits of Clay Say Goodbye to "Hedwig" but Keep "Rolling" with New EP
September 8, 2015 4:50 pm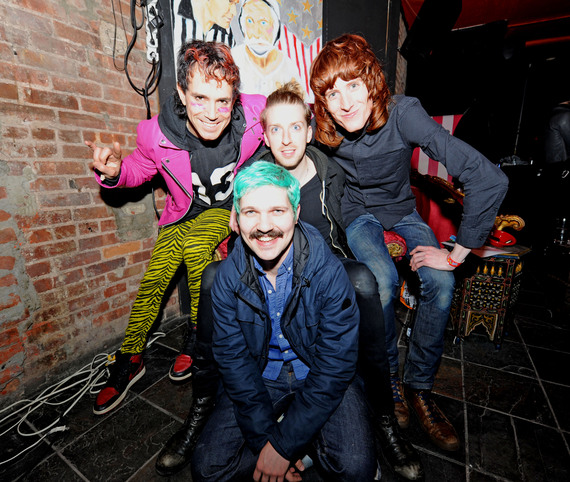 Photo/Tracy Ketcher
The cult and beloved classic Hedwig and the Angry Inch was originally expected to have a limited run from April to Aug. 2014. Well, sold-out show after sold-out show, a handful of Tony's, a groundbreaking turn from Neil Patrick Harris, a star-making performance from Lena Hall, and so much more glamified goodness, the show will finally end an astonishing run this Sunday, Sept. 13. Limited run? My ass. Oh, and once it leaves the Great White Way, the show is going on the road big time.
During the show's stay at the Belasco Theatre, there have been various changes, notably a carousel of pumped-up Hedwigs. Harris respectively gave way to Andrew Rannells, Michael C. Hall, Darren Criss, the originator John Cameron Mitchell, and current goddess Taye Diggs. While the heels have changed feet, there's been one constant from day one: a killer backing band appropriately named Tits of Clay.
Handpicked entirely by Stephen Trask, who is the composer, lyricist and co-creator of Hedwig, the band quickly evolved into so much more than eye and ear candy in the background. Throughout the show's run, they played gigs as the band and come Sept. 13 – after Hedwig takes her final bow – they'll play an EP release show at Rough Trade in Brooklyn. Oh, I jumped the gun. I should mention on Sept. 11 their five-track debut EP aptly titled Belasco will drop. The album features Devo ("Uncontrollable Urge"), Wreckless Eric ("Whole Wide World"), Richard Hell ("Blank Generation"), Lou Reed ("Satellite of Love') and Bob Dylan ("I'll Keep It With Mine"). The latter features Michael C. Hall. The album was made possible via a PledgeMusic campaign. As the wig is placed in the box for the last time, and the "Midnight Radio" is switched off for now, I caught up with all four "Tits" (Justin Craig, Matt Duncan, Tim Mislock, and Peter Yankowitz) and asked them what's next.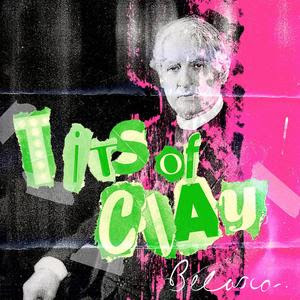 For those who don't know, did any of you guys know each other before taking the stage as Tits of Clay?
Justin Craig: I've known Tim for a number of years and been a fan of his musical talents. Peter and I have done a number of super fun gigs together in New York and the UK with a band called Exclamation Pony. I've known Matt since high school, back when we played basement parties and all-ages shows in Lexington. We've done a bunch of recording and touring together over the last decade.
Tim Mislock: I've known Justin for a few years now and had always been in awe of his raw musical talent from his previous band and he asked me to join The Angry Inch. And then I met Peter and Matt at our first band rehearsal.
The show has had an amazing run and has had five strong leads – did working alongside a new lead change your approach at all from Hedwig to Hedwig?
Matt Duncan: Yes, but mainly in terms of acting… Some responses just no longer make sense when there's a switch. Obviously, the bad Hedwig-Yitzhak relationship is written into the script, but some Hedwigs are just better at being bad. And our characters in turn are more or less annoyed/angry/depressed. Neil really helped us jump start our acting by coming out of his dressing room in character. After a certain point, it was like "Who's to say we're not a put-upon glam rock band working under a tyrannical rockstar?"
Peter Yanowitz: Each Hedwig brought her own personality into the mix. And in return, each also brought out different shades of our personality as well. Neil's approach was kind of intimidating, Andrew – with his over the top anger – made me laugh and root for her, Michael C. Hall was just so southern sweet, and he made us want to rock balls for her and kill. JCM brought us all downtown, and his Hedwig was kind of mean to the band, but the humor that came out of it was so damn worth it.
Darren made me want to protect and have Yitzak's back much more than any of the other Hedwigs. And Taye just has a way about his Hedwig, she is so smooth, and that stand-up humor is impossible not to have fun.
TM: I feel like all of the changes we made with each Hedwig were minimal aside from key changes. I always felt like we were the backbone and the launching pad for them to explore the front woman aspect of their character.
How'd the EP come about and how did you select the covers?
PY: My old friend Leigh Lust started working for Pledge music, and he came to see the show about ten times. He proposed the idea, and I got Steve Saporito (our manager) behind it, and the rest is history. We chose the songs as a group.
JC: The songs were chosen from a batch of covers that we were having fun with at Hedwig rehearsals and our early Tits gigs.
TM: We all selected songs that we all thought each person could excel at and generally loved once we heard from Peter's friend that we were going to make a record.
MD: I think we went for what was fun and/or iconic from a pretty big collective setlist…
Did you approach any other Hedwigs besides Michael C. Hall to back you guys up on a track?

JC: I think MCH was the only one.
MD: …But to be fair, he was our Hedwig at the time.
As you approach the end of the show's Broadway run, have you discussed your next gig? Will Tits of Clay live on in the National Tour?
PY: We will try to keep the Tits rolling. Stephen Trask and I have written a new show called 15 Minutes with librettist Rick Elice. We have asked the band to help us arrange and orchestrate the music for the new show. And that might lead to playing that music live. Hopefully we will all be on board for the national tour of Hedwig.
TM: The Tits will rise again. Hopefully all of us are able to do the tour. Other than that, I'm looking forward to enjoying time with my wife and playing shows in support of my solo record.
MD: Lots of discussion, but it's all still up in the air. I go back and forth on whether that's exciting or terrifying. 500 shows is a lot! This thing has kind of become our life. Hopefully, we'll all be back together next year!
JC: We'll all continue to do lots of work together. The tour would be fun for sure. I'm excited for all the new projects.
Lastly, do you think we'll see an era of Glam Rock again?
PY: Hopefully not, and if we do see it again it will just be a cheap regurgitated imitation. They kind of nailed it back then!
JC: …I feel like there's a lot of "glam" in pop music right now, which is fun. Huge stage productions, wild costumes, etc…
TM: I don't think it ever really went away. Elements have been part of the rock scene since then, but I think the way music is ingested now, it would never have the same impact and respect.
MD: I agree with Justin that we're sort of in one right now. You probably won't catch me listening to Lady Gaga or Katy Perry any time soon, but I think it's great that freak flags are flying from the highest poles. Of course, when something is that ubiquitous, it's going to be a little diluted. Cultural trends are cyclical, but they never come back the same.
A-Sides "Delve Into Twelve" Countdown
Each week A-Sides unleashes its top 12 tracks of the week AKA the "Delve Into Twelve" based on the following contributing factors: songs I'm playing out that particular week (no matter when they were released — think overlooked songs, unreleased tracks and old favorites), songs various publicists are trying to get me to listen to that I did and dug a bunch, song posts and trends I've noticed on my friends' Facebook walls and, most importantly: what my toddler is currently enjoying thoroughly with an assist from my newborn.
About A-Sides with Jon Chattman: Jon Chattman's music series features celebrities and artists (established or not) from all genres performing a track, and discussing what it means to them. This informal series focuses on the artist making art in a low-threatening, extremely informal (sometime humorous) way. No bells, no whistles — just the music performed in a random, low-key setting followed by an unrehearsed chat. In an industry where everything often gets overblown and over manufactured, Jon strives for a refreshing change. Artists featured on the series include Imagine Dragons, Melissa Etheridge, Air Supply, Joe Perry, Alice Cooper, fun, Bleachers, Charli XCX, Marina and the Diamonds and Bastille.
Stay Connected:
http://ThisIsASides.com
https://www.facebook.com/ThisIsASides
Tags:
A Sides with Jon Chattman
,
a-sides
,
Andrew Rannells
,
belasco theatre
,
darren criss hedwig
,
Delve Into Twelve
,
Exclamation Pony
,
Hedwig and The Angry Inch
,
hedwig and the angry inch broadway
,
hedwig broadway
,
Justin Craig
,
Leigh Lust
,
Lena Hall
,
Matt Duncan
,
Neil Patrick Harris
,
Peter Yankowitz
,
Stephen Trask
,
the antlers
,
Tim Mislock
,
Tits of Clay
,
tits-of-clay-belasco
,
Tony Awards
,
tony winners
,
wreckless-eric
,
Yitzak