The 'Nice Deep Musk' of Imaginary People; 'Line' Up for Lost Leaders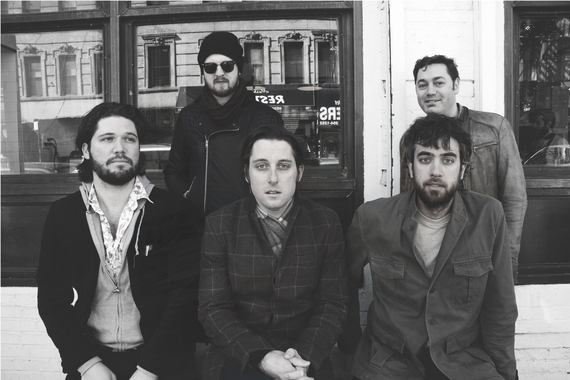 Muse fronted by Elvis? Not quite but listen to the New York five-piece band Imaginary People and you'll hear a glorious contradiction of throwback vocalist Dylan Von Wagner matched with a contemporary blend of synth, guitars, and percussion. Oh, and the music will make you want to dance like those poorly dressed kids used to in American Bandstand, too – only far less awkward. The band dubbed their genre "Dance Americana," and it's pretty accurate. Quentin Tarantino should take note – this retro cool vibe would work on one of his soundtracks.
Speaking of cinematic references (sort of anyway), Imagine People's full-length debut album Dead Letterbox will be released on July 17. It's got a good beat and you can dance to it. (Note: that's another Bandstand reference. Why? A good question with no easy answer.) Anyway, get on it, cool kids.
Dead Letterbox is an interesting name for an album. How'd you stumble on that name and how important are album titles in general?
Well, to be honest, you want a name that sticks and goes with the material. That being said, I think an album title isn't a game changer – it just needs to be catchy enough to remember. In our situation, the band sat around a bar for three hours one evening and said "no one leaves until we have a name." Since espionage seemed to be laced into the album, Dead Letterbox fit the mold and the artwork.
In an age of music that's often recycled with one chorus played over and over, how'd you develop your originality?
Typically, we try to arrange a song so every section each member is playing something very specific. That way, the listener isn't just focused on the vocal melodies but all the other melodic elements that mix in the soup of the song. Hence you get a little more of a mini orchestra within a five-piece band.
You recorded in a barn in Upstate New York. A) Why? and B) How bad did it smell in there?

We've been using the same producer and studio, even with my former projects. His name is Kevin McMahon and his studio is called Marcata. He's worked with bands like Titus Andronicus, Swans, Real Estate, etc. He's quite good at getting solid, three-dimensional room sounds and recording everything as live as possible. I feel it offers the listener an unblemished sonic experience where you're getting a HiFi mix with the raw threads of a band in a room together with sounds bouncing around. As for smell, it has a nice deep musk and Robert De Niro is his neighbor so we go and say hello when we can!
You've been together for such a short time to find such instant buzz. Do you agree with that at all?
I don't think we're necessarily buzz. I think you get the buzz thing when you're everywhere, and right now we're just trying to introduce our band to our first record, get out on the road and cause trouble. I do have a good word for you when a band has a lot going on and it's called 'glorious spontaneity!' Stole that from a manager I met with.
Ooh I like that. Off topic, can you offer words of wisdom that my now seven month old son can follow when he's older?
OK two things: one from my father and one from my uncle, both have passed. My father was a home builder and as we're putting shelves up in my apartment years ago [and] I was trying to rush 'cause they're just shelves and who cares. He retorted "You want shit, or you want shelves?" You can figure that one out.
Next, as I was living in London with my aunt and uncle, I picked up the guitar in my twenties. One day, as I'm fixing a sandwich in the kitchen at his house while taking a break from playing, he said "shouldn't you be practicing?" I said "I'm making lunch." He said again, "shouldn't you be practicing?" He said that every time I was in the kitchen making some food, so shouldn't I be practicing?
We move from some Imaginary People to a pair of Lost Leaders, a band fronted by Peter Cole and Byron Isaacs. As of late, the duo have been gaining traction in Westchester County, performing throughout the area, including this past weekend's Pleasantville Music Festival. They've also played Garcia's, a too-cool-for-school venue within the iconic Capitol Theatre in Port Chester, NY. Fittingly, A-Sides had the pair record an exclusive session in that spot (filmed by Andrew Dapolite). There, they also discussed touring, branching out of the (914) area code, and an upcoming new album. But, let's not just thrust ourselves into the video embed below without learning more about these two cool cats.
Lost Leaders are sort of a blend of the best rock/folk/psych bands from the 1970s with the best of the rock and folk bands from right now. It's as if Wilco came out decades ago and cut a record. Or maybe it's not. Let's not do the whole comparing thing. Let's just say they perform with raw energy and talent, and come off as passionate as you're going to see a rock band these days. Cole and Isaacs' chemistry is what fuels the band. They not only finish each other's sentences, they pretty much finish each other's songs – lending vocals, songwriting, and melodies to each track.
Westchesterite Cole sings, writes, and plays guitar while Isaacs, a Texas native with strong roots in Westchester, plays bass, guitar, and sings. Speaking of the latter, he's performed for years in the Levon Helm Band as well as Helm's daughter Amy in the Dirt Farmer Band and the band Ollabelle.
Watch the pair chat about their music here, and hopefully you watched "The Line the Lie" above. Oh, and if you want to see and hear more exclusive A-Sides love, watch I'm Gonna Win now.
A-Sides "Delve Into Twelve" Countdown
Each week A-Sides unleashes its top 12 tracks of the week AKA the "Delve Into Twelve" based on the following contributing factors: songs I'm playing out that particular week (no matter when they were released — think overlooked songs, unreleased tracks and old favorites), songs various publicists are trying to get me to listen to that I did and dug a bunch, song posts and trends I've noticed on my friends' Facebook walls and, most importantly: what my toddler is currently enjoying thoroughly with an assist from my newborn.
About A-Sides with Jon Chattman: Jon Chattman's music series features celebrities and artists (established or not) from all genres performing a track, and discussing what it means to them. This informal series focuses on the artist making art in a low-threatening, extremely informal (sometime humorous) way. No bells, no whistles — just the music performed in a random, low-key setting followed by an unrehearsed chat. In an industry where everything often gets overblown and over manufactured, Jon strives for a refreshing change. Artists featured on the series include Imagine Dragons, Melissa Etheridge, Air Supply, Joe Perry, Alice Cooper, fun, Bleachers, Charli XCX, Marina and the Diamonds, and Bastille.
Stay Connected:
http://ThisIsASides.com
https://www.facebook.com/ThisIsASideshttps://twitter.com/thisisasides