Stepping Out with Louis York and Jon Bellion
To take a page from The Beasties Boys, the next two acts featured on A-Sides have mad hits like they were Rod Carew. Sadaharu Oh even. Louis York are the multi-platinum team of songwriters/producers Claude Kelly and Chuck Harmony, who have scored off-the-charts hits for everyone from Miley Cyrus to Bruno Mars. Similarly Jon Bellion, is a Grammy-winning songwriter behind mega-hits by Eminem and Jason Derulo. The respectively gifted artists have jumped in front of the red curtain instead of pulling the strings behind it lately, and the results are cloaked in awesome.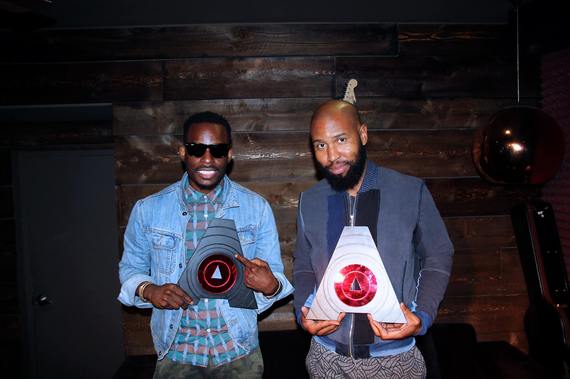 Photo by JJ Adrian
Before I dive right in and tell you how awesome Louis York is, let's expand on the picture I painted above the photo above. Kelly Clarkson's "My Life Would Suck Without You." Miley Cyrus' "Party in the U.S.A." Bruno Mars' "Grenade." Kelly's hands are all over those songs and countless others. As for Harmony, he's only worked on Mary J. Blige's Grammy-winning Growing Pains, Ne-Yo's Grammy-nominated Year of the Gentleman, and Rihanna's "Russian Roulette" single to name a few. Bonkers. Anyway, let's get to Louis York, because they're about to follow the respected artists they've worked with a huge dose of pop domination. And while their songs are accessible to the masses, it's not empty calories. There's weight to their music.
"Clair Huxtable" is the first single by the dynamic duo and it's everything the ongoing saga of Bill Cosby isn't: refreshing and a full of positive vibes. Enough about that controversy. It gets enough print and this song was penned before this mess because The Cosby Show influenced so many back in the day – including this tandem. I will say this, though, Phylicia Rashad is terribly underrated and should get some print. She's been killing it since The Cosby Show went off the air – winning a Tony Award, and becoming a Broadway go-to star. She's also set to appear in the Rocky spin-off Creed. Clearly, Louis York know how iconic Rashad and her character are.
As a single, "Clair Huxtable" is a groovy (and I mean that in a non-Austin Powers way) blend of old-school R&B and killer pop infection that finds the duo looking for qualities that the leading lady from the '80s had: a combo of sophistication and sexiness. It's one of the best songs of the summer, and deserves to be a hit across various charts.
The track appears on Louis York's forthcoming Masterpiece Theatre Act I EP through their own label, Weirdo Workshop. Act II will follow with Harmony continuing to play every instrument and Kelly writing and singing on each one. A few weeks ago, the tag team, who got their name by the way because Harmony's from St. Louis and Kelly's from New York, filmed an A-Sides session at Primary Wave in New York City, talked stepping out on their own, and the aforementioned song I've been gushing over like a tween-age girl.
Watch the interview here and the exclusive version of the song below. Expect great things.
Like Louis York, Jon Bellion has been stepping out on his own in a big way.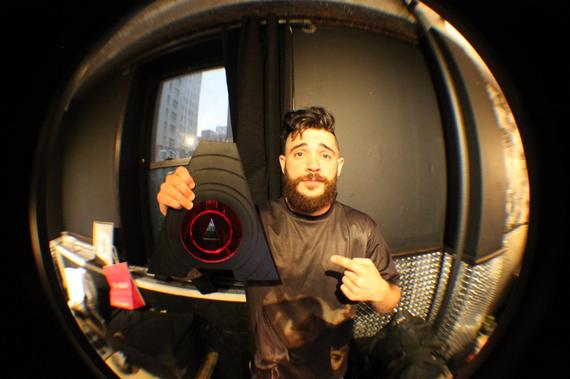 Photo by JJ Adrian
The Grammy-winning songwriter (Eminem/Rihanna's smash "Monster" and Jason Derulo's hit "Trumpets") just wrapped up a tour in support of his self-produced album The Definition, which he released for free last year. The New Yorker, who's dropped a bunch of influential mix tapes throughout the years, also test drove new songs on the road off an album he's been working diligently on. Until that LP's release, Bellion's can be heard on Zedd's "Beautiful Now" and released a trio of tunes exclusively on Spotify. Personally, listen to "Woke the F–k Up" where he states "we live in an age where everything is staged…" So true, but that's not the case with this artist. He's original, actually has something to say, and has an impeccable gift to genre-bend. It's no wonder so many top artists want to work with him.
Prior to his sold-out show at Irving Plaza in New York, Bellion sat down for an A-Sides chat. Enjoy.
A-Sides "Delve Into Twelve" Countdown
Each week A-Sides unleashes its top 12 tracks of the week AKA the "Delve Into Twelve" based on the following contributing factors: songs I'm playing out that particular week (no matter when they were released — think overlooked songs, unreleased tracks and old favorites), songs various publicists are trying to get me to listen to that I did and dug a bunch, song posts and trends I've noticed on my friends' Facebook walls and, most importantly: what my toddler is currently enjoying thoroughly with an assist from my newborn.
About A-Sides with Jon Chattman:Jon Chattman's music series features celebrities and artists (established or not) from all genres performing a track, and discussing what it means to them. This informal series focuses on the artist making art in a low-threatening, extremely informal (sometime humorous) way. No bells, no whistles – just the music performed in a random, low-key setting followed by an unrehearsed chat. In an industry where everything often gets overblown and over manufactured, Jon strives for a refreshing change. Artists featured on the series include Imagine Dragons, Melissa Etheridge, Air Supply, Joe Perry, Alice Cooper, fun, Bleachers, Charli XCX, Marina and the Diamonds, and Bastille.
Stay Connected:
http://ThisIsASides.com
https://www.facebook.com/ThisIsASideshttps://twitter.com/thisisasides
Tags:
A Sides with Jon Chattman
,
a-sides
,
bill cosby
,
bruno mars grenade
,
chuck harmony
,
Clair Huxtable
,
Claude Kelly
,
creed
,
Delve Into Twelve
,
Jon Bellion
,
louis york
,
louis york clair huxtable
,
Mary J. Blige
,
Masterpiece Theatre Act I
,
Phylicia Rashad
,
primary wave
,
Rihanna Russian Roulette
,
Rod Carew
,
Sadaharu Oh
,
the cosby show
,
zedd