So Far From Fletcher, Coming Full Circle With Whiplash Oscar Favorite J.K. Simmons
Growing up a fat kid in Yonkers, NY (that'd be the title of my autobiography by the way), my number one way to escape the middle school jerks and the growing waistline was going to the movies. I would see two each weekend (it didn't matter which ones – usually one good, one painfully awful), and I gained a rep in school as "the movie guy." Heck, I used to take Variety's "For Your Consideration" ads and post them on my wall. So, why am I telling you this? Well, it's certainly not to make you think I'm cool. The reason is to simply paint a picture of a boy/young man who was obsessed with the screen and the stars to survive the school daze.
As I grew up, the obsession faded a bit but the infatuation continued. In 1999, when I was a local newspaper reporter in Hastings-on-Hudson, NY, I sought out local personalities (the village was rich in talent) to interview to balance the local news stories that always seemed to be on the same topic. Within a year or so, I landed my first celebrity interview in character actor J.K. Simmons. Oddly enough, I had only known him for his brief role in a personal favorite flick of mine – The Ref – and for his breakthrough role as neo-Nazi Vernon Schillinger on HBO's Oz. I was super psyched even though I never watched the prison drama. I landed the interview with the actor by simply calling him and asking if he'd discuss being cast as infamous blowhard J. Jonah Jameson in the then upcoming Spider-Man film adaptation.
After a lovely chat, Simmons came into our newspaper offices, unseated the editor, and put his feet up on his desk for my photographer who snapped away for the cover story. I still remember being so proud of myself that I scored the artist formerly known as Dr. Emil Skoda (fanboys of Law & Order will get that), was enamored by his down-to-earthness, and the story itself got picked up by aicn.com, which made me feel like a bad ass. After the story came out, I stayed in touch with Simmons and went onto write another piece surrounding the mixed emotions he had on Oz coming to an end. Actually, I interviewed him on the very last day of shooting the series in New Jersey overlooking the NYC skyline.
During the span of an hour in his trailer, Simmons talked up the show, his Spider senses, and his beloved Detroit Tigers. It was a memorable day capped off by him taking a photo with me behind bars.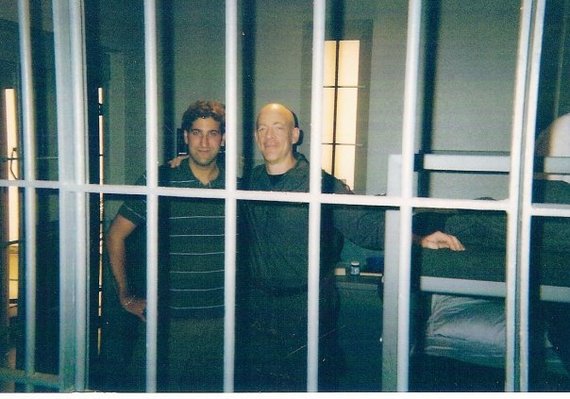 After that day (this is a long story isn't it?), I continued to keep in touch and recall asking him career advice as he was at the airport. He was leaving Hastings behind, and heading to California for more opportunities. Boy, did this guy cash in: Every Jason Reitman film including Juno, which should've earned him an Oscar nod. The Closer on TNT. I could go on and on…so many projects, so many great performances. But why take THIS LONG to intro an interview with the Whiplash Oscar favorite for Best Supporting Actor. It's easy: He's still the same guy.
In a Feb. 6 phone interview, the actor, who mind you could totally be as pompous as the character he portrays in Whiplash, was humble, sweet, funny, and intelligent. He even said he remembered me. C'mon dude – you don't have to be that nice. Ironically chatting from the airport, Simmons fielded questions on Oscar Sunday, the ride he's had, and his involvement in a wacky benefit album entitled '2776. Read on, and thanks J.K. TTYL.
You've had such an amazing year with Whiplash, hosting Saturday Night Live,, and so much more. But, jumping back to SNL did you ever think you'd play Nas?

(Laughs) We all like to think we have a lot of range as an actor, but no. It's not something I remotely thought I'd do.
I can't believe I'm asking you about Nas when you just attended the Oscar luncheon. I'd imagine if it hadn't already, your Oscar nod sank in at that very moment.
Oh yes. Just to be in that room… The best part was finally shaking hands with (Robert) Duvall and chatting with him. I'm a career fan of his work for 50 years or whatever.
Everyone and their mother have praised your performance in Whiplash, did anyone come up to you at the luncheon to give you some love?
Honestly, Duvall again. I couldn't get a word in edgewise. It was one of the most gratifying responses. Bradley Cooper's a gigantic fan. Look, everyone's going to say nice things at events like this, but you can tell who really was effected by it. The response has been like that at every encounter.
Fletcher is such a bastard yet you managed to humanize him. How hard was it to strike a balance between man and monster? With a different actor or writer, this could've been more of a caricature than a character.
Honestly, it goes back to what Damian [Chazelle] put on the page. Miles Teller will tell you the same thing. We've been blowing his horn since [initial] screenings. As a cast, it was so clear cut on the page. As an actor, the hardest job is to make bad writing work. This is one of the best written pieces of fiction I've ever seen in my life.
You say the script was clear cut, but you threw out so many awesome/evil insults in the flick. Were any improvised?
He gave us very generous room to improv, but having said that, 98 percent of what you see in the movie was on the page including the vast majority of rants and screams.
No insults came directly from your mouth?
Well, at one point I called Miles "a self-righteous little prick.." The really long involved ones I'm pretty sure were verbatim.
While Whiplash is huge, some 15 years ago, you mentioned you're favorite was playing manager to Kevin Costner's aging ace in For Love of the Game. Am I correct in saying it still resonates with you since you're such a big Tigers fan?
There are many, many reasons it is – some obvious, some not. I was still very new to film. It was a year after I started Oz and Law & Order, and I had only a few movie parts so it was exciting. I was supposed to read for another part on the team – the trainer/medic, and I had two lines. I went into [the audition] with my Tigers cap and jersey like an idiot, and didn't know Sam [Raimi, the director] was from Detroit. We talked baseball, and after a few minutes, he was like "hey do you mind I'd like you to look at this other part." So, I went back and read for Frank Perry, who had originally been conceived as a Sparky Anderson kind of guy. I was 43. Sam was just so open to input, and bing, bang, boom, there I was shooting scenes.
Not only was it the first movie with Sam of five in a row, but our son was born during that shoot while we were on location at Yankee Stadium. I remember I got the call that my wife's water broke. There ended up being some problems and everybody on that movie from Kevin to Sam to [the crew] were very generous working around my schedule. I had been sleeping on the floor of the hospital for five days hoping things would turn out OK. Everything turned out fine. For that reason alone, it's been an important film for me.
The Oscars are fast approaching, and you're the frontrunner. My question is this – will you work in a Tigers reference in your speech?
It's funny at the luncheon the producers got up there, acting like stern principals at a junior high school telling us the clock starts right away and we have 45 seconds. That's not anywhere near enough time to express my gratitude to anyone. If I should be so fortunate, I would continue to do what I've been doing [at other award shows] and have an idea of what I'm going to say but not script it.
Lastly, let's jump to 2776. You have a cameo in one of the videos for this comedy/music benefit album. It's actually quite insane the amount of talent that's on this from Reggie Watts to Mike Mills to Will Arnett to k.d. lang. And sales of go toward OneKid OneWorld . How'd you get involved – I mean your cameo has you actually taking on the Marymount High School multi-championship-winning varsity girls' volleyball team.
It's wonderful how they brought everyone together. The connection to me was (creator) Rob Kutner, who I had brush paths with, and in 2007, did a hilarious parody of Juno called Jewno. It was basically the family but very Jewish new yawkers with all these Yiddish flavors. This 2776 looked funny and the charity itself was obviously a good thing.
OK, real last question. You're in the new Terminator film. What can you tell me about it. I can't believe I almost forgot to ask you this.
We just finished the reshoots. It's a very small part, but in talking with the writers, they said my part will grow in the sequels.
Spider-Man just joined the Marvel film universe. Are you returning as J. Jonah? Hey listen, I have no idea what's going on or how far along they are. But, sure I'd be interested.
The 2000 version of me sure hopes so.
About A-Sides with Jon Chattman:
Jon Chattman's series features celebrities and artists (established or not) from all genres of music performing a track, and discussing what it means to them. This informal series focuses on the artist making art in a low-threatening, extremely informal (sometime humorous) way. No bells, no whistles — just the music performed in a random, low-key setting followed by an unrehearsed chat. In an industry where everything often gets overblown and over manufactured, Jon strives for a refreshing change. Artists have included fun., Charli XCX, Imagine Dragons, Alice Cooper, Joe Perry, Gary Clark Jr., American Authors, Echosmith,and many, many more!