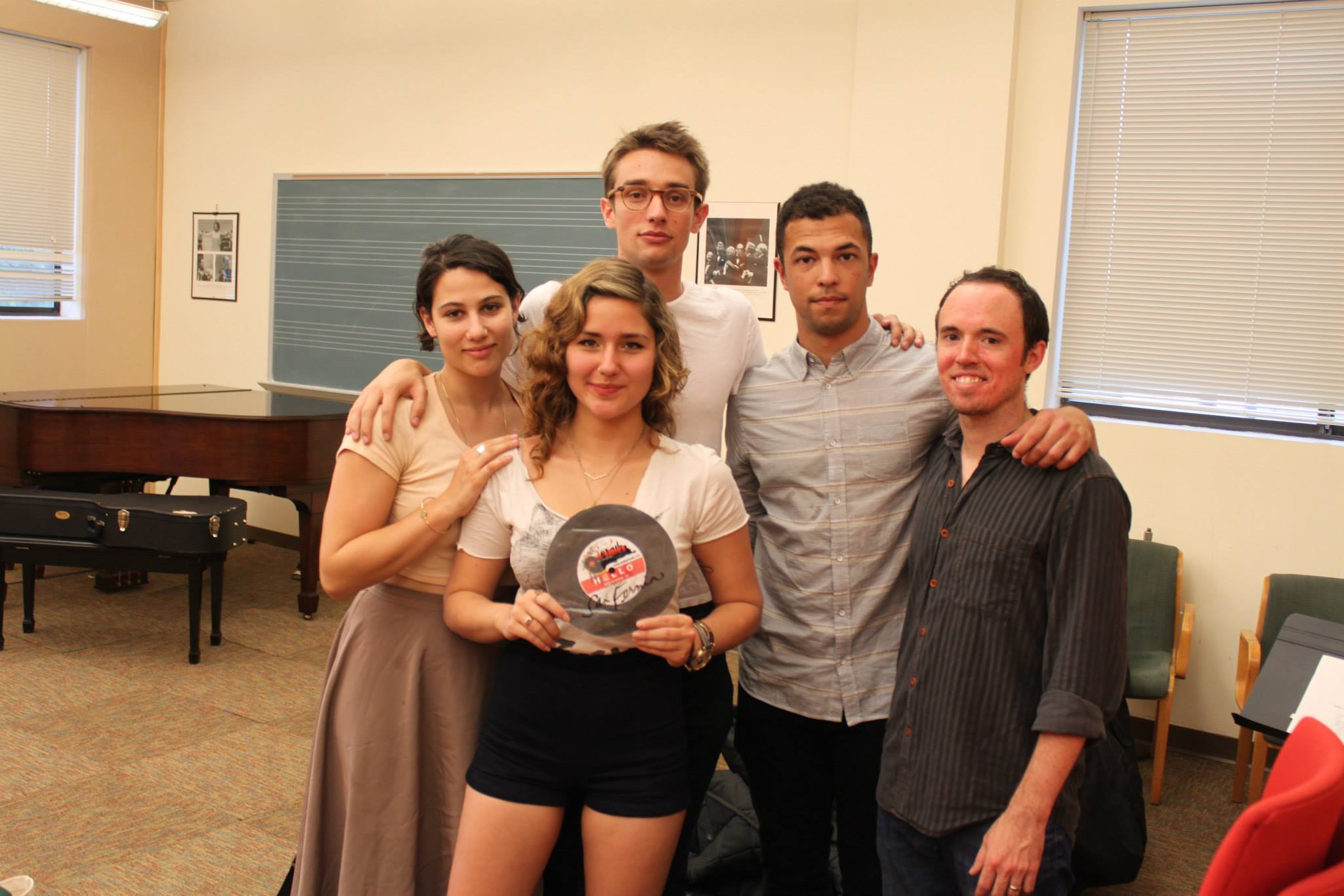 We live in a pop world where a birthday-suited Miley Cyrus licking a sledgehammer is news. We've all accepted it whether we like it or not. and have probably watched that video more times than we care to admit. That said, there are musicians out there who don't need spectacle to entertain, and gain attention through their art instead of exposing their arse. (I say this, by the way, even though I think Artist Formerly Known as Hannah Montana's "Wrecking Ball" is a terrific song.) San Fermin have been gaining acclaim with their breakthrough first single "Sonsick" and rightfully so. The song is an utter original blending classical, chamber, and pop rock; it's no wonder why SiriusXM-U been playing the piss out of it. (Not surprisingly, Jonah Hill recently tweeted about it, and Arctic Monkeys name-dropped it in a recent interview.) Anyway, the first song put the Brooklyn band on the map, and I can tell you their self-titled debut album, which drops tomorrow, will keep them there.
Unlike so many artists, who can't live up to the merriment surrounding a debut single, San Fermin's album offers 16 other gems that provide your ears with a different emotional experience track-to-track. Yale-educated songwriter and composer Ellis Ludwig-Leon formed the band and brought bud Allen Tate, whose vocals rival Matt Berninger of The National in melancholy masterfulness, into the fray right away. The live incarnation currently features a plethora of talent (Tyler McDiarmid, Stephen Chen, John Brandon, Mike Hanf, and Rebekah Durham or Eliza Bagg on violin) with Rae Cassidy being the newest full-time member. While she's not on the debut album (she replaced another singer), the stunner brings a deep, delicate gravitas to the sound. Anyway, let's get on with it.
Earlier this month, Ludwig-Leon, Tate, Klagstad, McDiarmid, and Bagg performed two tracks and sat down for a chat at the Music Conservatory of Westchester as part of an A-Sidessession. Watch "Oh, Darling" here , and the interview and "Methuselah" below. You're welcome.
"Methuselah"
[youtube=http://www.youtube.com/watch?v=is7auD9O780&w=420&h=315]
Interview
[youtube=http://www.youtube.com/watch?v=AtCHeFRNgNc&w=420&h=315]
San Fermin Fall Tour Dates
9/20 – New York, NY – Le Poisson Rouge
9/25 – Montreal, QC – Pop Montreal Festival
9/27 – Cincinnati, OH – MidPoint Music Festival
9/28 – Champaign, IL – Pygmalion Music Festival
9/30 – Chicago, IL – Hideout
10/1 – Minneapolis, MN – Bryant Lake Bowl
10/3 – Pittsburgh, PA – Brillobox
10/4 – Toronto, CA – The Drake
10/13 – San Diego, CA – Casbah
10/15 – Los Angeles, CA – Echo
10/16 – San Francisco, CA – Cafe Du Nord
10/18 – Portland, OR – Bunk Bar
10/19 – Seattle, WA – Barboza
10/20 – Vancouver, BC – The Media Club
10/24 – Washington, DC – DC9
10/25 – Philadelphia, PA – Boot & Saddle
10/26 – Boston, MA – The Cafe 939 (Berklee College of Music)
10/27 – Providence, RI – Columbus Theatre
11/5: Paris, France – Fleche D'Or
11/7: Brighton, UK – Sticky Mike's
11/8 Manchester, UK – Soup Kitchen
11/9 Sheffield, UK – Gatsby
11/10 Glasgow, Scotland – Broadcast
11/11 London, UK – Lexington
A-Sides "Delve Into Twelve" Countdown
Each week A-Sides unleashes its Top 12 tracks of the week AKA the "Delve Into Twelve"based on the following contributing factors: songs I'm playing out that particular week NO MATTER WHEN THEY WERE RELEASED (think overlooked songs, unreleased tracks, and old favorites), songs various publicists are trying to get me to listen to that I did and listened to and liked (phew), posts and trends I've noticed on my friends' Facebook walls, and – most importantly – the songs my 1 1/2+ year-old son gravitates toward. Yeah, you read that right. This weeks follows below (LW= last week's rank):
12. "The Wire" (LW-6) – Haim
11."I Still Believe" – Tim Cappello
10. "Various Methods of Escape" (LW-10) – Nine Inch Nails
9. "Bleeding Out" (LW-8) – The Lone Bellow
8. "Byegone"(LW-9) – Volcano Choir
7. "Polaroid Picture" (LW-7) Frank Turner (Watch him perform it here on A-Sides!)
6."Mercy" (LW-2) – TV on the Radio
5. "Arabella" – Arctic Monkeys
4. "Comrade" – Volcano Choir
3. "Pompeii" (LW-1) – Bastille
2. "Best Day Of My Life" (LW-3) – American Authors (* Watch the band perform this track on A-Sides this month!)
1. "Reflektor"(LW-4) – Arcade Fire
About A-Sides Music
Jon Chattman's "A-Sides Music" series was established in August 2011 and usually features artists (established or not) from all genres performing a track, and discussing what it means to them. This informal series focuses on the artist making art in a low-threatening, extremely informal (sometimes humorous) way. No bells, no whistles — just the music performed in a random, low-key setting followed by an unrehearsed chat. In an industry where everything often gets overblown and over manufactured, I'm hoping this is refreshing.