Peppa Pig (and Her Muddy Puddles) Take the Show on the Road
Most parents of a toddler or preschooler know how excruciating some of their kids' choices in television shows can be. It may be amazing and fun for them, but as an adult, it's hard to sit through. That said, some shows manage to do the spectacular: they appeal to kids and adults and don't have to get there via off-color jokes that go well above kids' heads. (So many TV shows and especially movies do that. Bring back the G-rated flicks I say!) Anyway, one show that my toddler is obsessed with (my wife and I may be, too) is Peppa Pig.
I've know about this adorable show out of the UK long before my two kids were born. Friends raved about, and it's actually lived up to the hype. The show is it's often hilarious – mirroring real life situations with your kids no doubt, the characters are fun, and the stories are short, sweet, and fun. The fact subtle life lessons are thrown in is just the icing on the muddy puddle. (If you watch it, you get that reference.)
The series about Mommy Pig , Daddy Pig, Peppa and her brother George ("dinosaur!") isn't just a show it's an empire – a phenomenon even. It's the top-rated show for kids ages 2- 5 on Nick Jr. and over 50 companies produce Peppa products ranging from toys to clothing to Apps to everything else my toddler wants. "I want that!" That's his words to just about everything Peppa-wise. The show airs worldwide, and even has its own theme park in Hampshire, England – Peppa Pig World. (Don't tell my kid please. I can't afford the trip.)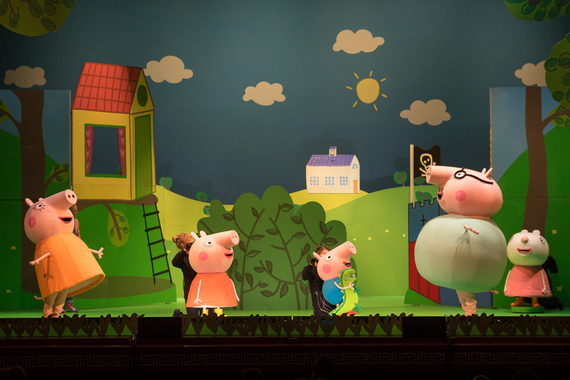 Photo/ Joe del Tufo
Yes, it's Peppa's world and we're just living in it. The piggy bank got bigger in the states last year when a live show – Peppa Pig's Big Splash – toured the U.S. The second leg of that tour just started last weekend. To date, 150,000 tickets have been sold. Last week, this proud papa had the opportunity to interview 14-year-old actress Harley Bird, who has voiced Peppa since she was 6. We discussed the series, the live show, and of course, muddy puddles.

Photo/Lisa Gill
Hi Harley, you've been doing the voice of Peppa since you were just six. Can you process now that you're older just how cool this is?
I used to watch Peppa Pig before I was Peppa! I used to watch it, but didn't understand [how cool it was] until I was about eight. I'd come into school and my friends – even teachers with little babies at home – would say I was just listening to you this morning! My friends have baby brothers so they watch, too.
Why do you think the show appeals to both kids and adults so well?
No one really knows what it is with Peppa. All of the kids just love her. She's funny, cut, and smart. She's just every kid's dream friend. And adults just find it very, very funny. Some kids watch Peppa, but most adults will say to them "let's watch Peppa!"
Do you have any similarities with Peppa? I'm sure you don't jump in muddy puddles.
Oh I do jump into puddles! You just have to make sure you wear your boots. You must wear your boots. I am quite similar to her. Sometimes I talk like her, even look like her.. I'm quite as cheeky as Peppa is, and at little bit smart sometimes. She certainly does try to act a little older than she really is.
Do you have a younger sibling who you boss around a bit like Peppa does to George?
I'm older by 18 months. He's my best friend…we're twins. Certainly, I do boss my brother about a little bit. He is a little George pig. I also have an older sister and a little sister.
Peppa has become so much more than just a TV show. It's now a live show and has its own theme park. What do you make of all this?
The theme park is my favorite place. It's supposed to be for three or four year olds, but it's so much fun. Have you been there?
No, I haven't.
You should come visit here and we'll go together.
(Side note: she says this in a very Peppa-like way.)
Sounds great. Have you seen the live show?
I haven't yet but I'm hoping to travel a bit and go to America to see it. Maybe I'll go to Australia or New Zealand to see it. I'm very excited about it.
Lastly Harley, how many times do you think you've said "muddy puddles" in your lifetime?
Oh gosh…probably 5,000. But, I love muddy puddles. They are the funnest.
About A-Sides with Jon Chattman:
Jon Chattman's music/entertainment series typically features celebrities and artists (established or not) from all genres performing a track, and discussing what it means to them. This informal series focuses on the artist making art in a low-threatening, extremely informal (sometime humorous) way. No bells, no whistles — just the music performed in a random, low-key setting followed by an unrehearsed chat. In an industry where everything often gets overblown and over manufactured, Jon strives for a refreshing change. Artists featured on the series include Imagine Dragons, Melissa Etheridge, Air Supply, Joe Perry, Alice Cooper, fun, Bleachers, Charli XCX, Marina and the Diamonds, and Bastille.
http://ThisIsASides.com
https://www.facebook.com/ThisIsASides
https://twitter.com/thisisasides