'Let It Be' Joan As Police Woman & Benjamin Lazar Davis
September 14, 2016 3:51 pm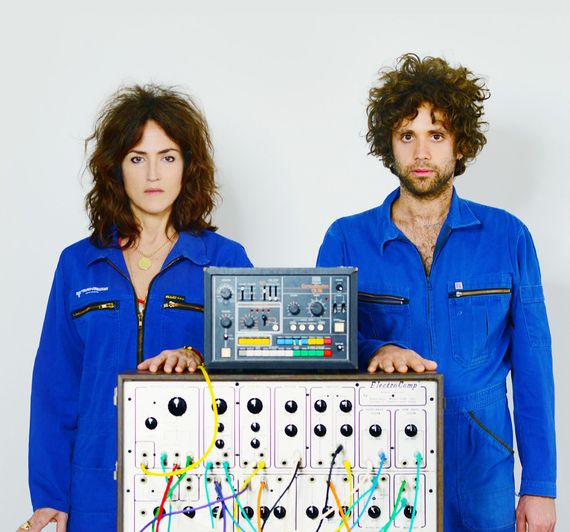 It'd be cool to see Joan Wasser try and put together a resume in 12-point Times New Roman font. Anyone who'd receive this document that is totally not needed would drop their jaws looking over a breakdown of her decade-plus work. Deeply meaningful albums. Check. Awe–inspiring collaborations that range from Lou Reed to Dave Gahan? Check. Getting serious, you'd be hard pressed to find a more prolific artist than the one who goes by the name Joan As Police Woman.
On Oct. 21, she'll release a new album with Benjamin Lazar Davis of Okkervil River fame entitled Let It Be You . Another cool thing to add to that proverbial resume no doubt. A-Sides recently chatted with JAPW and Davis about their collaboration, which features videos featuring actor/friend Fred Armisen. Enjoy those videos below and read the interview with the pair below. Enjoy it you will.
How'd you guys meet and decide to partner up?
Joan: We met at Shapeshifter Lab when I went to go see his band Cuddle Magic open for my friend's band Sex Mob. We decided to start trying to write together because he buttered me up telling me he liked Real Life… oh yeah, and because he has the best rhythmic sensibility than anyone I had heard in a long time.
BLD: Because I was so obsessed with the album Real Life: best grooves, best bridges. Then, I found out that she played bass on Feed The Light (Track 3) and as a bass player, I lost my marbles.
Were you friends beforehand? If so, were you a little nervous that your friendship might not translate to working well together?
Joan: We had no friendship! We met and the same night decided to see if writing together might work.
BLD: But our writing relationship did translate into a friendship…
Joan, you have collaborated with so many artists it's unreal. I'd imagine you learn something about yourself and obviously the person you're collaborating with each time out, no?
Indeed. I've worked with Antony and the Johnsons, Rufus Wainwright, Lou Reed, RZA, Elvis Costello, Lau, David Sylvian, Laurie Anderson, Amadou & Mariam, Anais Mitchell, not to mention Benjamin Lazar Davis! I do love collaborating- each artist holds up a different mirror.
Benjamin, you're extremely prolific. Would you say it's hard for you to sit still?
Yeah, It's exciting being this busy. I've recently released a record with Bridget Kearney called Bawa(Signature Sounds), [and I'm] so excited about this record Let It Be You with Joan coming out on Oct 21. My band Cuddle Magic's new album "Ashes/Axis" (Northern Spy) is coming out in January.
I'll be recording my first solo record next year. I'm always busy making something. But now that I've turned 31, I'm learning how to just chill and relax.
Fred Armisen appears in the music video for "Overloaded." Can we agree Fred should appear in every music video from here on out?
Joan: Yes, we agree. Fred and I met when we played in a band together with Dave Shouse from The Grifters and Steven Drozd from The Lips. He was making us all laugh then, too.
If this election were a song, what would the title be?
Joan &BLD : Obviously Bill Wurtz's "History Of Japan."
Lastly, can you impart some words of wisdom for my 22-month-old son?
Joan: Start drums now, you'll be Elvin Jones earlier.
BLD: to quote Brad Paisley, "Each and every time you have a fight, just assume you're wrong and daddy is right."
A-Sides' "Delve Into Twelve" Countdown
Each week A-Sides unleashes its top 12 tracks of the week AKA the "Delve Into Twelve" based on the following contributing factors: songs I'm playing out that particular week (no matter when they were released — think overlooked songs, unreleased tracks and old favorites), songs various publicists are trying to get me to listen to that I did and dug a bunch, song posts and trends I've noticed on my friends' Facebook walls and, most importantly: what my pre-schooler is currently enjoying thoroughly with an assist from my (almost) toddler.
About A-Sides with Jon Chattman – thisisasides.com :
Jon Chattman's music/entertainment series typically features celebrities and artists (established or not) from all genres performing a track, and discussing what it means to them. This informal series focuses on the artist making art in a low-threatening, extremely informal (sometime humorous) way. No bells, no whistles — just the music performed in a random, low-key setting followed by an unrehearsed chat. In an industry where everything often gets overblown and over manufactured, Jon strives for a refreshing change. (Theme song by Blondfire.) Artists featured on the series include Imagine Dragons, Melissa Etheridge, Yoko Ono, Elle King, Joe Perry, Alice Cooper, fun, Bleachers, Charli XCX, Marina and the Diamonds, and Bastille.
Tags:
A Sides with Jon Chattman
,
a-sides
,
Anais Mitchell
,
antony and the johnsons
,
Benjamin Lazar Davis
,
bill wurtz
,
Brad Paisley
,
Cuddle Magic
,
Delve Into Twelve
,
Donald Trump
,
election 2016
,
Elvin Jones
,
elvis costello
,
Fred Armisen
,
fred armisen music video
,
Hillary Clinton
,
history of Japan
,
Joan As Police Woman
,
Jon Chattman
,
Laurie Anderson
,
let it be you
,
Lou Reed
,
Okkervil River
,
rza
,
Shapeshifter Lab