JEFF FOXWORTHY TAKES TO THE GRIDIRON, DISCUSSES "REF" GIG, REDNECKS, AND MIXTAPES ON THE ROAD
December 29, 2014 8:33 pm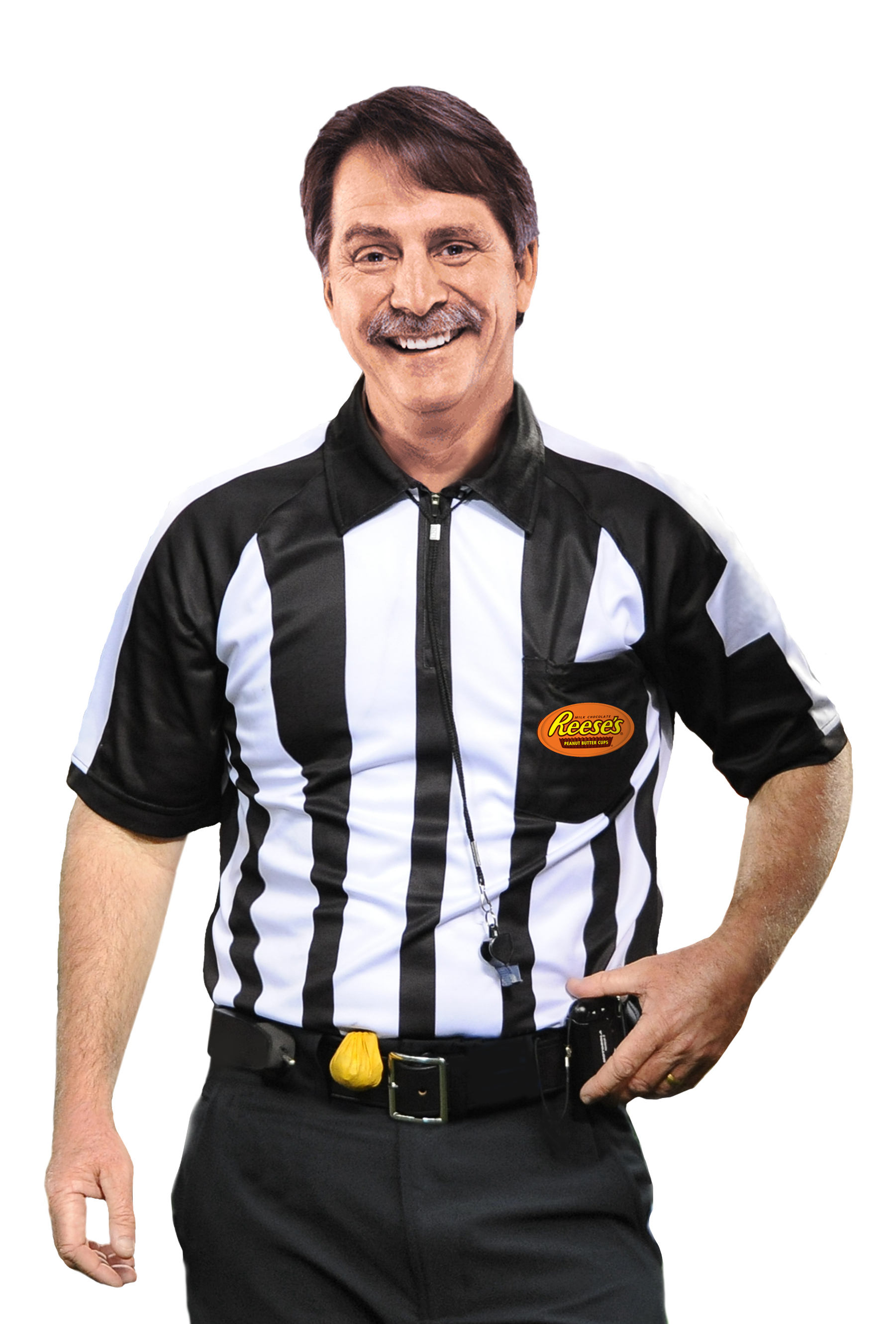 Look out E.T., Reese's may have finally replaced you as their unofficial celebrity ambassador. With the launch of the candy brand's Reese's® Playoff Pandemonium, stand-up comedy icon and "Redneck" preacher Jeff Foxworthy is center stage for their College and Pro Football playoff promotion. In all fairness, I hear our small extraterrestrial friend never took to the gridiron.
Reese's promotion kicks off today (now that the playoffs are in full swing), and Foxworthy will guide fans throughout the playoffs by delivering "Reese's Rules" that will ask fans to essentially make up their own with a "#ReesesGameday" hashtag on Twitter, Facebook, and YouTube. (Fans can also text REESES to 87963 for tips, recipes and coupons.)
"This is the best time of year for football fans – playoff time," said "Ref" Foxworthy. "To celebrate in the best way possible, football fans need to know the rules. I'm here to help fans win big when entertaining during the playoffs!"
The iconic mustached comic, actor, radio personality, and author took time out from the holidays to field some zany questions from A-Sides, and further explain Reese's Rules. (Here's one: "Tackling is permitted when someone grabs the last Reese's Miniature." Don't be that guy.)
How big into college and pro football are you?
I'm a huge fan. Football is my favorite sport. Growing up in Georgia, I am a Georgia fan even though I went to Georgia Tech. I'm a Georgia fan and a Falcons fan. It's been a bizarre year because we have had a losing season, but we have a chance to go the playoffs so it's a weird down in Georgia this year.
Indeed. So, how did the Reese's Ref opportunity come about? Walk me through the program.
Yeah well, I think the people around me always knew that I was a sports guy and that Reese's has always been my number 1 candy for a game. Top three cereals can't have another one for the rest of your life. Top three candies can't have another one for the rest of your life. One day someone said, 'hey I know somebody from Reeses and they know that you are like nuts about their candy, would you be interested in working with them?"'
…And I'm like…this was my first question and I am afraid to say… "do I get free Reeses out of the deal?' I didn't even ask if I was getting paid, I was like 'do I get free Reeses?' There's a joke in there, I'm sure… This was a really fun campaign to do because everybody's going to be celebrating this and a part of that, but nobody had any rules about how we should do it. So when we sat down to come up with it, it was kind of fun to come up with rules for entertaining with Reeses. That's the point of the whole thing, it's supposed to be fun because they are one of the sponsors for the college playoffs and the NFL playoffs. It's supposed to be a fun time for everybody.
Sounds like it. Off topic, I wonder if I can get some free candy for writing this. Probably not. Anyway, if you were a real ref, would you be fair or lean toward one side?
See, I'm real big into character. I think character is really important, but I can't promise that I will be fair. [Laughs] I can't promise that I wouldn't lean towards my team. I like to win a lot. Yeah, if you can get away with it. Everyone is a little mad at the ref anyway so what's it gonna matter?
True. Keeping with the football theme, have you ever tackled a heckler while on stage?

Hahaha, I have certainly wanted to. I'm lucky I don't get heckled a whole lot. I think people think "ahh he's a nice guy" and I've always tried to be fair. Writing a joke about women or my wife, I try to come right back and write one about myself or men to balance. So it's never kind of slamming anybody. It's kind of like the redneck jokes, that was never laughing at somebody. it was like laughing with somebody because when I started looking through the first couple of hundred, I'm like "that's my uncle, that's my mom, that's my brother."
Speaking of which, the whole "redneck" movement was so huge. Did you know it was going to be as huge as it was/is? Did Chuck Norris know?
No, because that would have implied that I was smart enough to know that it was going to be calendars and books. [Laughs] To me, as a comedian, you're looking to connect with people and to see what we have in common even though we live in different parts of the country. I was one of those guys having grown up in Georgia. It's just the way I grew up, so when I use to work in New York or LA, it was always good natured, but they would say "oh you're a redneck from Georgia."
When I started traveling the country, I was like "ya'll this is not a Southern phenomenon, when you get ten minutes out of any city people are pretty much the same." They may have a different accent, but anywhere you got flannel shirts and beer, you got rednecks. I think that's why it worked so well and so long. It includes people. My comedy has always been that. If I think something, or my wife says something or my family says something, surely we're not the only ones. I think that's why I've been able to do this for so long. The biggest compliment that I can get after a show is someone coming and saying "oh my God, you've been in our house" because you know you are taking something they do everyday and they don't even think about it being funny. Show it to them then they laugh.
When you're touring, what are "musts" on your bus/plane playlist?
It's really eclectic, in that I'm a product of the 70s..in fact…if you ever wanted to play 'name that tune' I'm about as good anybody. I can name songs from the first few notes and tell you what album it was on if you played it. Plus, I have two daughters who are 20 and 23, they will make me like mix CDs for the car to keep me up-to-date with new music, so it's kind of all over the place: everything from Elton John in the 70s to the Black Keys now. It's a little bit of everything, but I've worked so much in country music, I like a lot of that stuff, too. I put on a festival this past year in Austin, we had Florida Georgia Line close up the last show and I had never seen them live and I walked away like "that's a great band," so it's a little bit all over the place. I've been a big U2 fan my whole life.
Did you like their recent album from this year?
I do. I've only gotten to listen to the whole thing about three times, but I do like it. It's kind of amazing to me that anybody that can be in this business, I look and think,"'I've been doing comedy for 30 years and my goal was to only do it for two years" and then I thought 'somebody will catch on and I will have to get a real job. [Laughs] So anytime you look at somebody who has longevity like that, I look at it think "what are they doing to make them last that long?"
Because it's usually not the way of show business, you're like a lava lamp, you heat up and then you cool down. That's pretty impressive that they've been making good music that long.
Who is on your playoff entertaining playlist?
My playoff music is a little more rowdy. Usually, I'm trying to like stay calm, try to remember what I want to talk about, and get ready to go on stage. The playoff music is a little more rowdy, that's the kind of stuff you don't play when you're driving because you end up getting a speeding ticket. You never do that when you have the rowdy stuff on because you look down and realize that you are doing 70 in a 45. I think I need to put on a love song.
Speaking of love, what did Santa buy your mustache this year?
[Laughs] My poor mustache. It's almost to the point because the last few weeks, I'm not on the road, I just stay home with the family, so I don't groom it as well as I normally do. I may need some of those electric hedge clippers (laughs). It's starting to get like Sam Elliot in The Big Lebowski now. You can't really eat Reeses when it's got to go through all of that. I got to get it out of the way, but the Reeses are a good thing.
OK so last question, and it's an obvious one: Who are you rooting for?
Well, I'm a homer, so I'm rooting for the Falcons. I'm really excited about the college playoffs. I mean the SCC has been great. I really think it's going to come down to Alabama and Oregon.
A-Sides 3rd Anniversary Show
On Jan. 23, A-Sides will celebrate its third anniversary (about six months too late), at Garcia's within The Capitol Theatre in Port Chester, NY. The show will feature a mix of music and comedy including buzz band Dreamers and buzz comic Nore Davis. Get tickets now and support the brand and the man behind it (who has two kids under 3 and is very, very broke.)
A-Sides "Delve Into Twelve" Countdown
Each week A-Sides unleashes its Top 12 tracks of the week AKA the "Delve Into Twelve"based on the following contributing factors: songs I'm playing out that particular week NO MATTER WHEN THEY WERE RELEASED (think overlooked songs, unreleased tracks, and old favorites), songs various publicists are trying to get me to listen to that I did and dug a bunch, posts and trends I've noticed on my friends' Facebook walls, and — most importantly — the songs my two-year-old-plus son gravitates toward by stomping his feet in approval. Yeah, you read that right. This weeks follows below (LW= last week's rank).
12. "Blank Space" (debut) – Taylor Swift
11. "Da Vinci" (LW-8) – Weezer
10. "Giving Up" (LW-7) – HAERTS
9. "I Can't Stop Drinking About You" (LW-9) – Bebe Rehxa
8. "Break the Rules" (LW-12) – Charli XCX
7. "First" (LW-6) – Cold War Kids (Watch their exclusive A-Sides performance here.)
6. "Hymnals" (LW-5) – Grizfolk
5. "Lampshades on Fire" (debut) – Modest Mouse
4. "Mess is Mine" (LW-4) – Vance Joy (Watch his exclusive performance of the song for A-Sideshere!)
3. "Somebody New" (LW-3) – Joywave
2. "Shut Up and Dance" (LW-1) – Walk the Moon
1. "O" (LW-2) – Coldplay
About A-Sides with Jon Chattman:
Jon Chattman's music series features celebrities and artists (established or not) from all genres of music performing a track, and discussing what it means to them. This informal series focuses on the artist making art in a low-threatening, extremely informal (sometime humorous) way. No bells, no whistles — just the music performed in a random, low-key setting followed by an unrehearsed chat. In an industry where everything often gets overblown and over manufactured, Jon strives for a refreshing change. Artists have included fun., Charli XCX, Imagine Dragons, Alice Cooper, Joe Perry, Gary Clark Jr., Lissie, Echosmith,and many, many more!
Stay Connected:
http://asidesmusic.com/
https://www.facebook.com/thisisasides
https://twitter.com/ThisIsAsides
Tags:
A Sides with Jon Chattman
,
a-sides
,
Bill engvall
,
Delve Into Twelve
,
ET Reeses
,
Falcons
,
Huffington Post
,
HuffPo
,
Jeff Foxworthy
,
Jon Chattman
,
Lampshades on Fire
,
Larry The Cable Guy
,
Redneck
,
Reese's Playoff Pandemonium
,
Reeses
,
ReesesGameday
,
Ref Foxworthy
,
Songs of Innocence
,
U2
,
You Might Be A Redneck