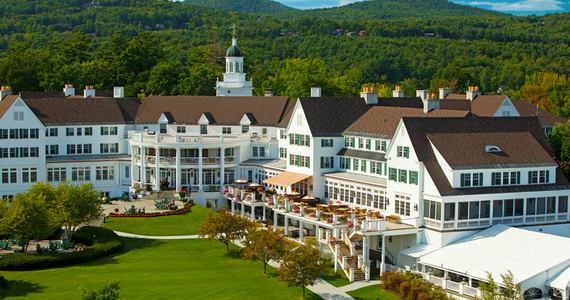 Courtesy of The Sagamore
Sitting on the balcony of our hotel suite overlooking majestic views of Lake George, I glance over to my three-year-old son one morning. We're both sitting in green rocking chairs out of a Norman Rockwell painting, and he says softly to me "like this dad?" He was asking me if he was rocking the chair the right way – not too fast so he wouldn't tip over. As I sipped my coffee and nodded to him, his eyes lit up as a "fast" boat went by. Glancing first at the trees, then the breathtaking mountains, and – of course – the lake, he says a few decibels louder "look at how many water, daddy!"
Kids at this age often say things like that. They make you want to hold onto a notebook on the daily so you can jot down their "isms" and never forget it. This entire scene I just painted above will never be forgotten, and, well, this piece will serve as the notebook.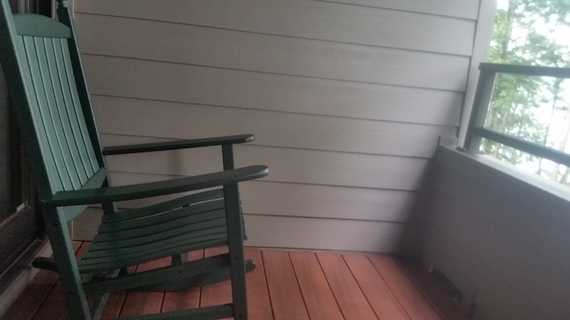 Insert "son" here – photo/Jon Chattman
For decades, I've known friends who visited Lake George, and the amalgam takeaway was "it's great for families" and the "lake was cold but amazing." Those two statements were almost always followed by a "…but watch where you stay." After careful review, my family of four stayed at The Sagamore in Bolton Landing (sorry no relation to mane-king Michael), and I can honestly say we literally watched everywhere we stayed on the resort: taking in every moment, every view, and every kid "ism." Before I jump right into the lake, and that is meant to be a metaphor, I'd rather give a play-by-from the minute we parked our car after our three-and-a-half hour drive or so.
Right off the bat, it's important for me to say that this isn't simply a "puff piece." The experience was real, and this place is the real deal.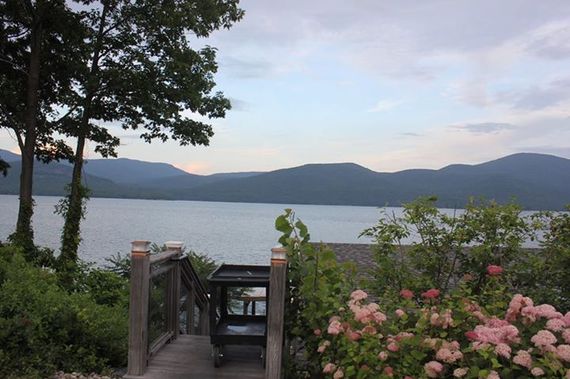 Photo/Jon Chattman
From the Lobby to the Room
Entering the lobby sets the tone right away with its luxurious setting – high ceilings, chic furniture and a fireplace. The courteous, friendly staff welcome you with open hearts and open doors, and there are five or so people at the front desk to check you in so one doesn't have to wait. That's a personal peeve of mine while checking into a hotel: you're tired from driving or flying, and you finally get to your destination and a long line to check in awaits you. It's usually backed up because someone has a silly problem with their bedsheets or something. Again, not the case here. Oh, and the bedsheets were fine, too.
We stayed in the spacious lodge suite within steps of the pool, which, in turn, were a few steps away from the mighty lake. In a wonderful walking contradiction: the room somehow managed to capture a cabin feel with contemporary style. The wood furniture was handcrafted with accents of the outdoors (tree bark is actually visible on one table in particular), and the decor included professional photographs and pictures of local animals – notably deer and moose -the latter of which my three year old still believes to be simply a large deer.
The kitchen was modern with granite countertops, stainless steel appliances, and plenty of cabinet space. The microwave, refrigerator, and stove top made it so convenient to dine in when the kids were restless or if time was tight (there is a supermarket that's just a two-minute drive away). I've already mentioned the private balcony, but adding to the instant relaxation feel was a gas fireplace (obviously not in use with the summer weather), which added to the coziness – ditto for the robes hanging up in the bedroom closet. Speaking of cozy, the dining room was just that and the nearby stools connecting to the countertops made my wife and I wish we were "younger" and could entertain guests with cocktails versus fixing sippycups. That said, it was a cool vibe and I'll confess to enjoying an adult beverage there.
I'm not one to dwell on the cleanliness of a hotel (that's all my wife focuses on), but the place was immaculate. You could eat off the bathroom floor, but why would you? I mean seriously who does that? Anyway, moving on, the aforementioned "potty" had a separate tub and walk-in shower, which made the ordeal of cleaning up kids after a day at the pool and lake less of a hassle. Lastly, two flat-screen televisions – one in the master bedroom and one in the living room – also were big pluses.
Venturing Out
With temperatures well into the 80s, the obvious first destination for us was the pool. Anyone who's gone on The Sagamore's website has seen the picture of "the pool." (I've posted it below.) Standing on one end to the other, staring off to the lake, it looks as if the pool is actually continuing into the George. It looks as if it never ends. It's ridiculous.
The temperature of the pool, by the way, is perfect (cool-to-warm), and if you're stuck with a cooler day (we were one of the four we stayed), you can jump into the nearby "warming pool." But, back to the main pool. If you were to think of it as an IMAX movie screen (stay with me on this), imagine the chairs around it as stadium seating. There's rows and rows (steps and steps) of lounge chairs for you to catch a view of the pool, and there's also attentive wait staff ready to serve you cocktails, local brews, and lunch chews. Oh, and I should say all of these rows lead to a long patch of grass that leads toward a veranda terrace, which in turn, leads right into the lobby. The entire estate – the big white building that, again looks right out of a painting – just takes your breath away.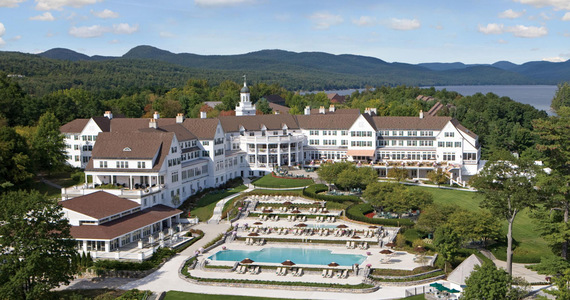 Downstairs from the pool is the…wait for it…lake. Insert "duh" here. It's so clear you can see down to the rocks, and it's…so cold! Yet, it's worth every dunk and splash. I haven't jumped into a pool in two decades never mind a lake, and I can honestly say jumping into this lake was exhilarating. I liken the experience to my very first time skiing in that you're petrified and adrenalized at the same time. The water wakes you up from your every day life rut, and almost commands you to fully live in the moment and realize just where you are and just what's in front of you. A cool perk of the lake area, by the way, is a nice sand area, which served a beach area for my son to play with his sand-friendly dump truck toys…for hours. Yes, hours. He's not feeling the whole go into a cold lake thing right now, and trust me, he doesn't need to be "adrenalized."
I should also mention the indoor pool is pretty hip with swanky furniture around it, and a nearby fitness center about three times the size of your average hotel "gym." It's stacked with equipment (not just one of each!) and even an area to practice yoga. Not utilizing it will only make you feel more guilty each time you chow down on a savory meal. Speaking of which…
Dining and Setting Sail
I mentioned we dined in a few times, but it's hard to fully accomplish that when the resort has so many restaurants that almost call out to you: "ignore the kitchen in your room!" Well, maybe that or "use the fridge for leftovers." We dined at a few of the spots and the Pavilion was/is the best bet. With spectacular views of the lake, impeccable service, and A-plus food, it's worth spending the money on. My wife had the salmon and is still talking about it. She doesn't do this often. When was the last time you had salmon and were still talking about it a week later? The answer is never. No one has done that..perhaps until now. I had the scallops and shrimp, and it slid into my mouth faster than a Mike Trout home plate slide. (See what I did there?) Other restaurants include La Bella Vital (loved, loved, loved the rosemary bread in the beginning, and the pizza that followed), Club Grill Steakhouse, Caldwell's, Mr. Brown's Pub (the only "so-so" visit of the trip) and the Lakehouse. Speaking of food, the Smores nights are really a thing of beauty. Nothing beats being surrounded by families, spouses, foreigners, and friends (this resort is literally a smorgasbord of all walks of life by the way) making delicious chocolate messes on a bonfire, or simply sitting around it as a local musician sings a Grateful Dead song one minute, and a John Denver the next. He even took requests though he had to turn down one from a young girl who asked him to cover a Selena Gomez song. Lucky for us.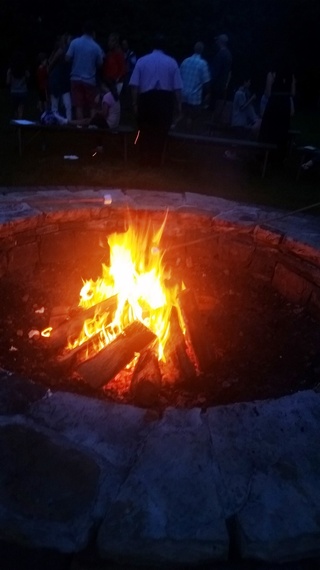 Photo/Jon Chattman
That whole experience is something you see in the movies, and say to the person seated next to you "stuff like that doesn't happen anymore." It does, and I have the sticky marshmallow stains on my son's shirt and mosquito bites to prove it. I also have more "isms" at the bonfire to remember forever.
We move now from Smores to the Sagamore's 72-foot replica of a 19th-century touring boat: The Morgan.
For roughly an hour-and-a-half, we took in tidbits about Lake George from the captain and watched scenic, almost cinematic views of the Adirondacks. There's light snacks and drinks on the boat, but we passed – favoring a poolside lunch instead. Speaking of which…
We didn't do some stuff, but almost everybody else did…
My kids are very young so we didn't quite take advantage of the Sagamore's Kids' Club or "The Rec," which is an awesome indoor entertainment and sports facility. I wish we did, but next time. The spacious center has everything from a mini-homerun derby (fitting since we stayed during the actual Major League Baseball All-Star Game Derby) to a basketball and volleyball court to ping pong and video games. There's also a mini-golf course, which brings me to this: the Sagamore has a much-celebrated 18-hole golf course that is a "must" for any golfer – amateur or wanna-be pro. I golf like I sing so I kept off the greens, but just passing by it made me wish I could somehow channel my inner Jack Nicklaus, or at the very least, Happy Gilmore.
Keeping with his theme of "I don'ts," fishing is everywhere, and it's an awesome sight to see even though we shied away from it. Fathers and sons fishing along the lake, catching fish, and throwing it back (or not.) made me wish I could channel my inner, um, OK that won't work here so I'll just say it's really a cool thing to watch from afar and looked like fun. Fishing isn't my thing, but if it was my thing, this would be "the thing" to do here. On a related note, I'll say this – I wish I had time to play tennis. The courts were calling my name, but so was my son and my crying eight month old so I didn't use a racket with all the racket going on around me.
Ending with a Start and Why You Should Go Here…
I started this piece with my son and I on two green rocking chairs overlooking the lake. There's a reason for it. Memories are made at places like The Sagamore. The scenery is always going to be breathtaking. The Sagamore has the perfect backdrop with The Adirondacks around it. But remember my "watch where you stay" story? If you're surrounded by beauty but the place treats you poorly or is rundown or dirty, it taints your entire experience – majestic lake or no majestic lake. The Sagamore's been around for ages because they get that. They opened in 1883 and went through a series of reconstructions and renovations since. It actually closed in 1981, but reopened two years later stronger than ever. It's been an "awe" place to namedrop when mentioning planned trips to Lake George ever since.
Normally in reviews or stories, you cover a brief history in the beginning but I didn't want to do that here. I wanted to end with a few tidbits to sort of back up everything I've been saying. There's no "smoke" in this story. It's real. My wife and I have always longed to find a drivable vacation spot that we could go to with our small children for years to come that captures the magic and wonder of past vacations we've spent around the world. It's safe to say we finally found it.
We can't wait to go back and add to the "notebook" of memories.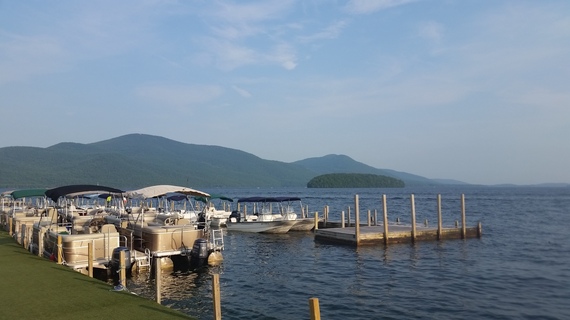 Photo/Jon Chattman
About A-Sides with Jon Chattman: Jon Chattman's music and entertainment series usually features celebrities and artists (established or not) from all genres performing a track, and discussing what it means to them. This informal series focuses on the artist making art in a low-threatening, extremely informal (sometime humorous) way. No bells, no whistles — just the music performed in a random, low-key setting followed by an unrehearsed chat. In an industry where everything often gets overblown and over manufactured, Jon strives for a refreshing change. Artists featured on the series include Imagine Dragons, Ellie Goulding, Melissa Etheridge, Air Supply, Joe Perry, Alice Cooper, fun, Bleachers, Charli XCX, Marina and the Diamonds, and Bastille.
Stay Connected:
http://ThisIsASides.com
https://www.facebook.com/ThisIsASideshttps://twitter.com/thisisasides