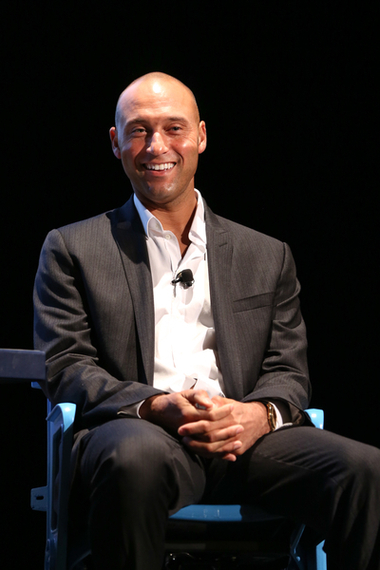 Photo/Michael Priest
If you're a Boston Red Sox or New York Mets fan (or another who's been on the receiving end of one of his clutch hits or into-the-stands or leaping-catch play), you've probably been waiting for this day for quite some time: Derek Jeter's last game. The New York Yankee Captain is about to leave the game he's mastered for nearly two decades, leaving behind a legacy that only a precious few players have reached. If you don't like the Yankees or – dare I say it – "hate" them, you've dogged Jeter for years. He's overrated. He's arrogant. He's evasive. I've certainly said all of the above, but as his career comes to a close I realize it's simply envy or perhaps jealousy that's behind the anti-Pinstripe logic. The problem we have had with Jeter throughout the years is quite simple: he's been so good at what he does you almost have to take pot shots at him. It's almost been a way of surviving the dynasty he was part of, the legacy he's built, and the countless clutch hits and big plays he's made.
Jeter's a winner. If anything, we can all agree on that. And throughout his ridiculously successful run as a "great Yankee," he's never once made you feel like any of this has gone to his head. If anything, it always seemed like he downplayed it all. Look. we all know his career accomplishments. His enshrinement into Cooperstown has been locked up for years, and it wouldn't surprise me if the Yankees unveil his Monument Park plaque tomorrow, Sept. 25, at his final home game ever manning short. If we can jump out of our anti-Pinstripe logic for just a moment since the end is near, we can realize what he's meant to the game for nearly two decades. He's had more highlights than Kelly Osbourne, more hits than any other Yankee (the media made it seem his 3,000th hit was the first ever in baseball even though it was the first for a Yankee – but I digress), and a World Championship ring for each finger on one of his right or left hand. The hits kept coming for him. He's been an All-Star Game MVP, the 11th Captain in a storied franchise, and a World Series/Subway Series MVP.
The 1996 Rookie of the Year has been synonymous with post-season play by making great plays or simply being involved in most wins and arguably the two most controversial calls in playoff history: Google "Jeffrey Maier" and "Tony Tarrasco" and "slide dammit slide, Jeremy Giambi" if you're curious what I mean. Perhaps the worst thing us non-Yanks have had to deal with is that Jeter made it all look too easy. A smirk or game-face of confidence personally made me wince throughout the years (along with his visible disdain for the media), but it made him who he was and helped him achieve greatness. Confidence, as we know, can be contagious in a clubhouse, and lead to chemistry, which leads to winning. It'd be interesting to Scott Bakula/Quantum Leap him for a day just to enter that mindset, witness literally first hand his skill set, and know what it feels like to be a perennial winner.
Last Lunch
On Sept. 22, that trademark confidence and poise were on full display at a Hennessy V.S event at The Hudson Theatre in New York City, where Jeter took part in a Q&A with Brandon Steiner, CEO of Steiner Sports & Entertainment. "The Captain's Farewell Luncheon," just three days before his final home game, saw the Yankee great take the stage for an intimate discussion on his biggest moments and career highlights. True to form: Jeter was deflected questions he didn't want to ask (carefully calculated from day one in baseball), and answered what he wanted to answer. On a related note, I'll say this for a guy whose love life and strained friendship with Alex Rodriguez have been tabloid fodder for years, it never elevates to a level of TMZ-level muckraking because Jeter has always been able to keep his mouth shut and only talk about what takes place on the field. At the lunch, he said nonchalantly, his private life should remain just that: "private." He's always felt that despite knowing full well that when you're in the public eye, everyone wants to know everything.
"I've focused my whole life on this job," he told the Manhattan crowd. He's worked hard his whole life to play baseball. We know the story, by the way, how his father groomed him so well. Speaking of which, he showed some subtle disgust at the fact so many kids today would rather play video games rather than taking the field.
When he was asked what his favorite moment was, he essentially said everything. But, he threw it to the stands rather quickly. "The fans are the ones that make it special," he said with sincerity. When asked why he's been so successful, Jeter said he never took anything for granted, and worked extremely hard to get where he wanted to be. "[It's] surreal…the whole thing. I was a kid who dreamed of playing shortstop for the Yankees, and that's where it stopped."
Because of all this, The Captain said he's felt a responsibility to focus solely on the game, respect it, and always be accountable during good and bad times – the latter of which we know full well were few and far between. "You stand at your locker," he said, noting how he'd get irked by any teammate who would duck out of the clubhouse after a bad outing rather than field questions from the press. "[Baseball's] a game of failure. You have to control it."
When asked to reflect on his career, Jeter deflected and simply said he's focused on the game he would play later that night against the Baltimore Orioles. Still, he did say he's looking forward to time off, and wants to start a family (he's dating model Hannah Davis). "There was no way I could've done it while playing. I guess I was a little too selfish [not wanting to] juggle [baseball and family]." He also has expressed interest in becoming first former Major League Baseball player to own a team. Watch your asses, Wilpons?
As for his farewell tour at each stadium this season (he's been showered with appreciation and gifts – just as former teammate Mariano Rivera had a year prior), Jeter cracked, "it's like I'm dying with all the videos they're showing on the monitors." But, again Jeter was fast to cut short the conversation about post-career activities."I'm not wired that way," he said, referring to looking too far ahead.
Jeter will close out his career "not surprisingly" at Fenway Park this Sunday. Will Boston fans cheer or jeer him? My gut tells me Beantown fans will applaud him loudly and take a big sigh of relief the Captain is leaving the building.
About A-Sides
Jon Chattman's "A-Sides" series/column was established in August 2011 and usually features artists (established or not) from all genres performing a track, and discussing what it means to them. This informal series focuses on the artist making art in a low-threatening, extremely informal (sometimes humorous) way. No bells, no whistles — just the music performed in a random, low-key setting followed by an unrehearsed chat. In an industry where everything often gets overblown and over manufactured, I'm hoping this is refreshing. Artists have included: fun, Courtney Love, Air Supply, Birdy, Sleigh Bells, MisterWives, Echosmith, Charli XCX, Sharon Jones, Pharrell Williams, Feist, American Authors, Imagine Dragons, Gary Clark Jr., and more! A-Sides theme written and performed by Blondfire.