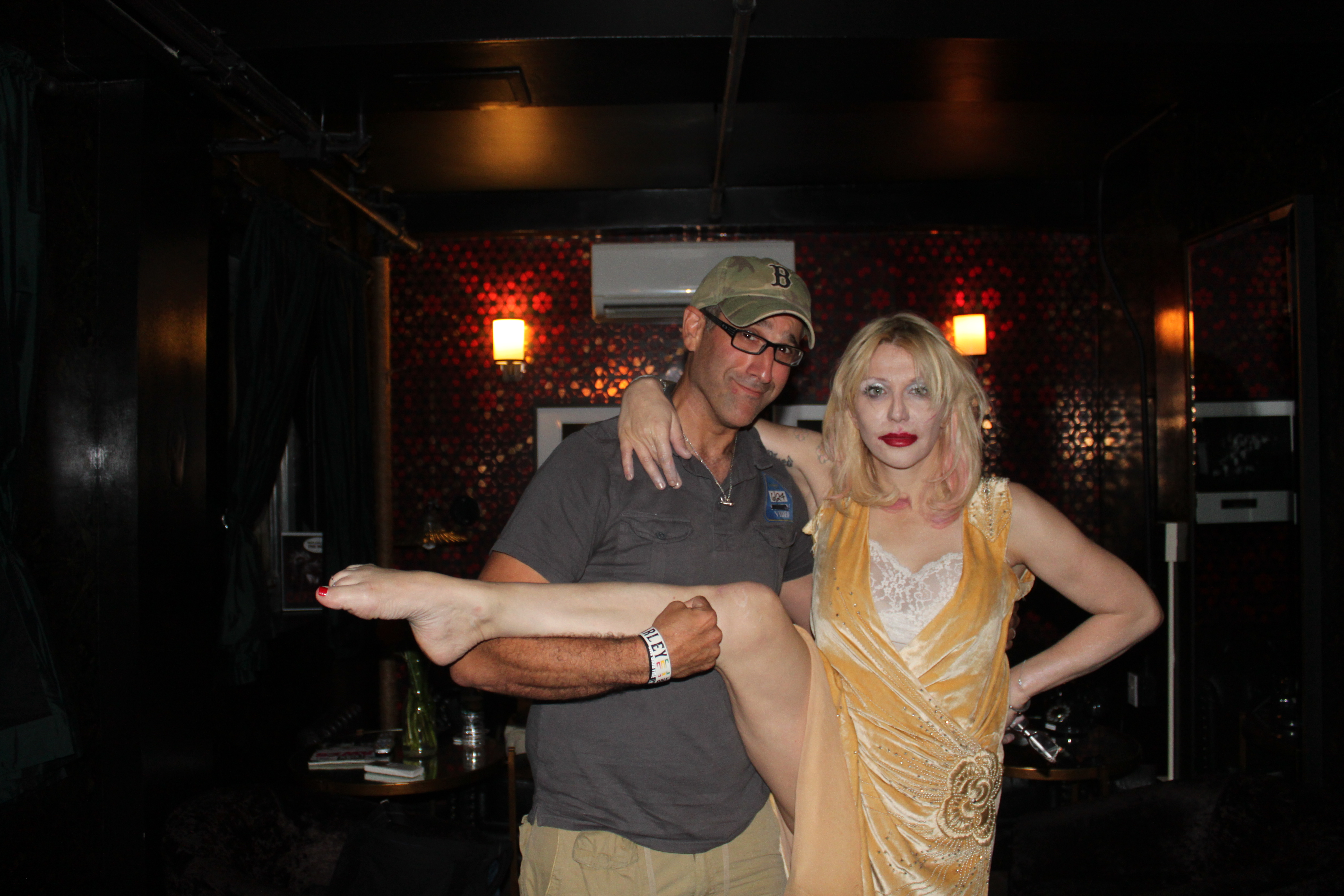 With past issues with addiction, jail stays, mental institution stints, and public displays of lunacy, the media and the world at large have been waiting for Courtney Love and her career to permanently derail for over a decade now.
Well, if you were at The Capitol Theatre in Port Chester, NY June 27 expecting to see a train wreck on stage, you were greatly disappointed. For over an hour, Love and her band played past Hole hits like "Violet," "Miss World," and "Asking For It" mixed with a few covers ("Under My Thumb!") and grossly underrated solo tracks like "Mono."
Look, Love is always going to be extremely outspoken, and a little discombobulated, but on stage she's right at home, in full control, perched on her throne as the Queen of Alt-Rock. As a T-shirt on sale in the Cap lobby said, "God Save the Queen of Rock & Roll." Sorry critics and cynics, she may not be the one who needs saving.
To commemorate her 49th birthday today, watch her perform Hole's "Dirty Girls" live from The Cap below, and keep an eye out for herautobiography and new album before year's end. Watch. Listen. Courtney Love.
A-Sides "Delve Into Twelve" Countdown
Each week A-Sides unleashes its Top 12 tracks of the week AKA the "Delve Into Twelve"based on the following contributing factors: songs I'm playing out that particular week NO MATTER WHEN THEY WERE RELEASED (think overlooked songs, unreleased tracks, and old favorites), songs various publicists are trying to get me to listen to that I did and listened to and liked (phew), posts and trends I've noticed on my friends' Facebook walls, and – most importantly – the songs 1 1/2 year-old son gravitates toward. Yeah, you read that right. This weeks follows below (LW= last week's rank):
12."Alive" – Krewella
11. "Blurred Lines" (LW 11) – Robin Thicke/Pharrell/T.I.
10. "I Could Be The One" – Avicii/Nicky Romero
9. "Sleeping Satellite" – Tasmin Archer
8. "Do I Wanna Know" – Arctic Monkeys
7." Recover" (LW-5) – CHVRCHES
6. "Came Back Haunted"(LW-3) – Nine Inch Nails
5. "Don't Swallow the Cap" (LW-2) – The National
4. "If I Loved You" (LW-4) – Delta Rae
3. "Holy Grail" – Jay-Z/Justin Timberlake
2. "Doin' It Right" – Daft Punk/Panda Bear
1. "You & I" (LW-1) – Crystal Fighters (Watch them perform the song live on A-Sides here)
About A-Sides Music
Jon Chattman's "A-Sides Music" series usually features artists (established or not) from all genres performing a track, and discussing what it means to them. This informal series focuses on the artist making art in a low-threatening, extremely informal (sometimes humorous) way. No bells, no whistles — just the music performed in a random, low-key setting followed by an unrehearsed chat. In an industry where everything often gets overblown and over manufactured, I'm hoping this is refreshing. A-Sides celebrates its two-year anniversary with a concert in White Plains, NY on Saturday, July 27 featuring Kopecky Family Band. Get your tickets here.