A-SIDES NEW YORK COMIC CON DIARY: COSTUMES, WRESTLERS, DMC AND BUSTING ON SOME GHOSTBUSTERS
When Comic Con debuted in New York City in 2006 it was hard to fathom it ever competing with the immortal San Diego gathering. For starters, the event had just a small spot within the massive Javits Center, and attendees included Kevin Smith, who goes to everything, andBosom Buddies co-star Peter Scolari, who probably doesn't. The first NYCC was probably attended well, but for this fanboy, it seemed like it was myself, my friends, and six random people wearing ironic Nintendo game-controller shirts playing Magic: The Gathering. Ever since that inaugural year, however, the East Coast Comic Con has grown from a helpless baby to an accomplished, self-sufficient adult. And with that, we can really begin our story.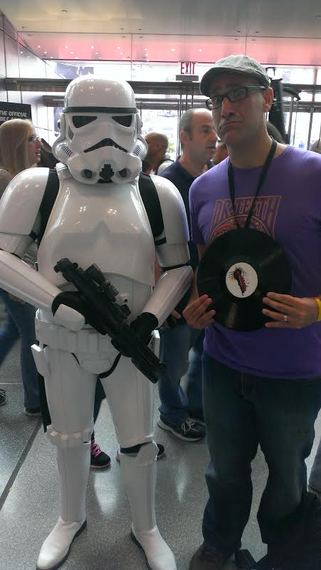 Posing with a super trooper/501ECG.com
The 2014 NYCC Comic Con was massive. Huge star massive. Attendance massive. Costumes everywhere massive. San Diego massive. Kicking off with George Clooney, who ditched his honeymoon to spill the beans on Tomorrowland SPOILER ALERT: it's set in the future) and generating even more buzz throughout the entire weekend (just look at your Facebook news feed and you'll agree), the three-day fest had something for everyone: the fanboys, gamers, cinephiles inkers, artists, "walkers," toy collectors, costume scene stealers, self-professed (and confident) nerds, sportos, the motorheads, the geeks, sluts, bloods, waistoids, dweebies, and dickheads. Everyone was welcome, and everyone seemed to embrace it all. Oh, and the amount of swag you could purchase seemed to triple in one year.
For one day, I decided to take my talents to Miami Beach. No, that's not right. I decided to take my talents to ground zero and cover some of the exciting sights and sounds of the event. The other days, I admit, I couldn't bare to capture on film because I was suffering from pop culture sensory overload (not that that's a bad thing). So watch a moment in time on Saturday afternoon for a "happy recap" as New York Mets legendary broadcaster Bob Murphy would say. By the way, you won't see any of the panel discussions here (The Walking Dead panel filled up quicker than media-fueled Ebola scare coverage), but you will see some inspired interviews with talent and fans who all try to overcome the loud noise pumping in all directions. Later this week, I'll post more footage including my full interview with rap icon and new comic "maker" DMC right here, but for now, watch the fun. And fun is exactly what Comic Con was and is all about. Stay classy, San Diego. We're doing just fine here.
#songawaycancer
As announced Oct. 1, A-Sides is in the midst of its own "challenge" to the viral masses – a la ALS Ice Bucket Challenge. Since October is Breast Cancer Awareness Month, A-Sides' Sing Away Cancer Challenge is asking musicians and all walks of life to create a short video of themselves singing any popular song's chorus but with anti-cancer and/or cure-geared inspiring lyrics. All I ask is for you to donate to a cancer-related charity of your choice, tag your video "#singawaycancer" and denote on your donation somewhere "sing away cancer." It's so important to know if this would-be viral campaign will work, and it's so not important if you can carry a tune or not. There are so many worth causes to donate to.
Oct. 1 Announcement
_________
About A-Sides Music
The latest video: Mary English
Jon Chattman's "A-Sides Music" series was established in August 2011 and usually features artists (established or not) from all genres performing a track, and discussing what it means to them. This informal series focuses on the artist making art in a low-threatening, extremely informal (sometimes humorous) way. No bells, no whistles — just the music performed in a random, low-key setting followed by an unrehearsed chat. In an industry where everything often gets overblown and over manufactured, I'm hoping this is refreshing. Artists have included: fun, Courtney Love, Air Supply, Birdy, Sleigh Bells, Aretha Franklin, Alice Cooper, Rob Zombie, Echosmith, Charli XCX, Pharrell Williams, American Authors, Imagine Dragons, Gary Clark Jr., and more! A-Sides theme written and performed by Blondfire.
Stay Connected:
http://asidesmusic.com/

https://www.facebook.com/asidesmusic

https://twitter.com/AsidesMusic