CHARLI XCX GETS "REAL" ON LORDE, LIFE, BIEBS, AND BEING "IN CHARGE"
February 19, 2014 6:27 pm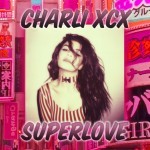 A few weeks ago, Punxsutawney Phil predicted six more weeks of winter and overexposure for Lorde. OK, that latter statement isn't true but it certainly feels like it. All the praise – the Rolling Stone cover, the Grammy – is warranted for the talented teenage Kiwi, but it's time we stop drinking the Kool-Aid for a minute and turn our attention toward almost-as-young Charlotte Aitchison (aka Charli XCX). Like Lorde, Charli XCXgot her start mad early – posting stuff on MySpace and gaining more traction than Rick Moranis behind a bumper car – whatever that means. Before releasing her breakthrough debut album True Romance, Charli, now 21, scored big – penning the #1 single "I Love It" for the Swedish duo Icona Pop and touring arenas around the world. That success led to her own, and let me say lucky for us. Lyrically, she cuts you like a knife ("Taking all my light and blocking out my vision
Bad little girl you have trapped in the prison…") and her songs are – dare I say it – put together well beyond her years. In the midst of touring and working on her sophomore album, which methinks will be anything but sophomoric, Charli recorded "SuperLove" exclusively for A-Sidesand fielded questions on everything from her age, work ethic, and yeah, ah-huh, Lorde. Anyway, read on, and get on this train. It's going very, very fast.
It's the nature of journalists to ask you right off the bat about your age so I won't. That said, I'm just so curious to know what you were like as a kid — you know before you started wreaking havoc on MySpace…
I don't know, I liked being on my own a lot… I still do. I'm an only child, so i guess i just grew up doing my own thing and it kind of stuck that way. My dad always encouraged me to be weird when I was younger, he used to always encourage me to wear the weirdest clothes and the most stupid shoes. He taught me about punk. I also used to love those chemistry sets you could buy in toy shops. I liked the bubbles.
It took a bit for your debut to get released to the masses. Will 2014 bring new material along with touring? Perhaps a new EP or album? Look at me asking you for new stuff when your album is still relevantly new.
Well, there's going to be a whole album in 2014. It's going to be out in the summer. It's basically done. I've been writing for a couple of months. I wanted to make it in a rush. The nature of the music I want to make right now needs everything to be super-fast. I hate taking time with things. I think the best songs are written in a short amount of time anyways… all the songs I've written I'm seeing as the color red.
Killer. Gwen Stefani went to Japan and her life – her career path even – changed forever. Did filming the "SuperLove" video there have any long-term affects on you? They live and breathe pop.
Yes. Japan is like the future. I'm so inspired by Tokyo right now. And Paris. I'm really into a lot of Yé-yé pop at the moment and I love how those French girls were so huge in Japan as well as France… it's a blend of those two aesthetics that are really inspiring my second record.
Lorde is getting so much attention. What do you make of her appeal, her music, and what do you think it means for you and – sorry putting you in a box – similar-minded artists like Grimes and Sky Ferreira?
I think Lorde is great. Her lyrics are always so cinematic and beautiful. And "what does it mean" for myself, Grimes and Sky.? Ha, I don't know. We're very much all on our own different paths and we're very different artists. I don't see any of my peers as competition. It's not about that for me. I respect all of the girls you've mentioned above and I think we all make brilliant music that is really influencing the structures of the pop world right now. It's cool.
You have your hands on literally every part of your career from videos to songwriting – are you able to sit back and let people guide you in this forsaken business at all?
Not really. I mean, I'll take advice, but if I think it's wrong then I won't listen to it. I think it's just better for everyone if I'm in charge. I like it that way.
If you were casting an All-Female Expendables, who'd be on your list? Why?
Haha… ummm I'm not sure how many people that means I can have, but it would probably be Me, Sylvie Vartan, Corrine Burns, Cher Horowitz and Nancy Downs.
Are there any artists out there who you'd consider writing for that might surprise people?
Um, I don't know, I love collaborating. I like writing pop music. I'd love to write a song for Justin Bieber.
What's the best advice you've given somebody? What's the best you've been given?

Both pieces of advice are the same: be real. Respect everyone around you and treat everyone equal. Re reaaaal!
About A-Sides Music
Jon Chattman's "A-Sides Music" series was established in August 2011 and usually features artists (established or not) from all genres performing a track, and discussing what it means to them. This informal series focuses on the artist making art in a low-threatening, extremely informal (sometimes humorous) way. No bells, no whistles — just the music performed in a random, low-key setting followed by an unrehearsed chat. In an industry where everything often gets overblown and over manufactured, I'm hoping this is refreshing. Thus far artists who have appeared on the series include: fun, American Authors, Imagine Dragons (interview only), Jake Miller, Gary Clark Jr., Sleigh Bells (interview only), Dispatch, Sharon Jones and the Dap Kings, San Fermin, and more!
A-Sides' 2nd Possibly Annual Pop Goes the Culture is set!