Excuse me while I channel my inner Bill Pullman and say tomorrow… pause… "we celebrate our Independence Day!" Yep, tomorrow is the Fourth of July – a day for barbecues, summer tunes, booze, and fireworks – probably in that exact order. Well, today's two artists featured on A-Sideswould make solid additions (and a nice detour) on your holiday playlist which will include Robin Thicke's "Blurred Lines." Damn that song is catchy, and, um, played every six minutes on the radio.
Anyway, Alessi Laurent-Mark is our first artist of the day. The London singer/songwriter performs as Alessi's Ark with a group of rotating musicians, and just dropped her third album The Still Life. Late last month, the dainty (and I mean that complimentary) folkster performed a track and discussed her music at the Music Conservatory of Westchester for an A-Sides session. Watch the enchanting performance of "Tin Smithing" from Alessi's Ark below followed by an interview. As you'll see and hear there's an honesty to her music and her personality that this industry solely needs.
The next band, A Great Big Pile of Leaves, hail from Brooklyn like so many indie rock acts nowadays, but they come off as authentic rather than wanna-be hipsters. The indie-pop-rock foursome just dropped "You're Always On My Mind" this week, and three of them performed "Snack Attack" late last month on A-Sides. Check out their performance in the Conservatory parking lot below followed by an interview. Happy 4th!
Concert announcement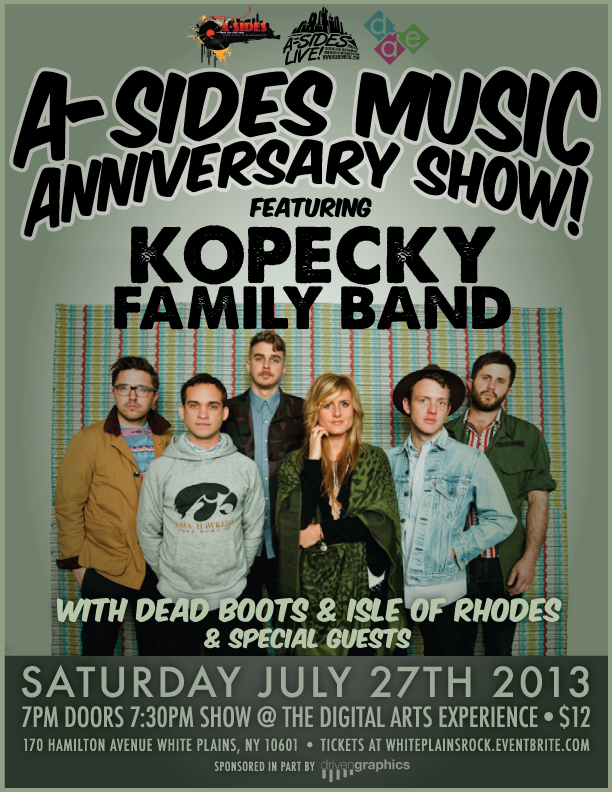 The A-Sides Music is holding its second anniversary with a concert in White Plains featuring MTV buzzed-band Kopecky Family Band, Dead Boots, and Isle of Rhodes on Saturday, July 27, 2013 at The Digital Arts Experience at 170 Hamilton Ave. in White Plains. Doors 7 p.m. Show starts promptly at 7:30 p.m. Tickets $12 via www.whiteplainsrock.eventbrite.com.
A-Sides "Delve Into Twelve" Countdown
Each week A-Sides unleashes its Top 12 tracks of the week AKA the "Delve Into Twelve"based on the following contributing factors: songs I'm playing out that particular week NO MATTER WHEN THEY WERE RELEASED (think overlooked songs, unreleased tracks, and old favorites), songs various publicists are trying to get me to listen to that I did and listened to and liked (phew), posts and trends I've noticed on my friends' Facebook walls, and – most importantly – the songs my 17-month-old son gravitates toward. Yeah, you read that right. This weeks follows below (LW= last week's rank):
12. "Waves" – Crystal Fighters
11. "Blurred Lines" (LW 12) – Robin Thicke/Pharrell/T.I.
9. "Instant Crush" (LW-8)- Daft Punk with Julian Casablancas
8. "Breezeblocks" – alt-J
7. "Clarity" – Zedd
6. "Bound 2″ (LW-4) – Kanye West
5." Recover" (LW-10) – CHVRCHES
4. "If I Loved You" (LW-6) – Delta Rae
3. "Came Back Haunted"(LW-3) – Nine Inch Nails
2. "Don't Swallow the Cap" (LW-1) – The National
1. "You & I" (LW-2) – Crystal Fighters (Watch them perform the song live on A-Sides here)
About A-Sides Music
Jon Chattman's "A-Sides Music" series usually features artists (established or not) from all genres performing a track, and discussing what it means to them. This informal series focuses on the artist making art in a low-threatening, extremely informal (sometimes humorous) way. No bells, no whistles — just the music performed in a random, low-key setting followed by an unrehearsed chat. In an industry where everything often gets overblown and over manufactured, I'm hoping this is refreshing. A-Sides celebrates its two-year anniversary with a concert in White Plains, NY on Saturday, July 27 featuring Kopecky Family Band. Get your tickets here.