"Bright Side" of a Horrific Life: Travis Barker Opens Up in New Memoir
December 15, 2015 9:34 pm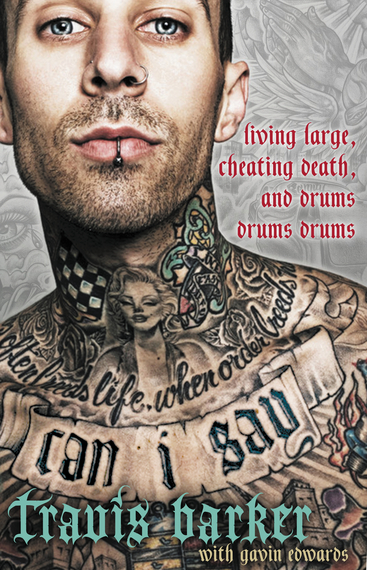 When done right, autobiographies can be masterworks of literature. They can take you inside the mind of a person/personality, and intimately let you into their lives. Most times, however, they follow a template and come off as formulaic story without the Clara Peller beef. Joe Perry managed to avoid the bottomless bargain bin with his unique, honest, and well-written Rocks last year, and Travis Barker has done it this year. With CAN I SAY: Living Large, Cheating Death, and Drums Drums Drums, the Blink 182 drummer is at his most vulnerable – revealing truths about drug addiction, failed marriage and projects, and the outer and inner wounds left from a 2008 plane crash that claimed the lives of four, and left him with second and third degree burns over about 1/3 of his body. The overdose of close friend Adam "DJ AM" Goldstein, who also survived the crash, is also discussed at length. Overall, the book, co-written by Rolling Stone contributing editor Gavin Edwards, hits you like a punch to the gut but there's an overall sense of hope and redemption throughout. It's an intimate look into Barker's life, his craft, his highs, his lows, and his in-betweens. Last month, I was fortunate to chat with the gifted drummer about his book, band, and breakthroughs.
The obvious first question – why did you decide to sit down and write this book at this moment in time?
I never really spoke about the accident. I remember when it happened, everyone was asking me to. I was like 'hey man, I can't just talk about this on Larry King or Oprah.' For me, I would've balled my eyes out or had done something crazy. I couldn't even think about it without crying. A couple years ago, I just stopped doing press, because the accident or Adam were always mentioned by some journalist. I was finally like 'fuck it, I'm not going to do press anymore.' When the idea of a book came along, I considered it and met with different people. With Gavin, it just dawned on me that it should be him. He'd went with us (Blink 182) to Iraq, and had written about us a lot. He knew us, and he knew me. It seemed like a fit. I contacted him, and we sat down. The rest is history.
Touring with a band and doing a book tour are two vastly different things. Tell me how nice it was to get so up close and personal with fans at the various signings you've done a nd how they related to the book.
You know there were signings where there would be like 600 kids some days. I'd have them come up to me, and say 'look, I've been suicidal for the last two years. I stopped cutting myself two weeks ago after reading your book.' There were people who'd come up and say 'I've been sober three months.' So many stories like that… It was incredible to connect with the fans. It was so personal and raw – something so much more intimate.
You've obviously helped so many people. I'd imagine this book has helped you as well.
I couldn't have written this if I was strung out, suicidal or at the burn center. It's as good as it can be. Writing this book has been therapeutic. A brighter outcome has come from everything that's been horrific in my life. I talk about my mom's passing, and having to be strong at a young age, friends I've lost, the accident, and being in the hospital with 65 percent of burns on my body. [I talk about] the survivor's guilt that came in after. But again, there was a bright side in that. It ultimately led to me being sober.
You just turned 40. Is it just a number for you or did you experience any epiphany?
On my birthday, I boxed for two hours, and went skateboarding with my son. I do everything I did when I was 14 or 15 right now. I do everything athletically better at 40 than I did at 13, because I've never had to grow up. People have to grow up when they have to do something they don't like for a living. I'm able to do what I love and found out how to get paid for it. My expectations were low. I thought it was nearly impossible to do this but I found a way.
Let's jump back to the book. I really enjoyed the layout – from the blood on the pages – to friends and family who lent quotes and anecdotes to further your story. How'd you come up with that concept?
I wanted to intersperse my story with others. I had such great parents growing up. My dad is responsible for so much. I wanted "pops" to contribute and as humiliating as it was, I wanted my ex-wives to talk. There are so many memoirs I put down because I don't believe them. I wanted to get both sides of things. I kind of created the memoir I wanted to read. Gavin and I refused to water anything down. I'm really glad we didn't. I'd regret it on these book tours hearing from fans [about how the book changed their lives].
I also liked that you had a discography at the end. You've done so many amazing things and worked with so many iconic artists, it was nice to see you show that off a bit.
Thank you. When we set out to do the book, I said I'd like to do a section on tattoos. Then, we started getting into albums, and just talking about the musical projects I had done. Gavin and I just sat down, and played each song I was involved with, and he just told me to talk about it – taking short stories behind each one. The tattoo [section] never happened. But, it's about the music. I'm rooted in music, and so is Gavin. It all comes back to the music.
Speaking of which, I know Tom DeLonge isn't part of it, but I understand you're in the studio right now doing a new Blink record. Talk to me about it..
It's awesome. We're basically going on without Tom, who hasn't wanted to work and has refused to. But if you have 2/3 who still want to continue, you have to carry on. It makes no sense to stop. It'll be something fresh and new.
The world is pretty screwed up right now and that's quite an understatement. Music heals. I believe in that. Can you weigh in on that notion of music helping get us through tough times?
Music is a small break from the cruel world or whatever you're going through. It takes you away from that. You can put on a song, and it takes you back to a time or a moment that's as strong as a photograph. Music is healing, and just moves people in a way nothing else does. On your worst day, you can get in your car, put on whatever music you need in that moment, and everything's okay. It's very powerful.
Lastly, can you impart any words of wisdom for my year-old son?
I love 'do what you love, love what you do.' It goes really far. I live by it. It's pretty much made me who I am.
A-Sides' "Delve Into Twelve" Countdown
Each week A-Sides unleashes its top 12 tracks of the week AKA the "Delve Into Twelve" based on the following contributing factors: songs I'm playing out that particular week (no matter when they were released — think overlooked songs, unreleased tracks and old favorites), songs various publicists are trying to get me to listen to that I did and dug a bunch, song posts and trends I've noticed on my friends' Facebook walls and, most importantly: what my toddler is currently enjoying thoroughly with an assist from my infant.
About A-Sides with Jon Chattman: Jon Chattman's music series features celebrities and artists (established or not) from all genres performing a track, and discussing what it means to them. This informal series focuses on the artist making art in a low-threatening, extremely informal (sometime humorous) way. No bells, no whistles — just the music performed in a random, low-key setting followed by an unrehearsed chat. In an industry where everything often gets overblown and over manufactured, Jon strives for a refreshing change. Artists featured on the series include Imagine Dragons, Melissa Etheridge, Air Supply, Joe Perry, Alice Cooper, fun, Bleachers, Charli XCX, Marina and the Diamonds and Bastille.
Stay Connected:
http://ThisIsASides.com
https://www.facebook.com/ThisIsASides
http://www.twitter.com/thisisasides