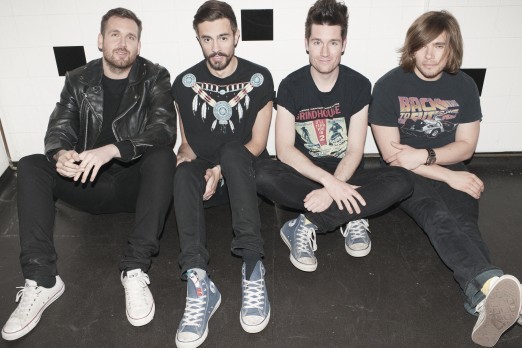 Photo/Jesse Jenkins
Most of the time, a song gets stuck inside your head for hours, days courtesy of a catchy chorus or well-written verse. In the case of Bastille, however, their orca-whale-sized hit "Pompeii" produced a mind gloriously filled with repeated "eh ohs." Still on heavy rotation on alt and pop stations a year later, the UK band's breakthrough hit, which mind you also includes wonderful lyrics (methinks a song solely of "eh ohs" wouldn't cut it), propelled them to the stardom they had previously found in their homeland.
"Pompeii" was only the beginning here and there. Following their Haunt EP, they dropped their full-length debut Bad Blood. to much fanfare. Both albums, by the way, featured that timeless song about people frozen-in-time in that ancient Roman City and Bad Blood launched more hit singles to make many an ear dance. "Bad Blood" killed. "Flaws" is currently doing just that. Yes, one-tick ponies they are not. They are, of course, human beings. Ponies can't make music, but I digress.
The band is fronted by Dan Smith, who originally started Bastille as a one-man band but soon brought drummer Chris Wood, bassist William Farquarson, and keyboardist Kyle Simmon aboard. Crafty lyrics and catchy music are a trademark element to each and every song from the band. There is also a cinematic quality to each track that truly paints a picture. Their music videos literally do just that. It's no wonder really. Front man Dan is a cinephile (everything from David Lynch to horror flicks tickle his fancy) who over sees it all. Case in point: you will go tothere. But enough background. Just Google the band if you need to. I want to jump right into my A-Sides interview with the melody maker Smith, which took place right after two sold-out shows at the iconic Radio City Music Hall in New York City. Speaking of which, the band seem to sell-out faster than a drunk chicken on a moped. Anyway, let's get on with it.
You've been touring so much since Bad Blood broke here, but the album and its predecessor have lived with you for so long. How anxious are you to get back into the studio?
We never really stopped making new songs. I love writing and the process of bringing songs together with production, so we've been constantly working on new material. Mark Crew, the only producer we've ever worked with, has been joining us on tour as often as possible. We set up a studio in back stage rooms or on the tour bus and we've started a lot of the new album that way. There was a period at the end of last year when we'd been touring non-stop and I'd started to miss the recording process so we just decided to do something about it.
Freshness. Laura Palmer is the name of an EP and a killer song of yours. Are you excited David Lynch is bringing back the series to Showtime? If so, can you videotape yourself dancing like "The Man From Another Place" and send it to me?
I'm so excited about the return of Twin Peaks. I almost can't believe it's actually happening because it seems like the actualization of a collective, mass geek fantasy. It feels almost too good to be true. P.S. If you want to see me dancing as weirdly as the Man From Another Place you only have to see one of our gigs to see the true horror of my dancing.
It's not that bad, man! Getting back to your music, it's been such an amazing year-plus for you guys, is it hard to let it sink in when you're performing nightly?
We still tour with the same group of people that we've always toured with and we're not particularly self-congratulatory, so I think to a large extent the complete extent of what's happened for the band hasn't totally sinked in. There are obviously moments of realization about how far we are from playing rundown clubs around the UK, especially when we're asked to play at massive events or huge venues.
It can be surreal sometimes. I always like being really busy though, and I wouldn't ever want to be someone who sat back listing their achievements. We often feel surprised at the situations we find ourselves in, but I think it makes us appreciate the awesomeness and the weirdness of it all the more.
"Pompeii" was and is such a huge hit for you guys, and rightfully so, rather than tell me about how the song came together and whether you knew you had a hit on your hands in the UK and the US, tell me instead how you perfected the "Eh-eh-o eh-o" part.>
I think it started as a keyboard line. It wasn't massively thought out to be honest. A lot of the first album was initially written and recorded on my laptop in my room, so I'd often just layer up my vocals or whatever I had to hand. I doubled up the keyboard lines with vocals that became the "eh oh". Then when it came to making the album, we asked our friends from a band called To Kill A King to come down to the studio and help layer up what became the chant that's on the record.
Well done. Is it possible if you weren't born on Bastille Day, and were born on say Groundhog Day or Simchat Torah, that your band name could've been Groundhog or Simchat? >
The public holiday possibilities are endless dude. Groundhog would have been a brilliant name.
Side project band name? Boom. Anyway, I'm so impressed by your unique and off-the-wall cover choices – from TLC's "No Scrubs" to the amazing Corona/Snap! mash-up of respectively "Rhythm of the Night" and "Rhythm is a Dancer." How do you select covers and how do you know which to take to the public, and which to just keep in-house?>
Thanks dude. The covers really came about after we did "What Would You Do?" by City High when we first started gigging and didn't have enough songs for an encore (if we were ever asked to do one). We thought it would be fun to play a song that people remember and are somehow able to sing along to word for word, but don't necessarily remember who it's by.
It's fun to take songs from a completely different context and reframe them. We did two mixtape albums called "Other People's Heartache" and "Other People's Heartache pt 2″ which were full of those kind of covers and mash ups, mixed with film music and film quotes. Doing the covers gives us an opportunity to experiment with different sounds and genres using the canvas of someone else's songwriting. There haven't been many examples of times when we've done a cover and not put it out in some form.
#songawaycancer
As announced Oct. 1, A-Sides is in the midst of its own "challenge" to the viral masses – a la ALS Ice Bucket Challenge. Since October is Breast Cancer Awareness Month, A-Sides' Sing Away Cancer Challenge is asking musicians and all walks of life to create a short video of themselves singing any popular song's chorus but with anti-cancer and/or cure-geared inspiring lyrics. All I ask is for you to donate to a cancer-related charity of your choice, tag your video "#singawaycancer" and denote on your donation somewhere "sing away cancer." It's so important to know if this would-be viral campaign will work, and it's so not important if you can carry a tune or not. There are so many worth causes to donate to.
A-Sides "Delve Into Twelve" Countdown
Each week A-Sides unleashes its Top 12 tracks of the week AKA the "Delve Into Twelve"based on the following contributing factors: songs I'm playing out that particular week NO MATTER WHEN THEY WERE RELEASED (think overlooked songs, unreleased tracks, and old favorites), songs various publicists are trying to get me to listen to that I did and dug a bunch, posts and trends I've noticed on my friends' Facebook walls, and — most importantly — the songs my two-year-old-plus son gravitates toward by stomping his feet in approval. Yeah, you read that right. This weeks follows below (LW= last week's rank).
12. "Futures" (retro cut) – Jimmy Eat World
11. "Kathleen" (LW-9) – Catfish and the Bottlemen
10. "Shut Up And Dance" (debut) – Walk The Moon
9. "Two Weeks" (LW-10) – FKA twigs
8. "Boom Clap" (LW-7) – Charli XCX
7. "Geronimo" (LW-4) – Sheppard
6. "Cigarette Daydreams" (LW-6) – Cage the Elephant
5. "Champions of Red Wine" (8) – The New Pornographers
4. "Iris" (LW-4) – U2
3. "Home" (LW-3) – Dotan
2. "Beggin For Thread" (LW-1) – Banks
1. "Inside Out" (LW-2) – Spoon
_________
About A-Sides Music
Jon Chattman's "A-Sides Music" series was established in August 2011 and usually features artists (established or not) from all genres performing a track, and discussing what it means to them. This informal series focuses on the artist making art in a low-threatening, extremely informal (sometimes humorous) way. No bells, no whistles — just the music performed in a random, low-key setting followed by an unrehearsed chat. In an industry where everything often gets overblown and over manufactured, I'm hoping this is refreshing. Artists have included: fun, Courtney Love, Air Supply, Birdy, Sleigh Bells, Aretha Franklin, Alice Cooper, Rob Zombie, Echosmith, Charli XCX, Pharrell Williams, American Authors, Imagine Dragons, Gary Clark Jr., and more! A-Sides theme written and performed by Blondfire.