ALL ABOUT ARCADE FIRE? A-SIDES' TOP 53 SONGS OF 2013; & DELVE INTO THE 12 BEST ALBUMS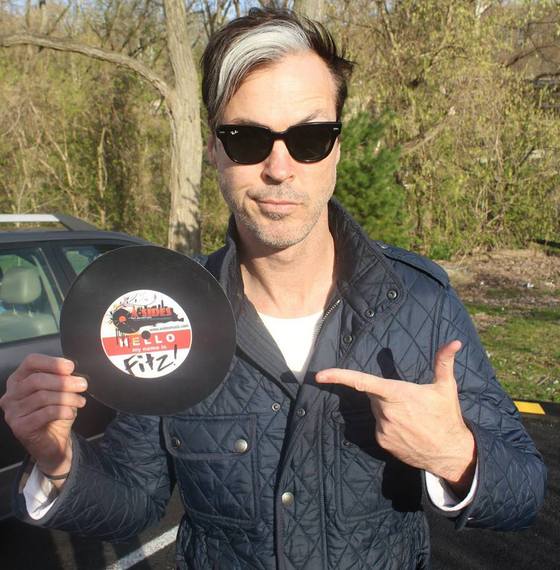 Fitz and the Tantrums easily made this list.
The Cranberries' once said "every one else is doing it, so why can't we?" Well, the Irish 90s act didn't actually say it (they used it as the title for their debut album) – and didn't coin that phrase at all. So, why did I decide to start this post this way? I have absolutely no idea, but I'm recycling that overused and cliched phrase and I wanted to seem somewhat original out of the gate. Epic. Fail. Anyway, 2013 was a killer year for music from any perspective, and like everybody everywhere this week, I'm dropping my top songs and albums of the year. Some of the artists on both lists I had the good fortunate of having on A-Sides. It was an extremely killer year for music, and rather than going on and on about the logic behind the list, I'm simply going to cut to the chase. Read on if you wish, and as ABBA once sang, "thank you for the music." Did I redeem myself with that Swedish band reference? Meh.
53. "Holy Grail" Jay-Z and Justin Timberlake
52. "Cool Kids" – Echosmith
51. "My God is the Sun" – Queens of the Stone Age
50. "Head On (Hold Onto Your Heart)" – Man Man
49. "Sex" – The 1975
48. "Same Love" – Macklemore and Ryan Lewis with Mary Lambert
47. "Little Games" – The Colourist 
46. "24 Hours" – Sky Ferreira
45. "Do What U Want" – Lady Gaga with R. Kelly
44. "Further Away (Romance Police)" – Lissie
43. "Modern Jesus" – Portugal. The Man
42. "Wrecking Ball" – Miley Cyrus
41. "My Gun" – The Rubens
40. "Afterlife" – Arcade Fire
39. "Ways to Go" – Grouplove
38. "Best Day of My Life" – American Authors
37. "L.L.L." – Mona
36. "Loner Phase" – Cold War Kids
35. "Childhood's End" – Majical Cloudz
34. "Holding on for Life" – Broken Bells
33. "I Was a Fool" – Tegan & Sara
32. "Byegone" – Volcano Choir
31. "Various Methods of Escape" – Nine Inch Nails
30. "Cannonball" – Diamond Youth
29. "Arabella" – Arctic Monkeys
28. "New Slave" – Kanye West with Frank Ocean
27. "Polaroid Picture" – Frank Turner
26. "Gun" – CHRVCHES
25. "Sonsick" – San Fermin
24. "Waves" – Blondfire
23. "Bleeding Out" – Imagine Dragons
22. "Sirens" – Pearl Jam
21. "Fallen" – Haim
20. "Came Back Haunted" – Nine Inch Nails
19. "Now I'm All Messed Up" – Tegan & Sara
18. "Awful Sound (Oh Eurydice)" – Arcade Fire
17. "Bitter Rivals" – Sleigh Bells
16. "Stay" – Rihanna with Mikky Eko
15. "Forever" – Haim
14. "Instant Crush" – Daft Punk with Justin Casablancas
13. "Chain My Name" – Polica
12. "Comrade" – Volcano Choir
11. "Entertainment" – Phoenix
10. "Do I Wanna Know?" – Arctic Monkeys
9. "San Francisco" – The Mowgli's
8. "Out of My League" – Fitz and the Tantrums
7. "Recover" – CHVRCHES
6. "Torches & Pitchforks" – Mona
5. "Doin' It Right" – Daft Punk with Panda Bear
4. "Pompeii" – Bastille
3. "You & I" – Crystal Fighters
2. "Reflektor" – Arcade Fire
1. "Don't Swallow the Cap" – The National
Delve Into Twelve: The Top Albums of 2013
1. Arcade Fire, "Reflektor"
2. Arctic Monkeys, "AM"
3. Kanye West, "Yeezus"
4. Mona, "Torches & Pitchforks"
5. CHVRCHES, "The Bones of What You Believe"
6. Sky Ferreira, "Night Time, My Time"
7. Portugal. The Man, "Evil Friends"
8. Nine Inch Nails, "Hesitation Marks"
9. Waxahatchee, "Cerulean Salt"
10. Haim, "Days Are Gone"
11. Atoms for Peace, "Amok"
12. Volcano Choir, "Repave"
About A-Sides Music
Jon Chattman's "A-Sides Music" series was established in August 2011 and usually features artists (established or not) from all genres performing a track, and discussing what it means to them. This informal series focuses on the artist making art in a low-threatening, extremely informal (sometimes humorous) way. No bells, no whistles — just the music performed in a random, low-key setting followed by an unrehearsed chat. In an industry where everything often gets overblown and over manufactured, I'm hoping this is refreshing.
Tags:
A Sides with Jon Chattman
,
a-sides
,
Arcade Fire
,
Arctic Monkey
,
CHVRCHES
,
Crystal Fighters You and I Live
,
Frank Turner
,
Frank Turner Acoustic
,
Frank Turner Live
,
Frank Turner Polaroid Picture Live
,
Haim
,
Huff Po
,
Huffington Post
,
Jon Chattman
,
Miley Cyrus
,
Nine Inch Nails
,
Portugal. The Man
,
Songs To Listen To
,
Tegan & Sara
,
Top 53 Songs To Listen To