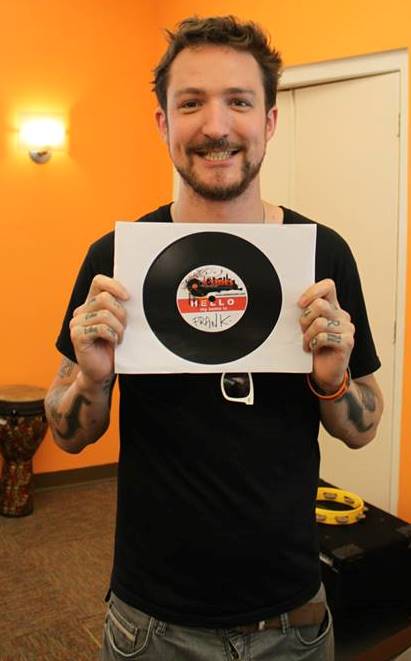 Apologies to Kamoze Ini, but Frank Turner is the real "lyrical gangster." I'll wait to continue this post so you can Google "Kamoze Ini." Okay, let's begin… The outspoken British singer/songwriter is five albums into his solo career – most recently the stellar Tape Deck Heart, and has a proven track record of pairing catchy folk-rock melodies with sometimes brutally honest lyrics. As a matter of fact, if one wanted an education in how to write solid punk-minded folk songs, the self-professed liberal would be your man. Considering that, A-Sides decided to thrust the too-cool-for-school musician back into a classroom last month for a master class in rock. Along with his backing band mate Matt Nasir, the pair put a full-on rock display and fielded questions from yours truly and a dozen rock students of the Music Conservatory of Westchester in White Plains, NY. Watch two performances and a pair of Q&As below, and visit the official A-Sides YouTube for an exclusive performance of recent single "Recovery" here.
Still not enough Frank Turner? He just dropped a new EP this week called Losing Days, and will be touring the states this fall. The exclusive performances and interviews follow below after a list of the musician's tour dates.
FT on the Road
October 4 Cleveland, OH Beachland Ballroom
October 5 Grand Rapids, MI Intersection
October 6 Des Moines, IA Wooly's
October 7 Omaha, NE The Waiting Room
October 9 Denver, CO Ogden Theatre
October 11 Salt Lake City, UT Urban Lounge
October 12 Las Vegas, NV Hard Rock Live Las Vegas
October 14 Los Angeles, CA The Fonda
October 15 San Diego, CA House of Blues
October 16 San Francisco, CA The Fillmore
October 18 Seattle, WA The Neptune
October 19 Portland, OR Wonder Ballroom
October 20 Vancouver, BC Commodore Ballroom
October 22 Calgary, AB MacEwan Ballroom
October 23 Edmonton, AB The Union Hall
October 25 Saskatoon, SK Louis'
October 26 Winnipeg, MB The Garrick
October 28 Minneapolis, MN Varsity Theatre
October 29 Chicago, IL The Vic
October 30 Columbia, MO The Blue Note
November 1 Dallas, TX Granada Theater
November 2 Austin, TX Mohawk
November 4 Houston, TX Fitzgerald's
November 5 Mobile, AL Soul Kitchen
November 6 Jacksonville, FL Jack Rabbits
November 8 Ft. Lauderdale, FL Culture Room
November 9 Orlando, FL Beachum Theater
November 10 Atlanta, GA Center Stage Theater
November 12 Charleston, SC The Music Farm
November 13 Columbia, SC Jillian's
November 15 Charlotte, NC Amos' Southend
November 16 Norfolk, VA The NorVa
November 18 Asheville, NC The Orange Peel
November 19 Charlottesville, VA Jefferson Theater
November 20 Cincinnati, OH The Taft Ballroom
November 22 Detroit, MI St. Andrew's Hall
November 23 Buffalo, NY Town Ballroom
November 24 Northampton, MA Calvin Theater
November 25 Albany, NY Upstate Concert Theater
November 27 New York, NY Terminal 5
November 29 Philadelphia, PA Electric Factory
November 30 Boston, MA House of Blues
"Polaroid Picture"

Interview with Jon Chattman
Q&A with Conservatory students

2008 Love Ire & Song
"Photosynthesis"
A-Sides "Delve Into Twelve" Countdown
Each week A-Sides unleashes its Top 12 tracks of the week AKA the "Delve Into Twelve"based on the following contributing factors: songs I'm playing out that particular week NO MATTER WHEN THEY WERE RELEASED (think overlooked songs, unreleased tracks, and old favorites), songs various publicists are trying to get me to listen to that I did and listened to and liked (phew), posts and trends I've noticed on my friends' Facebook walls, and – most importantly – the songs my 1 1/2+ year-old son gravitates toward. Yeah, you read that right. This weeks follows below (LW= last week's rank):
12. "Icarus" – Bastille
11."Scales" – Owel
10. "Byegone" – Volcano Choir
9. "Various Methods of Escape" – Nine Inch Nails
8. "Hearts Like Ours"(LW-5) – The Naked and Famous
7. "Best Day Of My Life" (LW-8) – American Authors (* Watch the band perform this track on A-Sides this month!)
6. "Torches & Pitchforks"(LW-3) – Mona
5. "Many of Horror" – Biffly Clyro
4. "Everything" (LW-4) – Nine Inch Nails
3. "The Wire" (LW-2) – Haim
2. "Mercy" – TV on the Radio
1. "Pompeii" (LW-1) – Bastille
About A-Sides Music
Jon Chattman's "A-Sides Music" series was established in August 2011 and usually features artists (established or not) from all genres performing a track, and discussing what it means to them. This informal series focuses on the artist making art in a low-threatening, extremely informal (sometimes humorous) way. No bells, no whistles — just the music performed in a random, low-key setting followed by an unrehearsed chat. In an industry where everything often gets overblown and over manufactured, I'm hoping this is refreshing.