A Chat with "Cult" Classic Ian Astbury; Can I Get an "Amen?" Yeasayer Return with New LP
My introduction to The Cult, like so many, came via the classic 1985 hit "She Sells Sanctuary." The song had a resounding effect on me – and it's a truly timeless rock song. If you've been following the band (no "cult" pun intended), you know they extend far behind that one hit, and have lasted longer than a Sting hay romp(pun intended). While they've followed the rock-and-roll blueprint of breaking up, getting back together, changing members, frontman Ian Astbury even fronted a Doors reboot in the early 2000s, but they always came back. It helped that songwriting originators – frontman Ian Astbury and guitarist Billy Duffy – stayed together to ensure the music continued, and remained relevant and ambitious.
Speaking of ambitious, last month, the band released its first album in three years (their 10th overall studio album) entitled Hidden City. The album is the third and final part of an acclaimed trilogy which started with 2007's Born Into This and 2012's Choice of Weapon. The themes on the respective albums have been honest, often-harsh, and always profound/rocking songs that resonate in this whacked-out world we live in. Keeping with that theme, their music video for new song "Deeply Ordered Chaos" is inspired by the Nov. 13 attacks in Paris. Astbury, by the way, performed various times at Le Bataclan.
The band, which in addition to Astbury and Duffy consists of John Tempesta (drums), Grant Fitzpatrick (bass), and Damon Fox (keys/rhythm guitar), is currently on its "Alive in the Hidden City" U.S. tour, which kicked off Feb. 5 at the Tower Theater in Los Angeles – the same day the new record was released. At a recent New York City visit, A-Sides was fortunate to chat with Astbury about The Cult's new full-length record, its longevity in the business, and a lot more. Watch the video, which was filmed by shootmepeter.com, and be inspired by an obvious icon in this business.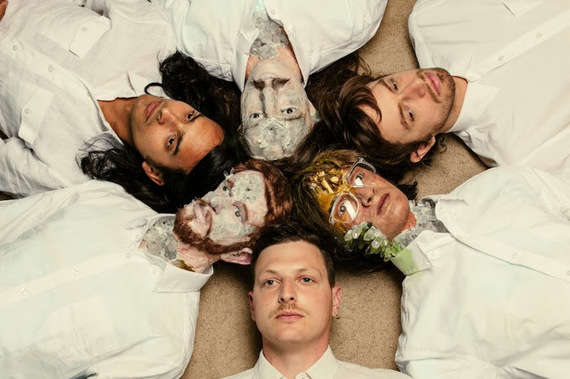 Photo/Eliot Lee Hazel
Keeping with the theme of relevancy in the music industry, Yeasayer have been among the most original bands around since they debuted nearly nine years ago. The experimental Brooklyn band (Chris Keating, Ira Wolf Tuton and Anand Wilder) have never shied away from mixing their sound up, and their fourth studio album Amen & Goodbye keeps with that trend. The first single alone "I Am Chemistry" is not just a good listen, it's lyrically among the band's best. The lyrics resonate. The choir that comes in toward the end elevate it to some spiritual place that only music can take you. Overall, the album moves away from the electro-feel of 2012's Fragrant World. Having said that, the band doesn't compromise. This still feels like a Yeasayer record. Oh, and I'll add, it's pretty cool to look at as well. Artist David Altmejd, whom the fan found inspiration with, created standout images in the album's artwork. Anyway, I spoke with Keating about the album, the artwork, and everything inbetween earlier this month. Catch the interview below, and catch them on the road (they play the House of Vans tonight in Brooklyn). See the dates after the interview.
You guys took some time between Fragrant World and Amen & Goodbye. "I Am Chemistry" makes me think you really wanted to dissect your sound a bit and that obviously takes time to develop.
It makes me think that, too.
The album arrives in April and is visually stunning. Why did you bring in sculptor David Altmejd – a longtime influence of yours – to create the artwork?
I always thought that his artwork looked like the sounds I wanted to make. His otherworldly sculptures evoke science fiction, numinous relics, horror movies, and are always compelling and beautiful. His palette is impeccable and he only uses bright colors when necessary and I am very inspired by his willingness to deconstruct his own work.
Since the look of the album features pop culture walks of life – what do you make of the state of pop, pop music, and, well, the United States?
I think its mostly awful but pop music goes in phases. The early aughts were pretty great for pop but I am not a "poptimist." I appreciate a good hook and an exciting earworm but for the most part the Swedish hit factory that churns out the Top 40 over the last few years sounds like Christian rock over European trance beats with a smattering of watered down trap beats. Needless to say, not-my-thing. I'm not excited by former Internet or Disney tweens trying to sexy up their image and I'm not excited by reality TV celebrity con men running for president. It all seems like a big fucking joke.
Going old school a little – "Madder Red" will forever be one of my favorite songs – basically ever – can you tell me how that song took shape?
It was much more minimal at first. It was a bed of guitars weaving in and out and sort of a lullaby. After we added a heavy pseudo industrial beat to it we found that it could go in a new direction. Something anthemic. We had a wordless chorus idea that we loved. We were playing the demos for friends and fortunately a wise fellow named Sinkane pointed out that it sounded identical to another song so we begrudgingly changed the melody. Its better to catch these things early!
Festival season is approaching – do you have any in the books as of yet and what will your touring schedule look like this year?
It's so weird but I don't know what we are allowed to announce. We are touring US, Europe, playing a few NY shows and a bunch of festivals but I have this calendar and some of the shows say "do not announce." What's up with that?
Seriously. What is up with that? Anyway, on road trips, what do you binge watch and listen to?
The Wire. Exclusively. It's the only thing I have on my iPad and I watch it on every flight. I listen to a Brian Eno Ambient boxset on the bus.
Lastly and left fieldly, Love Eno's ambient work. Can you impart some words of wisdom to my two young sons?
Pay attention until 5th grade but learn a trade instead of wasting your time in middle school.
May 12: Portland, ME: Port City Music Hall
May 13: Boston, MA: Paradise Rock Club
May 16: Washington, DC: 9:30 Club
May 17: Philadelphia, PA: Union Transfer
May 19: Asheville, NC: The Orange Peel
May 20: Atlanta, GA: Shaky Beats Music Festival
May 21: Nashville, TN: Exit/In
May 22: Detroit, MI: The Majestic Theatre
May 23: Chicago, IL: Lincoln Hall
May 24: Minneapolis, MN: First Avenue
May 27: George, WA: Sasquatch Music Festival
May 28: Canada: Vancouver, BC: Imperial Vancouver
May 29: Portland, OR: Wonder Ballroom
May 31: San Francisco, CA: The Fillmore
June 1: Los Angeles, CA: The Fonda Theatre
June 2: San Diego, CA: The Observatory North Park
June 3: Santa Ana, CA: The Observatory
June 5: Dallas, TX: Bulladora Music Festival
June 10: UK: London: Oslo
June 11: UK: London: Field Day Festival in Victoria Park, Main Stage
June 12: Belgium: Gent: Handelsbeurs
June 14: Norway: Oslo: Parkteatret
June 15: Norway: Bergen: Bergenfest
June 17: Denmark: Aarhus: Northside Festival
June 19: Netherlands: Beekse Bergen, Best Kept Secret Festival
June 20: Switzerland: Lausanne: Les Docks
June 21: Italy: Marina Di Ravenna: Hana Bi
June 22: Croatia: Zagreb, INmusic Festival
June 24: Germany: Scheeßel: Hurricane Festival
June 25: Germany: Neuhausen: Southside Festival
July 27-28: Chicago, IL: Lollapalooza
A-Sides' "Delve Into Twelve" Countdown
Each week A-Sides unleashes its top 12 tracks of the week AKA the "Delve Into Twelve" based on the following contributing factors: songs I'm playing out that particular week (no matter when they were released — think overlooked songs, unreleased tracks and old favorites), songs various publicists are trying to get me to listen to that I did and dug a bunch, song posts and trends I've noticed on my friends' Facebook walls and, most importantly: what my toddler is currently enjoying thoroughly with an assist from my infant.
About A-Sides with Jon Chattman:
Jon Chattman's music/entertainment series typically features celebrities and artists (established or not) from all genres performing a track, and discussing what it means to them. This informal series focuses on the artist making art in a low-threatening, extremely informal (sometime humorous) way. No bells, no whistles — just the music performed in a random, low-key setting followed by an unrehearsed chat. In an industry where everything often gets overblown and over manufactured, Jon strives for a refreshing change. Artists featured on the series include Imagine Dragons, Melissa Etheridge, Yoko Ono, Joe Perry, Alice Cooper, fun, Bleachers, Charli XCX, Marina and the Diamonds, and Bastille.
Tags:
A Sides with Jon Chattman
,
a-sides
,
amen & goodbye
,
best kept secret festival
,
chicago lollapalooza
,
chris keating
,
david altmejd
,
Delve Into Twelve
,
disney
,
fragrant world
,
hidden city
,
i am chemistry
,
ian astbury
,
Jon Chattman
,
lollapalooza
,
madder red
,
pop music
,
She Sells Sanctuary
,
the cult
,
tweens
,
yeasayer